Join the Steps team (deadline: Jan 28)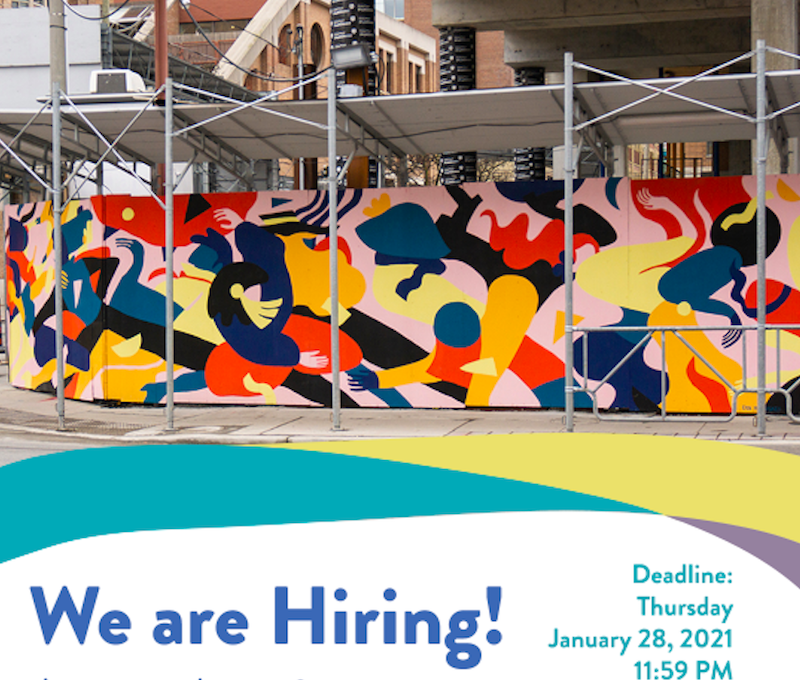 We are currently accepting applications for three employment opportunities!
Agency Associate
We're seeking a highly motivated relationship builder and multi-tasker to support our professional public art services.
Engagement Coordinator
We're seeking a creative, energetic, and organized communications and marketing whiz to oversee our external platforms.
Program Assistant
This paid capacity building position is for a resident of the City of Toronto who has been an Ontario Works clients for 6+ months, or is the spouse/adult dependent of an ODSP client.
Call for Artists:
2021 CreateSpace BIPOC Public Art Residency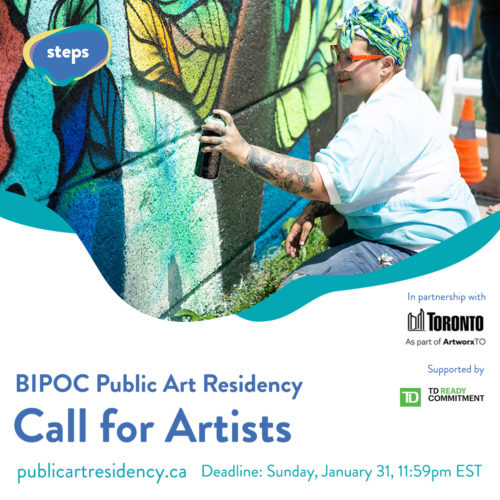 Are you, or an artist you know, interested in gaining experience, building networks and professional skills needed to launch or expand a public art practice?

STEPS is thrilled to launch a national public art residency program designed in consultation with advisors from coast to coast, to provide up to ten emerging Black, Indigenous and racialized artists with the skills, relationships and practical experience needed to take their public art practice to the next level.

Deadline to apply is Sunday, January 31st, 2021 at 11:59pm EST.

CreateSpace is in partnership with ArtworxTO: Toronto's Year of Public Art 2021, and supported by TD Bank Group
Place(makers) Light Up Regent Park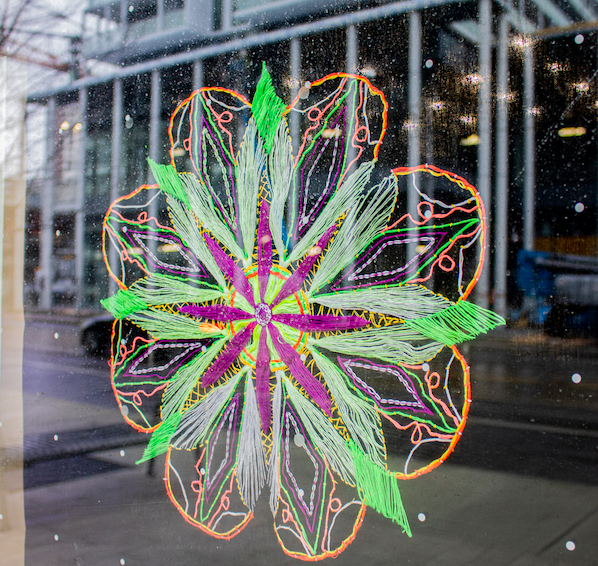 Artwork by Perri-Ding, located at Windsor Valet Cleaners, 657 Dundas St (E), Unit #4
Photographed by Selina McCallum
In November 2020, STEPS held a series of online workshops led by artists
Whyishnave Suthagar
and
Samar Hejazi
for seniors in the Regent Park community. The participants' blacklit mandalas are now on public display throughout Regent Park from now until February 2021!
A Conversation on Public Art, Placemaking, and Home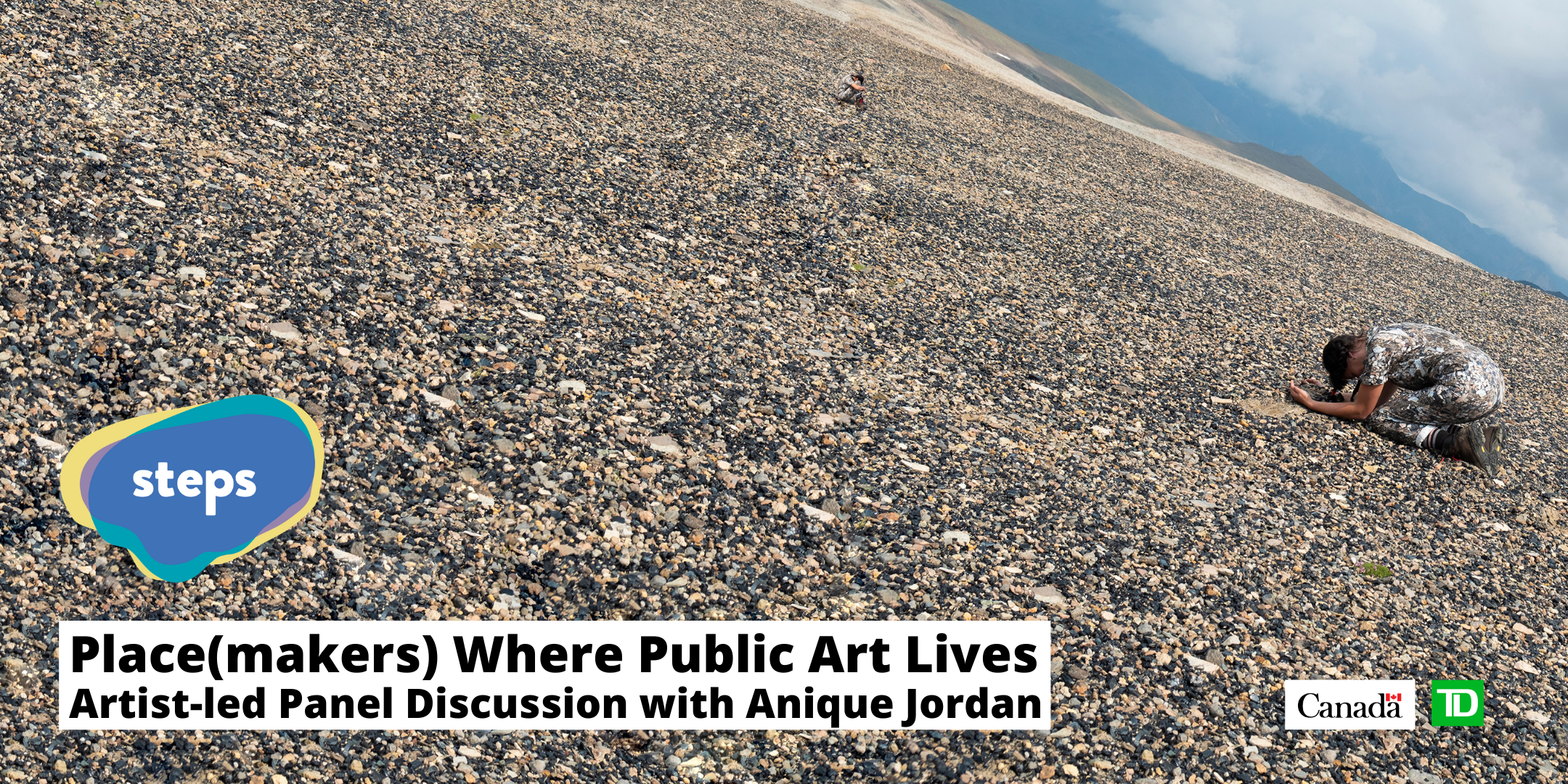 Photo Credit: Freya Podlasly Real Camo (performance)
Mount Edziza, Tahltan Territory, 2019
Where Public Art Lives
 was a panel discussion hosted by artist/curator Anique Jordan, with artists Charmaine Lurch, Hiba Abdallah, and Tsēmā Igharas as panelists. Together, they explored how public art impacts the way we see our communities and shared spaces.
This event was part of CreateSpace, a program series in support of fostering more inclusive public art in Canada.
Hoarding Exhibit Highlight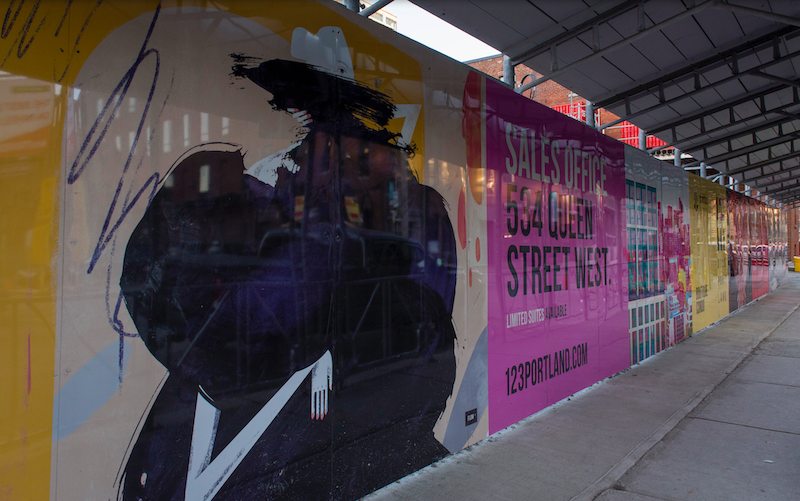 Photo Credit: Sharon Mendonca
Raz Latif
's latest hoarding exhibit at Minto Group's 123 Portland Street,
The Crosswalk
, depicts the vibrant urban lifestyle seen in Toronto's eclectic and electric King West.
The Crosswalk
complements the area's unique character, all while epitomizing Raz's emotive and expressive style.
Are you looking for public art from local artists? Contact us today!
Supporting artists and arts workers, especially those who face barriers in accessing public art opportunities, is at the core of STEPS' mandate. Below are some of the current opportunities on our radar.
From STEPS
External
Building Community During COVID

Thanks to contributions from community members like you,
STEPS has supported over 65 public art initiatives and paid over $160,000 in direct payments to Canadian artists and designers in 2020 alone.
Consider making a donation to support this important work!
Want to be the first to receive monthly STEPS updates?