A PATCH REGION OF PEEL ARCHITECTURAL ART PROJECT
City Builders
Commissioned by the City of Mississauga and Region of Peel, this region of Peel architectural art hoarding exhibit by Wenting Li celebrates local cultural and architectural landmarks near the Burnhamthorpe Watermain Project.
---
PROJECT AT A GLANCE
Location: Burnhamthorpe Rd W. and Duke of York Blvd., Mississauga, ON

Artist(s): Wenting Li
Year: 2019
Services: PATCH Hoarding Exhibits
Mississauga is full of cultural and architectural landmarks – see if you can spot Celebration Square, Sheridan Campus, Kariya Park, Central Library, and other familiar sights in the mural's landscape. Like any city, it's the people who give Mississauga its liveliness, purpose, and vitality. A city is something we build together. This hoarding surrounds the pipes built for the Burnhamthorpe Water Project. When the region of Peel architectural art project is completed, the pipes will improve the movement of water and wastewater throughout the Region so that people can shower, flush their toilets, brush their teeth, and water their gardens!
ABOUT THE ARTIST
Wenting Li is an illustrator and recent OCAD graduate working out of Toronto. She makes murals, masks & comics, and spends too much time reading.

Wenting's work is based in shape, narrative and a concern for diversity in representation. She is fascinated by the intersection of language, image, analogue, digital, the mundane and the unfamiliar. Although not strictly a representational artist, she always carries a sketchbook for the relish of drawing from life — there is always something interesting happening in the everyday, to note down and incubate for later.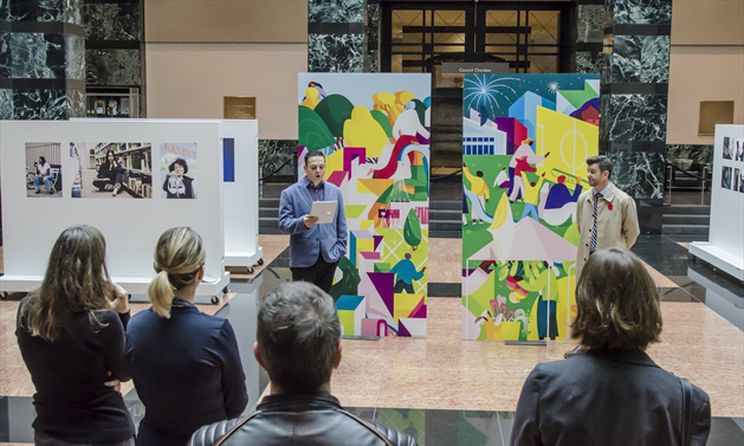 "
Our collaboration with STEPS animated parts of the street that otherwise seem industrial. It has fostered many conversations and has generated greater interest in public art process locally"
– City of Mississauga
The city of Mississauga
The City of Mississauga is making the downtown core a vibrant urban destination that everyone can enjoy. The Region of Peel is building 12 kilometres of water and sanitary sewer infrastructure to support this and future growth. This public art project showcases the benefits of partners working together to help beautify public spaces during long-term construction projects.