The Daily Migration mural will be expanding at the south entrance of Wilson TTC Station in 2022 and we'd love to hear from you!
Internationally-known Artist, Shalak Attack and STEPS Public Art present a series of community arts workshops – building social connection and artmaking skills while exploring themes of migration by sharing our stories of arrival and departure, home and longing.
Since 2020, Shalak has worked alongside community participants who identify as newcomers in building the Daily Migration mural story. Learn more about the project's creative process through the Daily Migration Art Tour on the STEPS Public Art App.
Help shape the final mural design into an artwork that is truly reflective of your community by sharing your feedback, ideas, personal stories, and local community knowledge.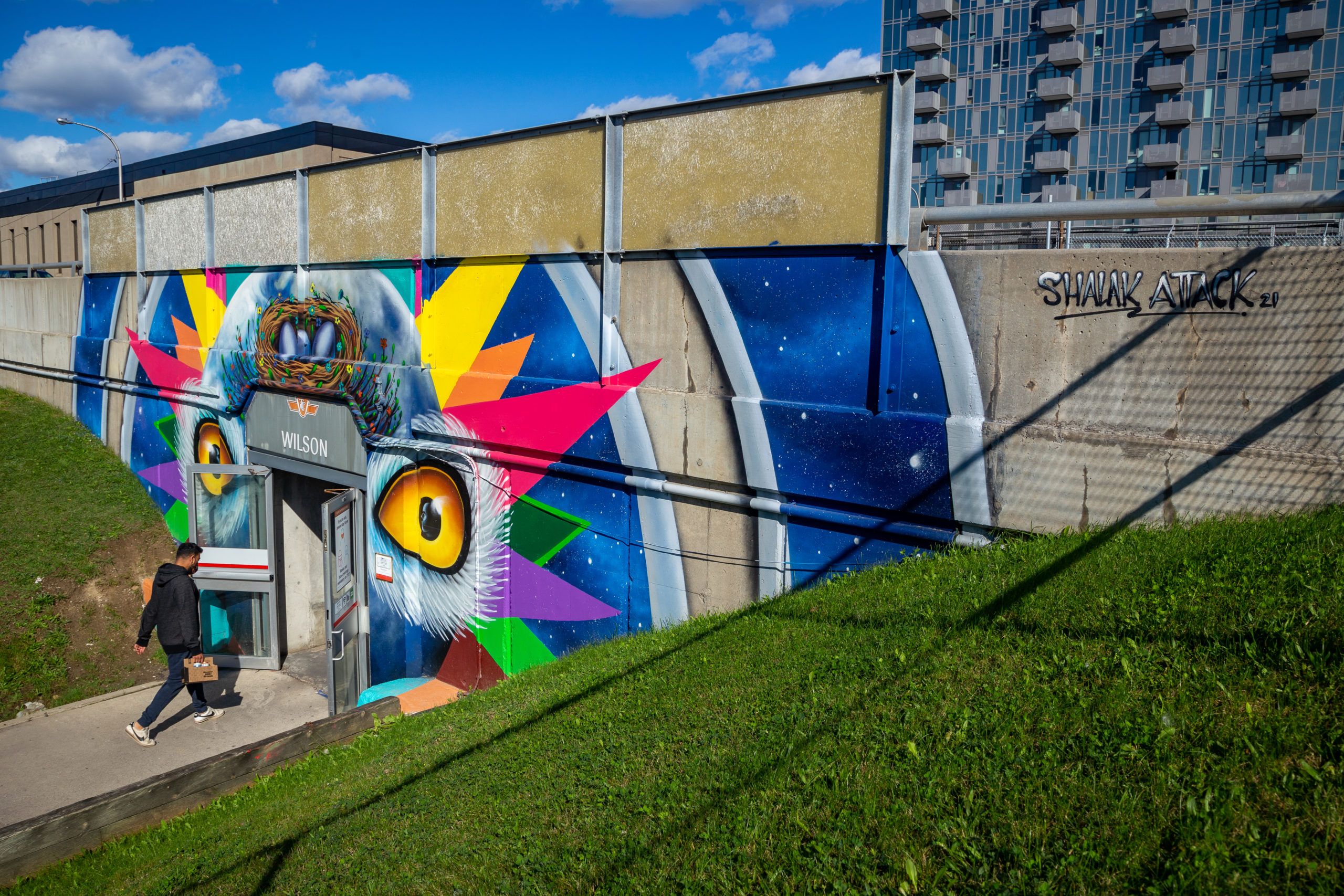 Share your creativity, ideas and feedback during our community workshops and engagement activities by participating in the following ways:
Date: Tuesday, June 28, 2022 from 3 PM to 6 PM EDT
Location: Wilson TTC Station at the Tippett Rd. entrance
Date: Saturday, July 9, 2022 from 2 PM to 3:30 PM EDT
Date: Thursday, July 21, 2022 from 3 PM to 6 PM EDT
Location: Wilson TTC Station at the Tippett Rd. entrance
Accessibility Notice:
The Daily Migration project team is committed to the community's full participation for this project. Please indicate any support you require during registration or contact ima@stepspublicart.org for more information.
Deadline: Friday, July 29, 2022
Daily Migration is a community based, participatory arts project that began in Summer 2020 offering social connection to three unique yet interconnected programming threads: community engagement sessions, collaborative arts workshops, and online exhibition featuring artwork and writings of workshop participants. 
Because of the current pandemic, workshops last year were reimagined to follow social distancing protocols and were offered online. Fifteen individuals from the City of Toronto who self-identified as migrants participated in workshop sessions each based on storytelling, shared experiences, and art-making. Each participant was inspired by the theme of Daily Migration either through lived experiences or from a universal perspective, culminating in an online exhibit of writing and one-of-a-kind artwork.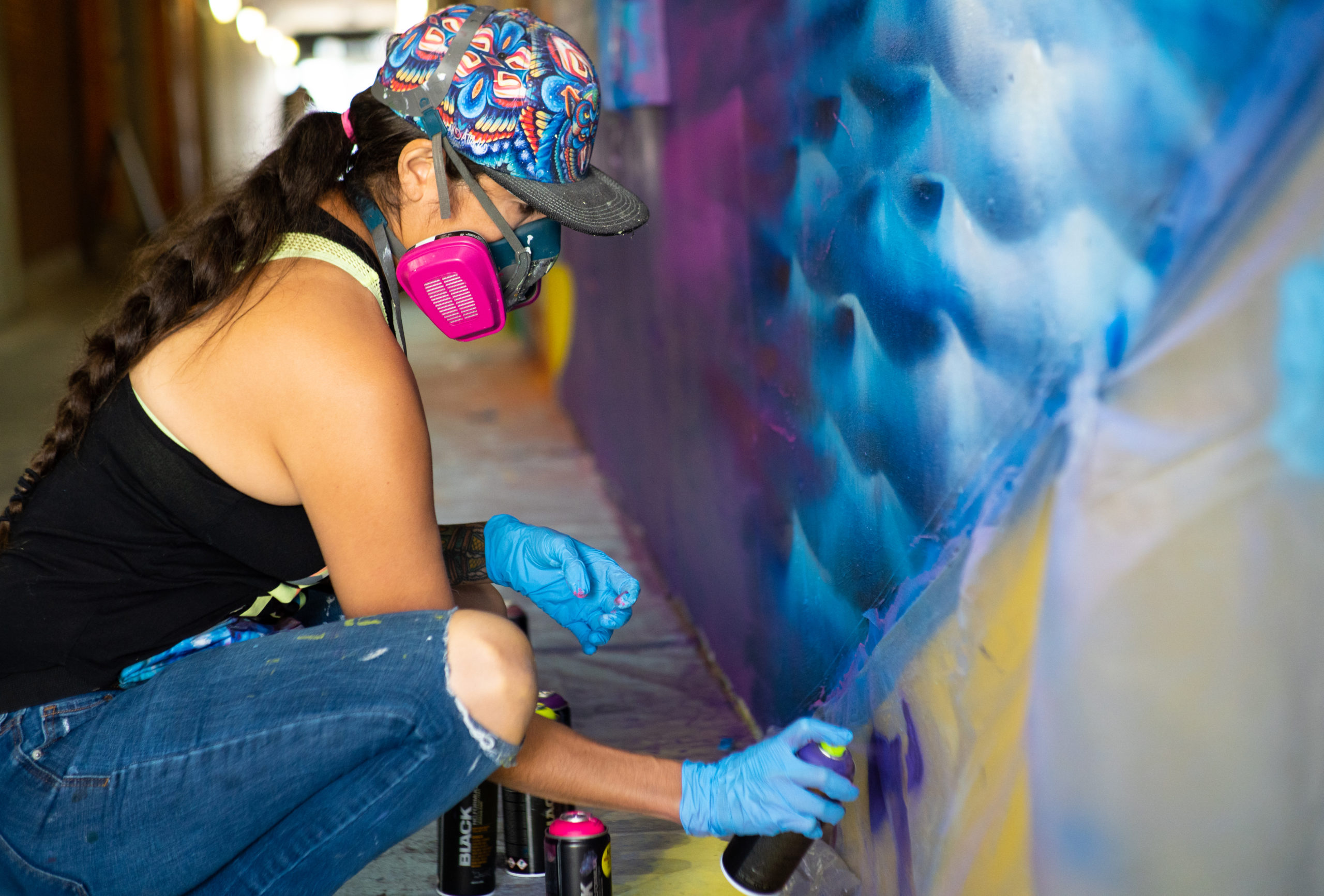 Shalak Attack
Lead Artist
Shalak Attack is an internationally known Canadian-Chilean visual artist dedicated to painting large scale street art murals, community murals and canvas art around the world. In Shalak's artistic practice, she fuses the spirit of South American muralism with contemporary street art. Shalak's distinctive multi-layered and signature use of colour are emblematic of her unique style that inhabits the realm of psychedelic magical realism.
Currently based in Toronto, Canada, Shalak's murals have contributed culture, life, consciousness and personality to public and otherwise forgotten spaces. Shalak shares her passion for freedom of expression, and has facilitated visual art workshops to at-risk youth, women and community empowerment groups, as well as prisoners in various countries across the Americas, Europe, the Middle East and in Africa.  Her artistic work and community art-reach is rooted in the social and cultural values she received from her family who immigrated to Canada as part of the Chilean political diaspora caused by the country's military dictatorship in the 1970's.
Project Partners and Funders
Daily Migration is made possible with the support of StreetARToronto, a program by the City of Toronto, Toronto Arts Council, Canada Council for the Arts, Toronto Transit Commission (TTC), Councillor James Pasternak, funding by the Government of Ontario, and Dulux Paints.