Bringing practitioners together in conversation to reimagine community engagement to support the development of equitable, accessible and welcoming public art and spaces.
Communities provide a wealth of perspectives and insights that can enrich a multitude of projects. Whether it be a public art piece, a social innovation initiative, policy development or a community building program – we must explore how we can best engage our communities to ensure their perspectives are meaningfully considered in our plans and solutions.
In this STEPS CreateSpace/Shaping Space panel, moderator Anna Jane McIntyre (Quebec) will be joined by panelists Lindsey Lickers, Mushkiiki Nibi Kwe (Ontario), Jaime Calayo (Alberta) and Kayla Bernard (Nova Scotia) to reimagine community engagement and discuss different approaches that can help us adapt how we engage and how we can build trust with the individuals, organized groups, associations and institutions that all co-exists in the communities we live and work in. The discourse in this panel aims to enrich our understanding of why implementing community engagement is vital to generating more inclusive spaces. 
Presented by STEPS Public Art and the STEPS Shaping Space project, this free workshop is offered as part of the 2022 CreateSpace Public Art Residency.
Hosted via Zoom and broadcasted on Facebook Live via @STEPSPublicArt.
July 27, 2022
6:00 PM to 7:30 PM ET
We want to hear from you! Complete the Feedback and Reflection Form to share your experience of this panel discussion. Thank you for your time and feedback!
Closed captioning, ASL, and LSQ interpretation will be available throughout this event.
Simultaneous translation into French is available to those who register for the live event. During the event, attendees will have the option within their Zoom toolbar to select "Interpretation" to access the live French interpretation.
The livestream of the event via STEPS' Facebook channel will be in English only.
The CreateSpace project team is committed to the community's full participation in this project. Please contact Belinda at belinda@stepspublicart.org if you have any questions or requests and we will do our best to accommodate.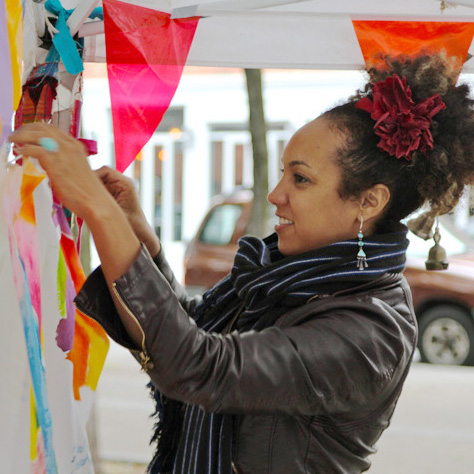 Anna Jane McIntyre
Moderator
Anna Jane McIntyre is a visual artist-parent with a practice combining shape-shifting, mark-making, thinking, doing, looking, breathing, $5-improv-benevolent-capitalism and microactivism. Anna's work investigates how people perceive, create and maintain their notions-of-self, belonging and culture through behaviour and visual cues.
Projects may incorporate giant emojis, feminist-foosball-tables, community workshops, parade floats, commercial signage, thinking forests, urban ecology forest-school cahiers prioritising BIPOC kids, time-travelling-soundscapes-mapping-abstract-narratives, Speaker's corners, love-letter-services and homages-for-the-forgotten.
Anna's projects are an expression of Afropresentism that combine her cultural influences (Trinidadian, British, adoptive-Canadian) through the juxtaposition of familiar materials in novel contexts. Her work acknowledges the past and present, imagining a surreal dream of what is to come.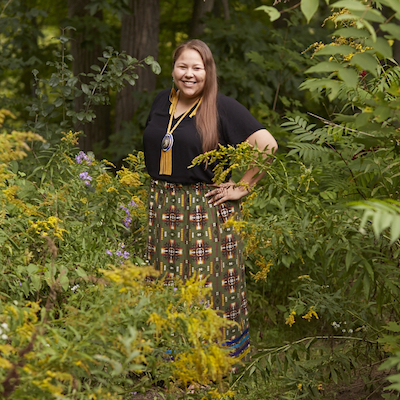 Lindsey Lickers, Mushkiiki Nibi Kwe
Panelist
Lindsey Lickers, Mushkiiki Nibi Kwe is a Haudenosaunee/Anishinaabe, multi-media artist and arts administrator originally from Six Nations of the Grand River, with ancestral roots to Mississaugas of the New Credit. She specializes in contemporary painting, traditional beading, leatherwork, Indigenous programming, administration, and funding development. Her spirit name is Mushkiiki Nibi Kwe, which translates to 'Medicine Water Woman'.
She is a graduate of OCAD University, and has sat on a number of community advisory boards and committees, most recently becoming the President of the Native Canadian Centre of Toronto's Board of Directors.
She currently works as a Special Projects Lead at Prince's Charities Canada for their Indigenous employment initiatives, is a Visual Arts Instructor at Six Nations Polytechnic, Grant Developer for Kanata Village, and is a freelance arts and culture facilitator. She currently maintains an arts practice in Toronto and Six Nations. She loves being a helper, cats, meditating, lacrosse and spending time with loved ones.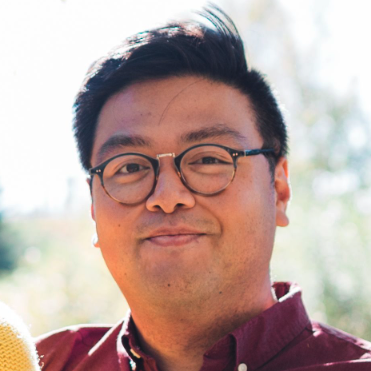 Jaime Calayo
Panelist
Jaime brings a decade worth of communications experience to REACH Edmonton working with municipalities, ad firms and interactive design agencies. He enjoys utilizing the tools of design thinking, public engagement and social innovation to explore solutions that come from the community, for the community. Jaime comes to work every day because he enjoys seeing people come together over the issues that matter most to them. The complex issues that communities face cannot be solved by any one group.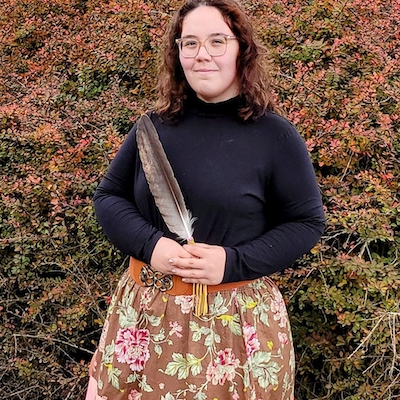 Kayla Bernard
Panelist
Kayla is a Therapeutic Recreation Practitioner (Dalhousie, 2021), facilitator and youth programmer working with youth locally, nationally, and internationally. She believes that for a community to be strong and thrive youth must be engaged and involved. Kayla is a mental health advocate, especially in regards to prevention of youth suicide. She is a strong believer in the importance of recreation, the arts, and outdoor adventure for all youth to act, not only as a mental health protective factor, but also as a treatment option for mental illness. Kayla is also a strong Indigenous activist and advocate who grew up in the Mi'kmaq community of Sipekne'katik.
Artists have a critical role to play in shaping cities, and our Artist Capacity Building Programs are designed to amplify the work of Black, Indigenous, Persons of Colour, female, LGBTTQQIAAP+ and newcomer artists in public spaces.
In support of this important work, CreateSpace is a portfolio of STEPS programming that: foster inclusive public art practices; build the capacity of artists who are underrepresented in Canadian public art; and demonstrate the power of art to reimagine equitably designed cities.
The CreateSpace Public Art Residency began in 2021 with nearly 100 calls for artist submissions across the country. Learn more about our artist capacity building initiatives and consider making a donation to support underrepresented artists today.
Shaping Space: Culturally Responsive Public Spaces is a project facilitated through a combination of stakeholder roundtables, public conversations, and knowledge exchange strategies that leverage digital audio-visual content to both collect and share learnings around health equity related to public space access. Together, STEPS with intersectoral stakeholders aspire to form a supportive network with which we can develop nuanced strategies to overcome the complexities of public space access for equity-seeking Canadians, and build the capacity to take action in building more inclusive and equitable public spaces.
Project Partners and Funders
The CreateSpace Residency is supported by the City of Toronto as part of ArtworxTO: Toronto's Year of Public Art 2021 – 2022, TD Bank Group through the TD Ready Commitment, Canada Council for the Arts, and Ontario Arts Council.

Inscrivez-vous : Table ronde CreateSpace : Réimaginer l'engagement communautaire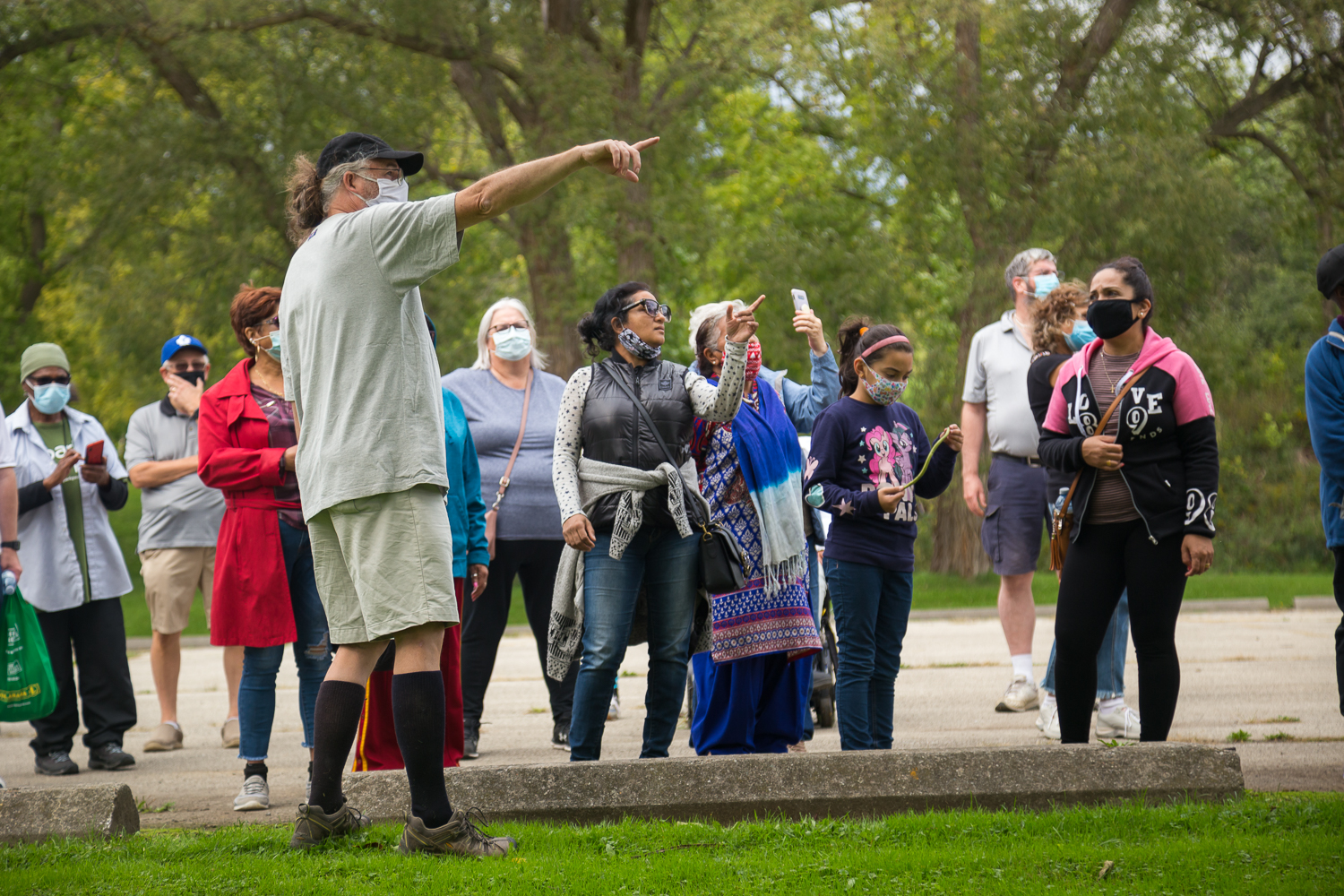 Réunir les praticiens dans une conversation pour réimaginer l'engagement communautaire pour l'art et les espaces publics accueillants.
Les communautés offrent une richesse de perspectives et de points de vue qui peuvent enrichir une multitude de projets. Qu'il s'agisse d'une œuvre d'art public, d'une initiative d'innovation sociale, de l'élaboration d'une politique ou d'un programme de renforcement de la communauté, nous devons explorer la meilleure façon d'engager nos communautés afin de nous assurer que leurs perspectives sont prises en compte de manière significative dans nos plans et solutions. 
À propos de cet événement
Dans ce panel STEPS CreateSpace/Shaping Space, la modératrice Anna Jane McIntyre (Québec) sera rejointe par les panélistes Lindsey Lickers, Mushkiiki Nibi Kwe (Ontario), Jaime Calayo (Alberta) et Kayla Bernard (Nouvelle-Écosse) pour réimaginer l'engagement communautaire et discuter des différentes approches qui peuvent nous aider à adapter la façon dont nous nous engageons et comment nous pouvons établir la confiance avec les individus, les groupes organisés, les associations et les institutions qui coexistent tous dans les communautés dans lesquelles nous vivons et travaillons. Le discours de ce panel vise à enrichir notre compréhension des raisons pour lesquelles la mise en œuvre de l'engagement communautaire est vitale pour générer des espaces plus inclusifs.
Présenté par STEPS Public Art et le projet Shaping Space cet atelier gratuit est proposé dans le cadre de la résidence d'art public CreateSpace 2022.
Animé via Zoom et diffusé sur Facebook Live via @STEPSPublicArt.
27 juillet 2022
De 18 h à 19 h 30 (heure de l'Est)
Le sous-titrage codé, l'interprétation ASL et LSQ seront disponibles tout au long de cet événement.
Une traduction simultanée en français est disponible pour ceux qui s'inscrivent à l'événement en direct. Pendant l'événement, les participants auront la possibilité, dans leur barre d'outils Zoom, de sélectionner « Interprétation » pour accéder à l'interprétation française en direct.
La retransmission en direct de l'événement via la chaîne Facebook de STEPS sera uniquement en anglais.
L'équipe du projet CreateSpace s'engage à ce que la communauté participe pleinement à ce projet. Veuillez contacter Belinda à belinda@stepspublicart.org si vous avez des questions ou des demandes et nous ferons de notre mieux pour y répondre.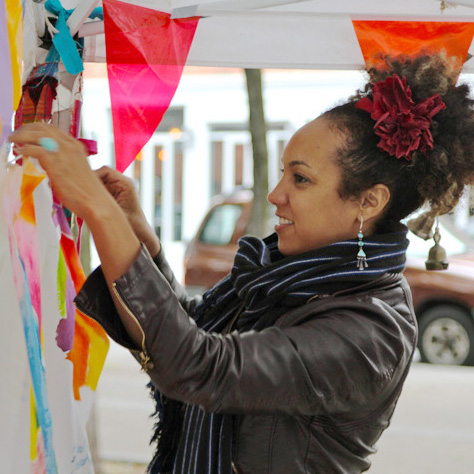 Anna Jane McIntyre
Modératrice
Anna Jane McIntyre est une artiste visuelle et un parent dont la pratique combine le changement de forme, la création de marques, la réflexion, l'action, le regard, la respiration, le capitalisme bienveillant à 5 dollars et le micro-activisme. Le travail d'Anna étudie la façon dont les gens perçoivent, créent et maintiennent leurs notions de soi, d'appartenance et de culture à travers le comportement et les indices visuels. 
Les projets peuvent inclure des emojis géants, des tables de baby-foot féministes, des ateliers communautaires, des chars de parade, des panneaux commerciaux, des forêts de réflexion, des cahiers d'école forestière d'écologie urbaine avec priorité aux enfants BIPOC, des paysages sonores qui voyagent dans le temps, des récits abstraits, des coins pour les orateurs, des services de lettres d'amour et des hommages aux oubliés. 
Les projets d'Anna sont une expression de l'afroprésence qui combine ses influences culturelles (trinidadienne, britannique, canadienne d'adoption) par la juxtaposition de matériaux familiers dans des contextes nouveaux. Son travail reconnaît le passé et le présent, imaginant un rêve surréaliste de ce qui est à venir.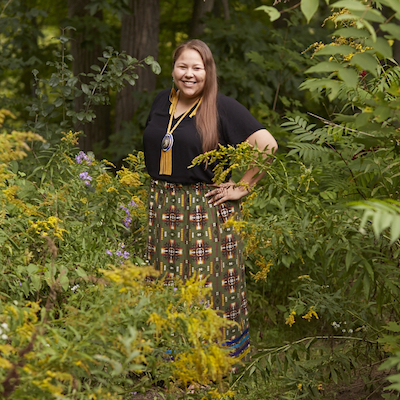 Lindsey Lickers, Mushkiiki Nibi Kwe
Panéliste
Lindsey Lickers, Mushkiiki Nibi Kwe est une artiste multimédia et administratrice des arts Haudenosaunee/ Anishinaabe, originaire des Six Nations de la rivière Grand, avec des racines ancestrales chez les Mississaugas de New Credit. Elle se spécialise dans la peinture contemporaine, le perlage traditionnel, le travail du cuir, la programmation indigène, l'administration et le développement du financement. Son nom spirituel est Mushkiiki Nibi Kwe, qui se traduit par « Femme d'eau médicinale ».
Diplômée de l'université OCAD, elle a siégé à de nombreux conseils et comités consultatifs communautaires, et est récemment devenue présidente du conseil d'administration du Native Canadian Centre of Toronto.
Elle travaille actuellement en tant que responsable de projets spéciaux à Prince's Charities Canada pour leurs initiatives d'emploi indigènes, est instructrice d'arts visuels à Six Nations Polytechnic, développeuse de subventions pour Kanata Village, et est une animatrice artistique et culturelle indépendante.  Elle gère actuellement une pratique artistique à Toronto et à Six Nations. Elle adore être une aidante, les chats, la méditation, la crosse et passer du temps avec ses proches.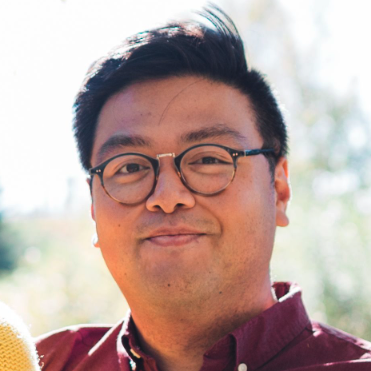 Jaime Calayo
Panéliste
Jaime apporte à REACH Edmonton une dizaine d'années d'expérience en communication en travaillant avec des municipalités, des agences de publicité et des agences de conception interactive. Il aime utiliser les outils de la pensée conceptuelle, de l'engagement public et de l'innovation sociale pour explorer des solutions qui proviennent de la communauté, pour la communauté. Jaime se rend au travail tous les jours parce qu'il aime voir les gens se rassembler autour des questions qui leur tiennent le plus à cœur. Les problèmes complexes auxquels les communautés sont confrontées ne peuvent être résolus par un seul groupe.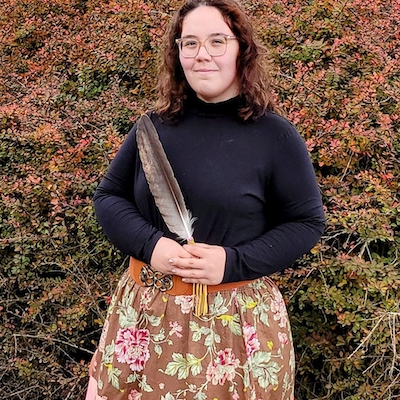 Kayla Bernard
Panéliste
Kayla est praticienne en loisirs thérapeutiques (Dalhousie, 2021), animatrice et programmatrice jeunesse travaillant avec des jeunes à l'échelle locale, nationale et internationale. Elle croit que pour qu'une communauté soit forte et prospère, les jeunes doivent être engagés et impliqués. Kayla est une militante de la santé mentale, notamment en ce qui concerne la prévention du suicide chez les jeunes. Elle croit fermement à l'importance des loisirs, des arts et de l'aventure en plein air pour tous les jeunes, non seulement comme facteur de protection de la santé mentale, mais aussi comme option de traitement de la maladie mentale. Kayla est également une militante et une défenseuse des droits des autochtones qui a grandi dans la communauté micmaque de Sipekne'katik.
Les artistes ont un rôle essentiel à jouer dans le façonnement des villes, et nos programmes de renforcement des capacités des artistes sont conçus pour amplifier le travail des artistes noirs, autochtones, de couleur, féminins, LGBTTQIAAP et nouveaux arrivants dans les espaces publics. 
Pour soutenir ce travail important, CreateSpace est un portefeuille de programmes STEPS qui : favorisent les pratiques d'art public inclusives ; renforcent la capacité des artistes qui sont sous-représentés dans l'art public canadien ; et démontrent le pouvoir de l'art pour réimaginer des villes conçues de manière équitable. 
La résidence d'art public CreateSpace a débuté en 2021 avec près de 100 appels à candidatures d'artistes à travers le pays. Apprenez-en davantage sur nos initiatives de renforcement des capacités des artistes et envisagez de faire un don pour soutenir les artistes sous-représentés dès aujourd'hui.
À propos de Shaping Space
Shaping Space : Culturally Responsive Public Spaces est un projet facilité par une combinaison de tables rondes de parties prenantes, de conversations publiques et de stratégies d'échange de connaissances qui s'appuient sur le contenu audiovisuel numérique pour collecter et partager les connaissances sur l'équité en matière de santé liée à l'accès aux espaces publics. Ensemble, STEPS et les intervenants intersectoriels aspirent à former un réseau de soutien avec lequel nous pourrons développer des stratégies nuancées pour surmonter les complexités de l'accès aux espaces publics pour les Canadiens soucieux d'équité, et renforcer la capacité à agir pour construire des espaces publics plus inclusifs et équitables.
Partenaires et bailleurs de fonds du projet
La résidence CreateSpace est soutenue par la ville de Toronto dans le cadre d'ArtworxTO : Toronto's Year of Public Art 2021-2022, le Groupe Banque TD par le biais du TD Ready Commitment, le Conseil des Arts du Canada et le Conseil des arts de l'Ontario.