Join us for an interdisciplinary arts workshop exploring the significance of water and our connections to the environment through the creation of beaded artworks and public art that reflect our commitments to the land.
Led by Artist Lindsey Lickers, Mushkiiki Nibi Kwe (Medicine Water Woman), this arts workshop located along the Humber River in Rowntree Mills Park is a reflective and creative exercise for participants to dive deeper into their current relationship with the environment and the importance of our local waterways.
Rooted in an expanded understanding of the importance of water in cleansing, creating clear intentions and commitments to the land – an introduction to beadwork combined with creating personalized artworks of these learnings will culminate in the creation of small scale textile pieces that will build a collective tapestry.
The final artwork will be exhibited in-person at Albion Library and virtually through the STEPS website alongside the creative process and learnings.
Advance registration is required!
Reserve your spot by Friday, September 24 at 4:00 PM EDT
This workshop will include a lunch break (light lunch provided).

Material kits will be provided in advance alongside a pre-recorded video demonstration for beading basics.

The workshop will be an opportunity for participants to connect at the Humber River, work on final designs, share learnings, and receive technical support from the Artist.
We invite you to participate in the following ways:
This workshop is hosted by STEPS Public Art as part of From Weeds We Grow, an interdisciplinary public art program that explores Rowntree Mills Park through artistic, Indigenous, multicultural, environmental and community-based approaches to public space; connecting community members to the arts, each other, and to the park.
The From Weeds We Grow project team is committed to the community's full participation for this project. Please contact Ima at ima@stepspublicart.org if you have any questions or requests and we will do our best to accommodate you.
COVID Safety Considerations:
Please remember to bring your mask and maintain a safe distance during this outdoor workshop. Masks and hand sanitizer will be available onsite. Let's work together to keep everyone safe!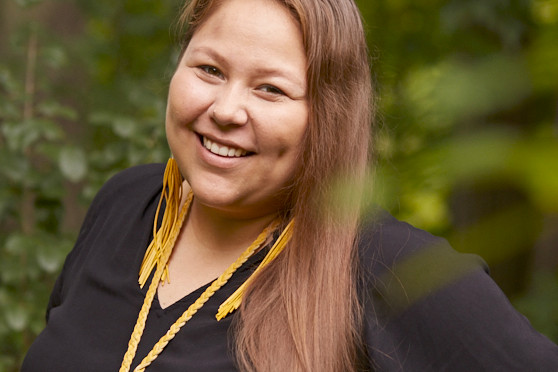 Lindsey Lickers, Mushkiiki Nibi Kwe (Medicine Water Woman) is Turtle Clan originally from Six Nations of the Grand River, with matriarchal ties to the Mississauga's of Credit First Nation. She has been a practicing artist specializing in painting, beading and community arts facilitation going on seventeen years. In 2019, Lindsey received an International Women's Day Award (City of Toronto) recognizing her unique synthesis of public art, Indigenous women's issues and governance.
From Weeds We Grow is part of the Arts in the Parks program. It has been made possible through generous support from Arts in the Parks, Toronto Arts Foundation, Toronto Arts Council funded by the City of Toronto, Canada Council for the Arts, and funding provided by the Ontario Government.

We extend our thanks to Ontario Culture Days for their partnership as part of their 2021 programming.