Empower Communities and Foster Welcoming Public Spaces
Creative placemaking empowers people to activate spaces they love to foster healthy and safe communities. Creative placemaking can take many forms, from urban revitalization initiatives and design, to community based art projects that build connections to city spaces.
At STEPS, creative placemaking is at the heart of our high impact community art programs and public art projects across our national portfolios of work, including main street recovery, cultural planning and public art management. 
With an emphasis on prioritizing equity-seeking communities, STEPS can collaborate with you and diverse artists to foster a vibrant public realm. Our work ranges from piloting unique public art plans with permanent and temporary installations to developing creative placemaking strategies to engage local residents to be more active in their communities.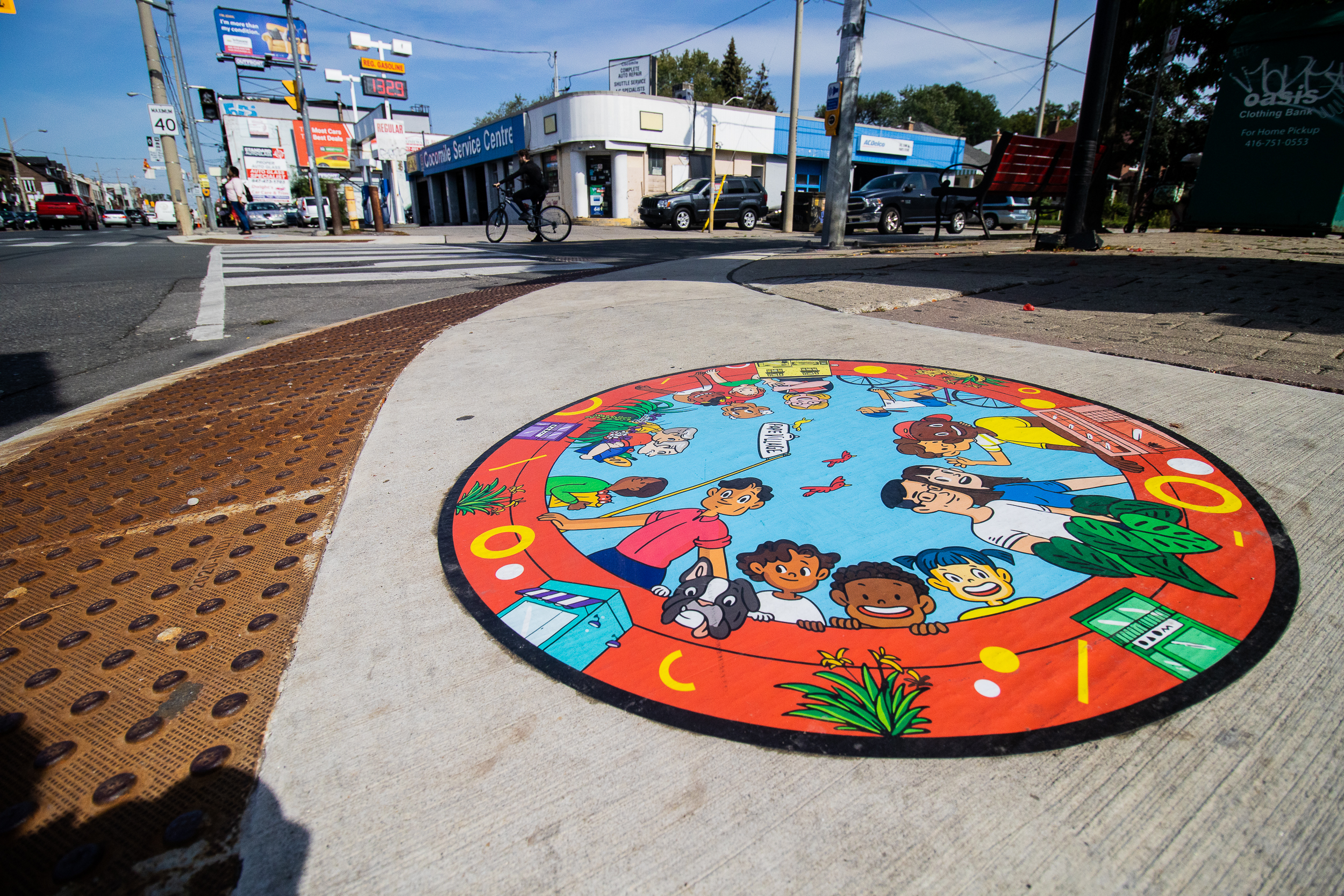 About Our Creative Placemaking Services
Across the world, communities are stepping up to obstacles brought on by COVID-19. Cultural events are cancelled. Once lively streets and parks are empty or restricted. 
Our Creative Placemaking Rapid-response (CPR) initiative is a limited pro-bono consulting service for municipalities, Business Improvement Areas (BIAs), community and nonprofit organizations or businesses.
Our team will provide you with a one-hour consultation free of charge. As needed, follow-up consultations may be available.
Ready to engage with STEPS to realize your creative placemaking vision for your community? We can help you with:
Brainstorming solutions to public space challenges through a cultural lens

Transforming spaces to meet the changing needs of your community or workplace

Producing public artwork in response to (or in spite of) the current pandemic

Aligning your cultural project or service to support your community's current critical needs

Adjusting creative placemaking project schedules, contracts and policies for enhanced feasibility




Engaging your community, whether neighbours, colleagues or clients while physical distancing

Facilitating equitable outreach, recruitment and selection processes for creative projects

Building the case for incorporating public art in the pandemic recovery period

Connecting with new networks and potential partners for increased capacity

Partnering with us for deeper impact on medium to long-term placemaking initiatives
Take a look at our process to jump-start your creative placemaking goals:
Step 1: Think about your creative placemaking ideas and resources. Take a look at our Frequently Asked Questions (FAQ) to learn more about creative placemaking and services available.
Step 2: Contact STEPS with information about your goals and ideas. Not all people and communities are experiencing the pandemic in the same way. STEPS will place particular emphasis on prioritizing requests from communities of colour, Indigenous and other equity-seeking communities.
Step 3: We will respond within two (2) business days and set up a meeting.
Step 4: After the meeting, STEPS will develop a custom proposal unique to your creative placemaking needs.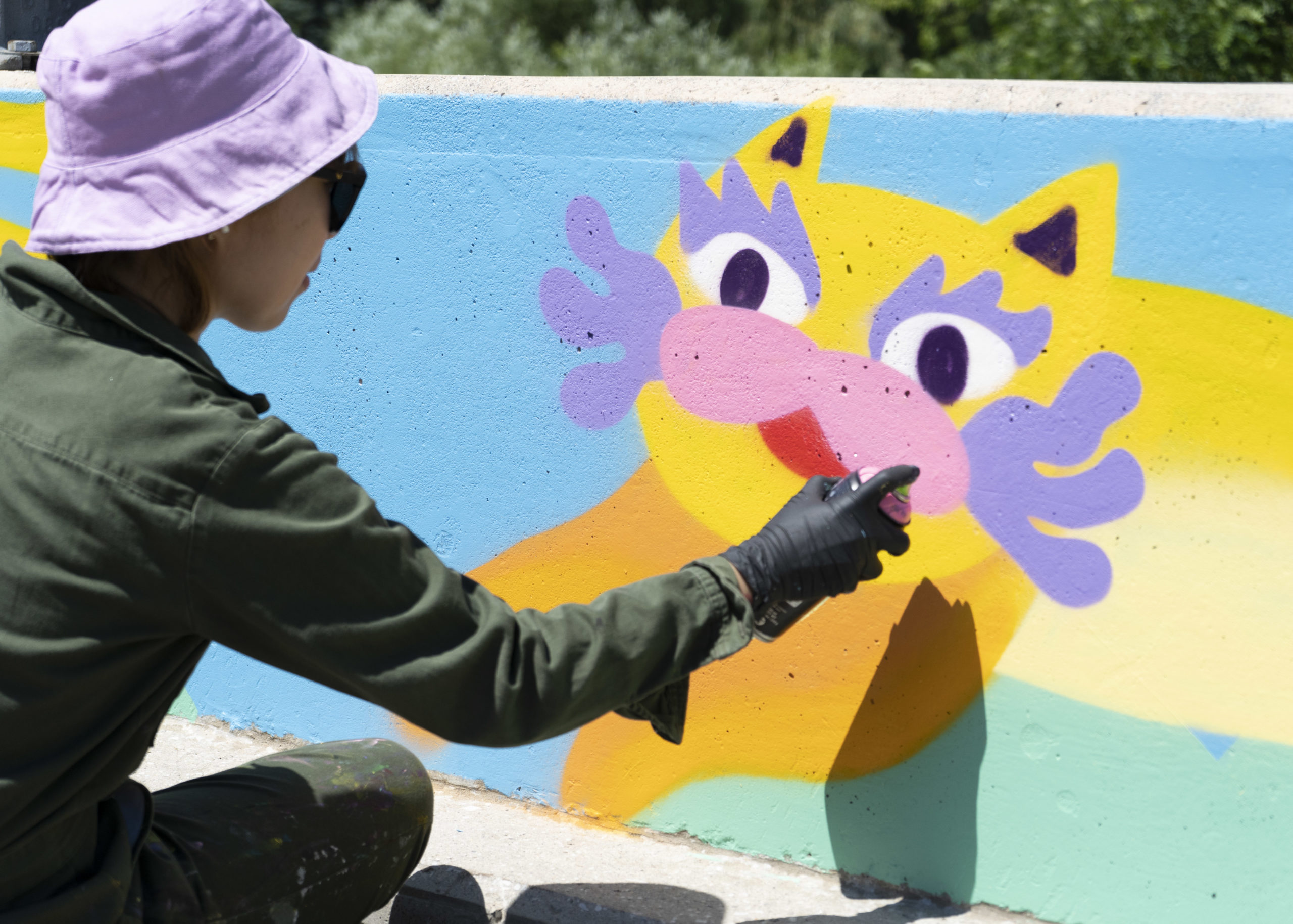 Engage, Design and Inspire with STEPS
STEPS Public Art is an award-winning Canadian-based national public art and cultural organization that fosters inclusive communities through one-of-a-kind art initiatives and services, such as Creative Placemaking and Cultural Planning.
Hear From Our Collaborators!
Tasneem Bandukwala (Gerrard India Bazaar BIA)
"
We believe that creative placemaking has the power to help revitalize our main streets, and plays a vital role in a holistic, local economic recovery plan.
"
David Barrick (Chief Administrative Officer, City of Brampton)
"This project with Brampton Fire and Emergency Services, our Cultural Services team and STEPS perfectly illustrates what great collaboration can bring to the community. These murals will connect our fire stations to their surroundings as spaces of safety, relationship building and creativity, contributing to our vibrant community."
Danforth Mosaic BIA
"
People need a strong feeling of community and a reason to shop local. Public art is critical in fostering emotional connections to an area.
"
Yue Moon Lantern Workshop Participant
"This workshop allowed me to connect with people who have had the same experience as me. It made me realize that I was already part of a community that I wasn't even aware of. This wisdom I've gained will undoubtedly define and shape my identity moving forward as an individual and as an artist."
What is creative placemaking?
Placemaking is an approach to reimagining and building public spaces for the communities that live, work and play within them. This means creating more safe, healthy, accessible and welcoming public spaces for community well-being.
Creative placemaking incorporates arts and culture to revitalize public spaces, stimulate the economy, and encourage community participation to create spaces reflective of the diverse identities that use them. This process recognizes the heritage, residential communities, and diverse uses of the targeted area to position people as 'makers' of space, defining their own neighbourhood. Read our thought leadership article "What is Creative Placemaking?" to learn more!
What are some placemaking strategies?
Placemaking and placekeeping aim to create and keep spaces that people want to live in; this means making sure public space is safe, functional, enjoyable and sustainable. Creative placemaking uses art and culture as a strategy to encourage people-centered public places. Strategic programming like community based art projects, public workshops, food markets, or audio-visual experiences in city spaces celebrate their multitude of uses, reflect their values, and shape welcoming spaces.
What is an example of placemaking?
Placemaking can range from small-scale, low-budget and temporary projects to major community revitalization projects – all producing meaningful impact on communities and public spaces!
I HeART Main Street is an example with Canadian Business Improvement Areas (BIAs) and local community groups of all sizes and budgets producing fast turnaround creative placemaking public art projects. From painted outdoor furniture and parkettes and ground murals in the summer to storefront light installations and one-of-a-kind window art in the colder months, STEPS works with BIAs and artists to brainstorm creative ideas and placemaking methods to foster trust and a sense of community since the start of the pandemic.
The 2013 World's Tallest Mural in Toronto's St. James Town is an example that combines creative placemaking, artist capacity building and public art management to facilitate a unique youth city-building program and community cultural plan reflective of Canada's most dense and diverse neighbourhood. This project transformed a 32-storey Toronto Community Housing residential apartment into a vertical mural canvas that engaged 3,000+ community members!
How does creative placemaking engage the community?
Creative placemaking can engage the community in many ways. This can include community consultations and surveys to gather community feedback and ideas, as well as participatory activities where community members can take part in the ideation and art-making process of a creative placemaking project.
Community involvement is a crucial part of good creative placemaking. By starting from the ground up, creative regeneration projects can meet the needs of the people who already occupy the space and embrace newcomers as well. Read our thought leadership article "What is Creative Placemaking?" to learn more!
STEPS Public Art
c/o Art Hub 27 39 Queens Quay E, Suite 100 Toronto, ON, M5E 0A4 P: 1-888-STEPS-80 / 1-888-783-7780 E:
info@stepspublicart.org
Want to get involved with STEPs Public Art?
Let's Work Together!
Explore our opportunities.
See our latest events, calls for artists,  and employment opportunities.
Tell us about your needs.
We can't wait to help you reimagine public spaces in your community.
make an impact.
 Support artists and communities to breathe creativity into public spaces.