We believe that Business Improvement Areas (BIAs) and the main street businesses they serve are the heart of our communities. By leveraging the power of public art and creative placemaking, STEPS supports BIAs of all sizes to foster meaningful business-community relationships, create paid opportunities for artists, and cultivate cultural destinations that attract visitors from near and far.
"By showcasing stories of business owners through art, we're engaging visitors in the true essence of the area."
– Albion Islington Square BIA
"From the moment the art hit the street, the community was intrigued and interacted with the pieces. We couldn't have done it without the support and guidance of the STEPS Public Art team."
– Downtown Tillsonburg BIA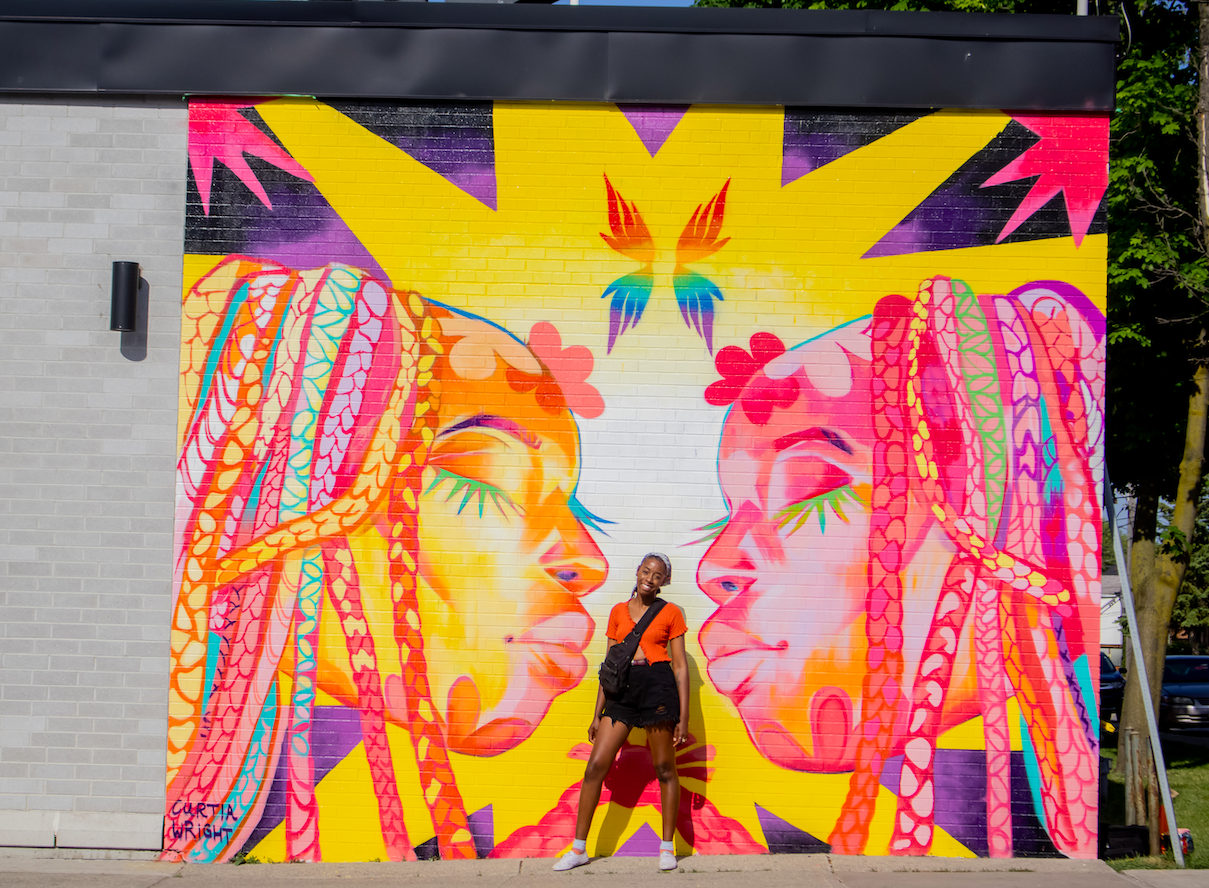 Celebrating Queer Black Lives is a mural by Curtia Wright in collaboration with Oakwood Village BIA, Loma Marketing Agency and Nia Centre.
Our main street recovery supports include: 
community asset mapping

community cultural planning

connections to multidisciplinary artists

call-for-artists facilitation

permanent public art management

audio-visual documentation
promotional tools
features in the STEPS Public Art App (web app, Apple Store and Google Play)
Example projects include:
storefront animations

street furniture design or revitalization

mural productions

creative sidewalk decals

one-of-a-kind outdoor installations

parkette activations

hoarding or fence exhibits

CafeTO and CurbTO activations



"Our alleyways boast a ton of potential, but are not being put to use. With an increase in demand for outdoor patios, we're reimagining these spaces with STEPS to make the area more welcoming."
– Downtown Whitby BIA
Not sure what type of project is right for your BIA?
Interested in developing a project that you can secure external funding to produce?
Nervous about not having the expertise to deliver on your BIA's vision?
Learn more about how your BIA can partner with STEPS to strengthen your funding request or facilitate your main street recovery project!
I HeART Main Street Program
BIAs can also participate in I HeART Main Street (also known as Main Street Art Challenge), a program that launched during the pandemic in 2020 to amplify the role of arts and culture in the community's recovery process.
"This program highlights what artists do for society— they inspire excitement, bring happiness and encourage people to look at their community in a different way."
– Erin McCluskey, Artist for Port Credit BIA's 2020 Activation
"Our businesses are happy to see people stop by and sit in our parkettes, and the art elevates the whole experience."
– Toronto Chinatown BIA, 2020 Innovative Award Recipient
As a 2020 award recipient, Riverside BIA put their winnings towards Window Wonderland to engage with 4 artists on 20 storefront activations!
"It was nice to feel part of a network of BIAs. It created light and life during difficult times for local businesses."
– Riverside BIA, 2020 Community-Engaged Award Recipient
"These murals brightened up more than the buildings, they put smiles on faces and brought much joy to our community. Thank you for selecting us to be a part of the program."
– Belle River On the Lake BIA
Strong main streets, build stronger communities.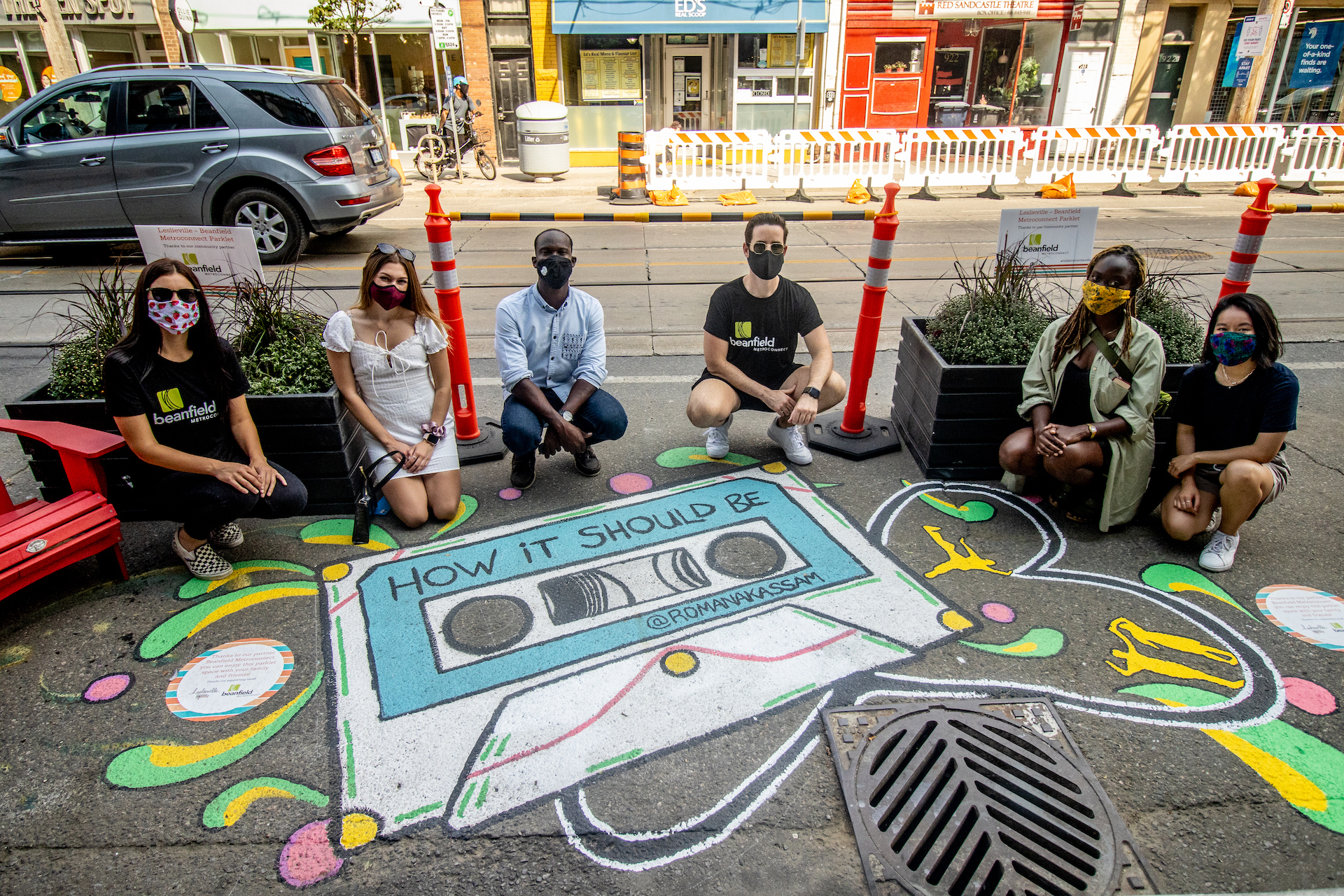 For the first time, I HeART Main Street expands across Ontario to support 26+ BIAs and 50+ Canadian artists in one-of-a-kind public artwork to activate main streets and strengthen communities during challenging times.
Main Street Art Challenge 2020
STEPS provided free placemaking services, artist fee subsidies, and promotional support to Business Improvement Areas to host art installations that increase feelings of trust and community across Toronto and Peel main streets as part of their pandemic recovery efforts.
Want to get involved with STEPs Public Art?
Let's Work Together!
Explore our opportunities.
See our latest events, calls for artists,  and employment opportunities.
Tell us about your needs.
We can't wait to help you reimagine public spaces in your community.
make an impact.
 Support artists and communities to breathe creativity into public spaces.