A View of Indigenous-led Placemaking, Art Installations, and Knowledge-Sharing in Public Libraries Across Turtle Island
In recent years, public libraries across Canada have collaborated with Indigenous (First Nations, Inuit, and Métis) artists and community members to make Indigenous identities, Indigenous artwork, and storytelling practices more prominent in library spaces. 
An important element of public art and creative placemaking is recognizing the history of the site and the different groups who occupy the space. For these Canadian Library projects, that means acknowledging a history of genocide, displacement, and ongoing harm against Indigenous peoples due to the policies and programs of colonization, and working towards spatial justice by consulting and collaborating with Indigenous communities to promote their identity, health, and wellbeing.
In part, these placemaking initiatives emerged as a response to the Canadian Federation of Library Associations' Truth and Reconciliation Committee Report and Recommendations (2017), which proposed strategies to advance meaningful reconciliation and initiatives specific to libraries, archives, and cultural memory institutions. The report defined ten recommendations for library communities and emphasized the need to support and work with Indigenous community members in the process.
One of the ten recommendations from the CFLA called on public art programs and creative placemaking strategies to "decolonize Libraries and Space by recognizing and supporting Indigenous cultures, languages and knowledges through culturally appropriate space planning, interior design, signage, art installations, territorial acknowledgements of geographic-specific traditional territories and public programming in collaboration with local Indigenous stakeholders."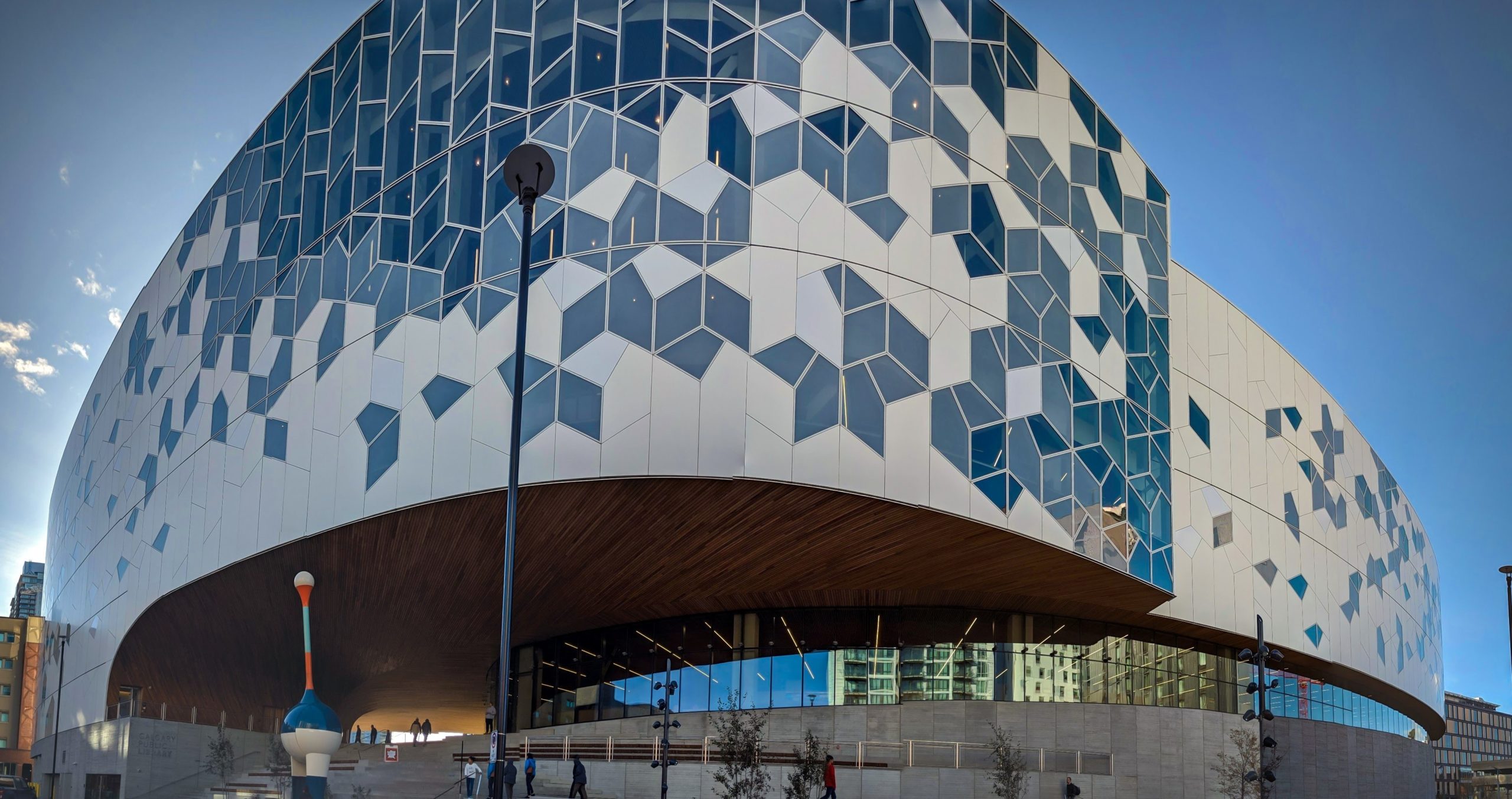 In 2021, the Calgary Public Library's Indigenous Placemaking Initiative installed permanent Indigenous artworks in the Crowfoot, Saddletowne, Seton, and Shawnessy library branches.
When we ask ourselves what it means to actively de-colonize public art, one facet to consider is the representation of perspectives, traditions, and visual cultures that were historically marginalized in public space. The Truth and Reconciliation Commission of Canada Report also called for public commemoration projects on the theme of reconciliation and funding from the Canada Council for the Arts to develop collaborative artworks that contribute to the reconciliation process.
Libraries exist as a public space with a specific cultural use: a place for generating and sharing information, storytelling, and public access to archives. However, the systems that they have operated under in Canada have prioritized Western ways of knowing and  excluded and erased representations of Indigenous histories, worldviews, and perspectives. Moving forward, Canadian public libraries have identified the need for more Indigenous library professionals, committed to integrating Indigenous epistemologies into catalogues, and pushed for artworks for and by Indigenous community members.
Permanent Indigenous Art: Calgary Public Library

An Example of Indigenous Placemaking
In 2017, the Calgary Public Library developed objectives for the city's library locations in consultation with the Indigenous Placemaking Council of Canada. Library staff visited the Stoney Nation, Siksika Nation, Tsuu'tina Nation, Métis Nation of Alberta, and Aboriginal Friendship Centre of Calgary for input on how to represent Indigenous art and storytelling from Treaty 7 territory. 
Since then, the library has installed three rounds of permanent artworks in different branches, aiming to promote knowledge sharing and education. As they state on the project website: "having these pieces in the Library helps create an inclusive space for sharing and gathering of all Nations and communities within the Treaty 7 area, to learn and grow together."
Livia Manywounds, the Indigenous Placemaking Coordinator at the Calgary Public Library, explains in an interview: "It's really amazing to see Indigenous art within these locations because it creates a welcoming environment for Indigenous people. When we walk into the library seeing that our culture is alive and well, this really contributes to the Truth and Reconciliation commission call to action."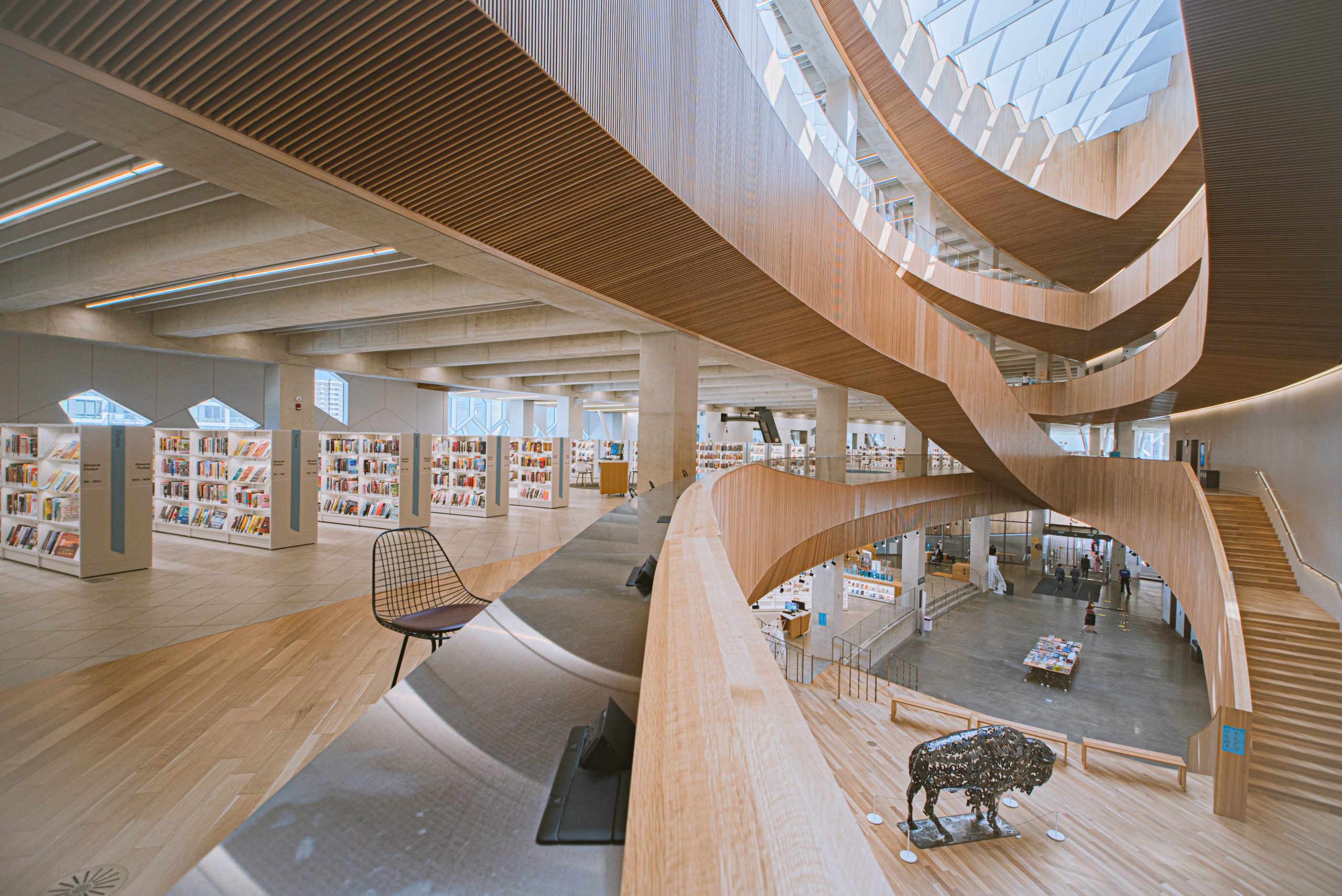 The Calgary Public Library Civic Concourse, featuring the installation Education is the New Buffalo by Lionel Peyachew (2018). Image Source: Ryunosuke Kikuno
Consultation and Naming: Ādisōke OPL-LAC
The Ottawa Public Library – Library and Archives Canada (OPL-LAC) Joint Facility is currently under construction, with development plans that aim to include traditional Indigenous knowledge and input from the Anishinābe Algonquin host nation and showcase public art from Indigenous artists.
Recognizing that they are building on the unceded, traditional territory of the Anishinābe Algonquin people, the project defined their goal to: "endeavor to undertake a meaningful engagement process with friendship, trust-building, and mutual benefit as guiding principles; as well as follow a process and approach that respects cultural protocols and traditional Indigenous knowledge."
The site was named Ādisōke, an Anishinābemowin word that refers to the telling of stories. This is a conscious effort to move away from libraries being named after Eurocentric colonial leaders and erasing Indigenous knowledge and place names on the territory.
The Ādisōke will also showcase Indigenous public art. Dawn Saunders Dahl, Curator of Indigenous Art for the facility, explained that they developed calls for art in consultation with Indigenous artists and community members to make the entire selection process more collaborative. As Dahl states, "it is crucial to include, understand and celebrate art and storytelling from Indigenous perspectives so that all Canadians have an opportunity to learn about our collective history."
The Library and Archives Canada Joint Facility, set to open its doors in 2026, shared this video featuring perspectives on Ādisōke from Elders and members of the Anishinābe Algonquin Nation.
Group Art-Making: Thunder Bay Library
In October 2021, the Brodie Street Library in Thunder Bay brought together a group of Indigenous creators to craft felt art for their Indigenous knowledge center. The group project was led by Kathryn Walter, a felt artist from Toronto, and Jean Marshall, a locally-based Indigenous artist, and culminated in a
6-foot stitched felt installation
featuring patterns of flowers and leaves.
Changing these schemas and practices in public libraries is an ongoing process, and involves a lot more work than simply inserting public art into the spaces where these records are held. In 2016, Robyn Medicine developed an Indigenous advisory committee for the Thunder Bay library to involve the voices of the wider community in the library's reconciliation plan.
Since then, the Brodie Street Library has developed the Indigenous Knowledge Center which does not use the Dewey Decimal Classification system which, as the CFLA explains, has a Eurocentric bias: it often incorrectly uses Indigenous names, does not recognize Indigenous sovereignty and perspectives, misclassifies Indigenous literature and tribal law, and erases or renders invisible the colonial genocides that were committed against the Indigenous peoples in North America.
Building Momentum: What's Next for Indigenous Placemaking?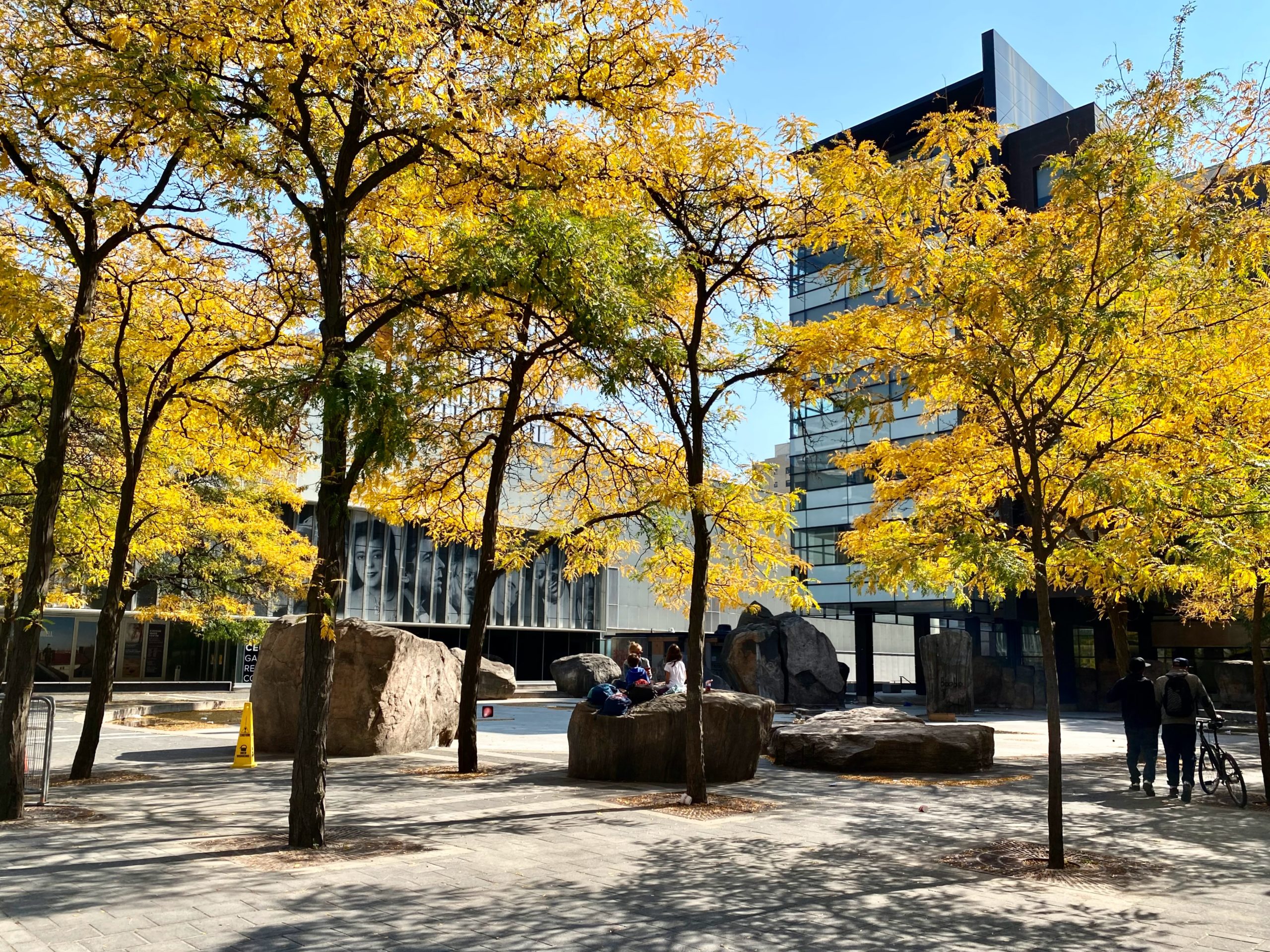 The University campus formerly known as Ryerson was renamed "Toronto Metropolitan University" as part of an ongoing effort to address the legacy of Egerton Ryerson. Image source: Ian Kirkland
Indigenous placemaking with public art is just one dimension of the multi-pronged effort to advance Truth and Reconciliation and de-colonize public space; the CFLA emphasized that their report should be seen as a first step rather than a comprehensive action plan. 
A decolonial framework in public art means critically analyzing systems of knowledge and power that contributed to past and ongoing histories of colonialism in Canada. The shift towards de-colonizing space is demonstrated by the recent de-monumentalizing of colonial leaders, like the toppling of a statue of Queen Victoria at the Manitoba legislature, the move away from traditional systems in libraries, like the Thunder Bay Knowledge Center switching to the Brian Deer Classification System, and the renaming of institutions that commemorated colonial authorities, like the University formerly known as Ryerson. 
Affecting change in public spaces and institutions like libraries involves long-term efforts, and requires us to expand our thinking outside of Western narratives and frameworks. While it's crucial that this work also takes place beyond the optics of commissioning Indigenous public art, one part of the ongoing process involves actively changing the designs of our cultural meeting places to include and uplift Indigenous community members.
To continue learning about Truth and Reconciliation in Canada, decolonization in public art, and building allyship with Indigenous communities, you can read the full CFLA Report and Recommendations for libraries and archives, consult the 94 Calls to Action for Canadians, and visit our growing collection of resources.
Eva Morrison
Cultural Content Writer
This article was written by Eva Morrison (she/her), a writer, curator, and painter based in Montreal. Her work has recently been published by Culture Days, Winnipeg Arts, and FARR Montreal. She received a BFA from Concordia University in 2019, specializing in Art History and Studio Arts.