Industry Gold Standards Meets Public Art
PATCH (also known as Public Art Through Construction Hoarding) Exhibits are the industry gold standard for helping developers, builders and marketing firms meet public art requirements for construction sites. 
Already a legislated requirement in Toronto, Canada, public art is being encouraged on construction sites in cities around the world. We connect you with Canadian artists and designers to bring one-of-a-kind public art to your construction hoarding to amplify your city-building story.
About PATCH Construction Hoarding Exhibits
Work with STEPS to create one-of-a-kind public art exhibits reflective of the community and your city-building story. Our PATCH (Public Art Through Construction Hoarding) Exhibit services are:
Unique: Access our roster of 150+ artists

and site-specific calls for artists to create dynamic exhibits

Expedient:

Having facilitated City of Toronto approvals for over 100 sites, we help you move forward quickly with construction staging permits

Cost-effective:

Forget about paying for traditional advertising – investing in well-curated artwork will market your development project for you! STEPS also provides photo and video documentation and promotional support.

Transformational:

Bring moments of beauty and reflection to overlooked public spaces. By engaging with STEPS, you are investing in a vibrant city.
Our superior project management skills make this turnkey process easy for you! Get your PATCH (Public Art Through Construction Hoarding) Exhibit started today:
Step 1: Think about your PATCH Exhibit goals. Take a look at our Frequently Asked Questions (FAQ) to learn more about PATCH and services available (such as shortlisting artists and facilitating city approval of exhibit plans).
Step 2: Contact STEPS with information about your goals and ideas.
Step 3: We will respond within two (2) business days and set up a meeting.
Step 4: After the meeting, STEPS will develop a custom proposal unique to your public art and construction hoarding needs.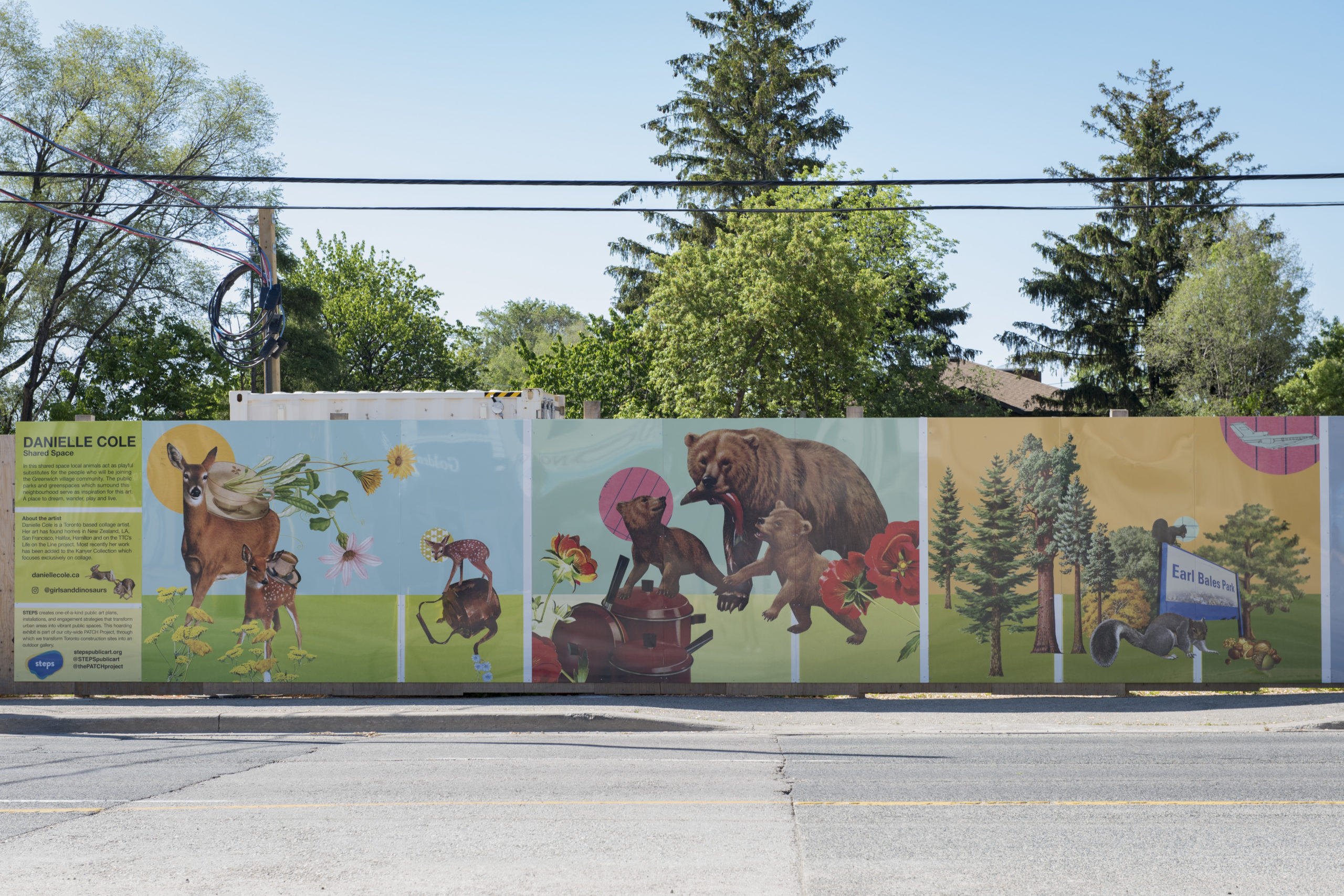 Engage, Design and Inspire with STEPS
STEPS Public Art is an award-winning Canadian-based national public art and cultural organization that fosters inclusive communities through one-of-a-kind art initiatives, such as PATCH Construction Hoarding Exhibits and Creative Placemaking.
Hear From STEPS Collaborators!
Kevric
"We were new to the process of community artwork facilitation. The guidance that STEPS provided us in working with artists and designers, as well as the overall process itself was very valuable."
Cherie Chan (Aoyuan)
"Partnering with STEPS added value, not only to our project, but for the community. The [PATCH] exhibit tells a story of the fun activities that people do in the neighbourhood."
City of Mississauga
"Our collaboration with STEPS [in this PATCH Exhibit] animated parts of the street that otherwise seem industrial. It has fostered many conversations and has generated greater interest in public art process locally."
What is construction site hoarding?
Construction hoarding is the temporary barrier between a construction site and the public to keep communities and passersby safe. Types of construction hoarding include fencing, aluminum composite panels and plywood.
Why is there art on construction hoarding sites?
Already a legislated city bylaw requirement in Toronto, Canada, public art is being encouraged on construction sites in cities around the world. Depending on your city's site requirements, you may have public art requirements that you have to meet for your construction site.
STEPS can help you navigate this process by curating a shortlist of artists, facilitating city approval of exhibit plans, producing the exhibit, and documenting the exhibit to further amplify your city-building story.
What does PATCH stand for?
PATCH stands for Public Art Through Construction Hoarding. PATCH Construction Hoarding Exhibits is a service offered by STEPS that connects developers, builders and marketing firms with local artists to create public art for your construction site hoarding to meet your public art requirements.
I am a developer and I'd like to include a community engagement aspect in the public art displayed on construction hoarding. Does STEPS offer support in this area?
Yes! STEPS believes public art should reflect the diverse communities that host it. Community engagement can be incorporated into your PATCH Exhibit in various ways, including calls for local artists, community consultations, community surveys, art-making and participatory workshops, unveiling celebration events, and more.
I am an artist interested in having my artwork displayed on a PATCH Exhibit. How can I work with STEPS?
STEPS frequently facilitates open calls for artists for specific PATCH Exhibits. We encourage you to follow us on social media (@STEPSPublicArt), STEPS newsletter and STEPS News for the latest opportunities.
I am a developer interested in working with STEPS and artists to bring public art to a construction hoarding site. How do I get started?
Please submit our contact form with all of your information, and we will contact you to set up a virtual meeting and get the process started.
Can we engage an artist of our liking or do we have to work with one from the STEPS Roster?
STEPS has an extensive roster of artists based in the Greater Toronto Area (GTA) and a growing network of artists across the country. Based on the project requirements, we can suggest artists from this roster or create a tailor-made shortlist for our partners. We can also facilitate local, provincial and national Calls for Artists.
STEPS Public Art
c/o Art Hub 27
39 Queens Quay E, Suite 100
Toronto, ON, M5E 0A4
P: 1-888-STEPS-80 / 1-888-783-7780
E: info@stepspublicart.org
Want to get involved with STEPs Public Art?
Let's Work Together!
Explore our opportunities.
See our latest events, calls for artists,  and employment opportunities.
Tell us about your needs.
We can't wait to help you reimagine public spaces in your community.
make an impact.
 Support artists and communities to breathe creativity into public spaces.