Transforming Communities with Professional Public Art Management
From large scale commercial murals and outdoor digital animations to sculptures and projection mapping, STEPS produces one-of-a-kind public art installations that meet the needs of your community. Our public art management service is recognized for being iconic, cost-effective, professional, and transformational in uplifting communities through vibrant and accessible public art created by talented Canadian artists and designers. 
We work with you on public art installations that reflect your community while helping you to navigate the complex processes of hiring artists and producing large scale projects.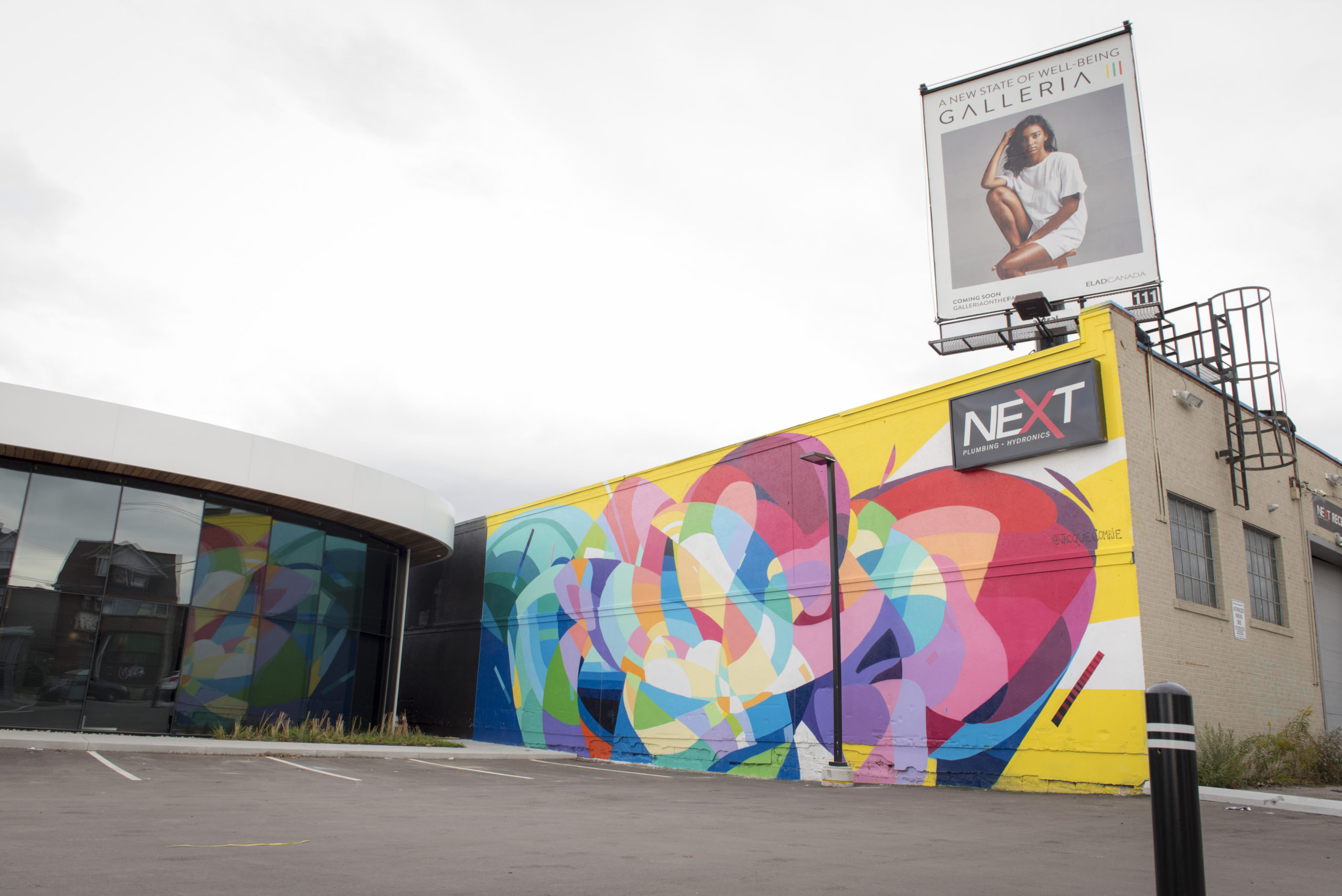 Renaissance of Mother Gaia
Mural, Toronto
ELAD Canada worked with STEPS to develop a series of public art installations in Toronto's west end. Artist Jacquie Comrie transforms the space through colour to encourage wellness and well-being with Renaissance of Mother Gaia.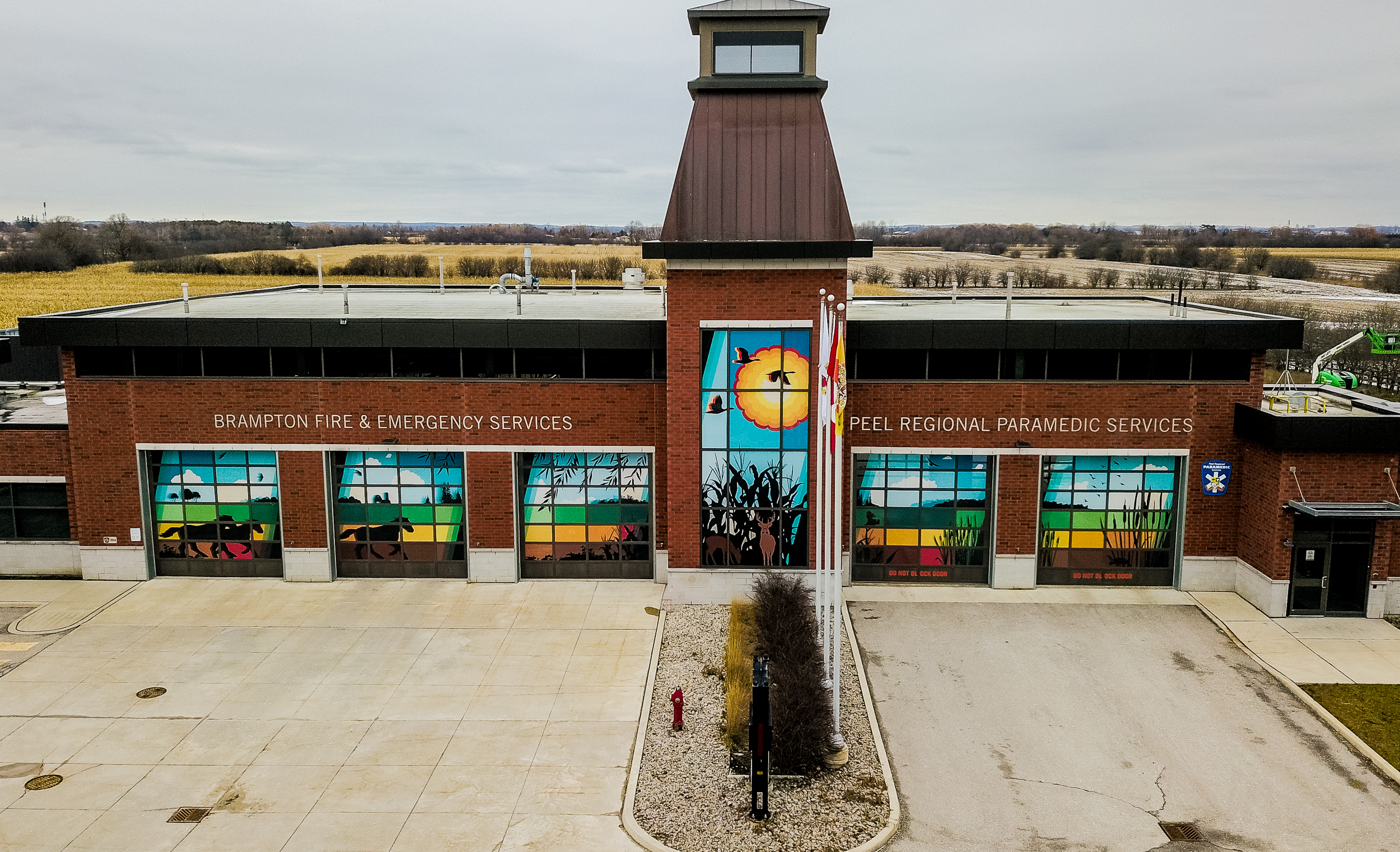 Brampton Fire Station
Mural, Brampton
City of Brampton engaged with STEPS and artist Pam Lostracco to create Countryside Drive-by, a 1,200 square feet of artwork reflecting the agricultural heritage of the Brampton Fire Station.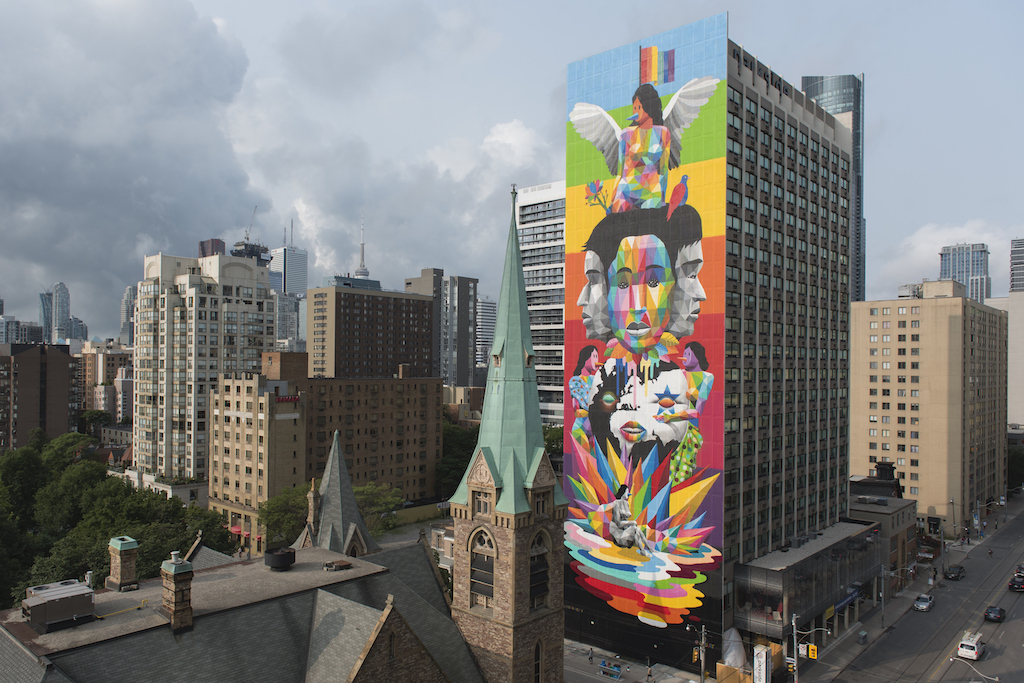 Equilibrium Mural
Mural, Toronto
Knightstone Capital worked with STEPS to reimagine a 23-storey residence building that transforms Toronto's skyline. Alongside international artist Okuda San Miguel, the Equilibrium Mural public art installation also provided paid opportunities for local mural artists and cultural programming for local residents.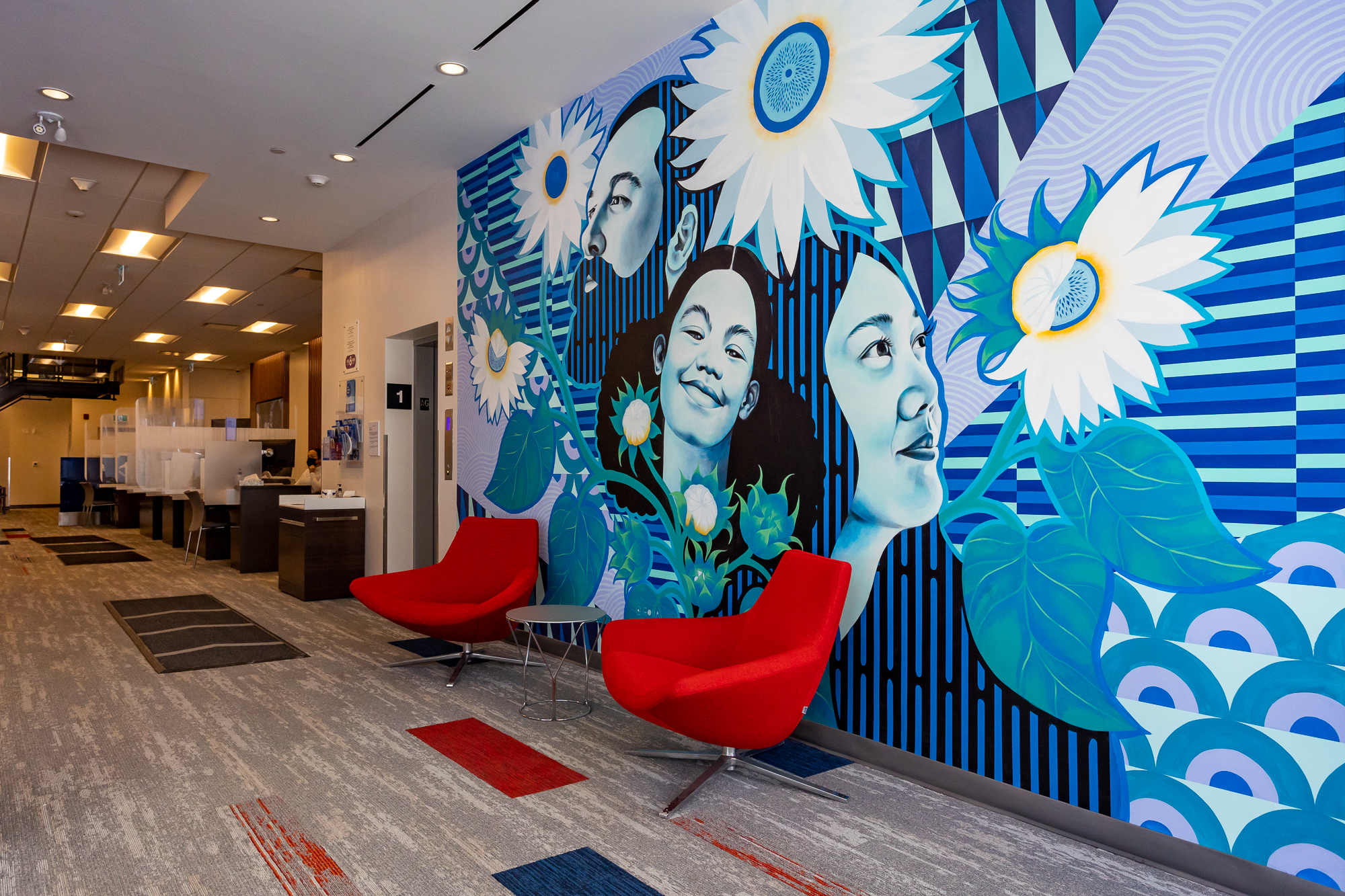 BMO National Mural Series
Mural, Canada
The BMO National Mural Series is a program launched by BMO in partnership with STEPS that connects local artists to BMO branches across Canada to activate community spaces through public art.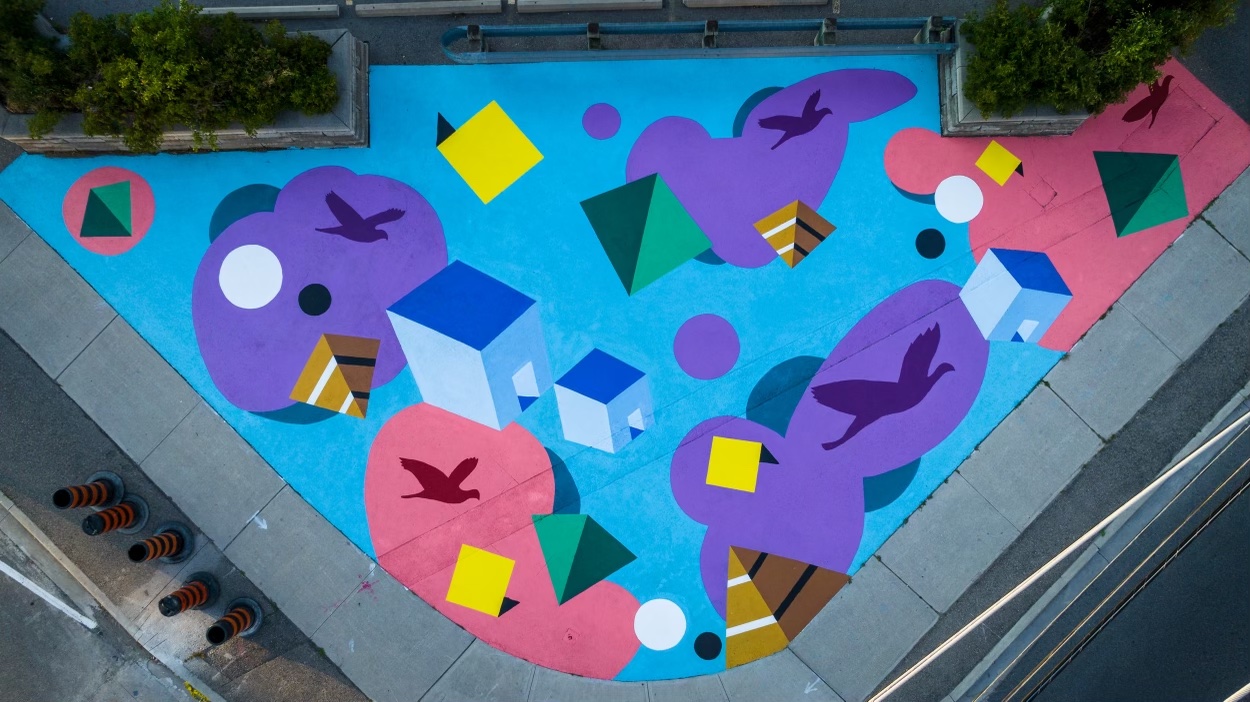 Jaguar Valley Murals
Mural, Cooksville/Mississauga
About Public Art Management
Our public art management services range from public art consulting, shortlisting and hiring artists and project evaluation to bringing a public art installation from start to finish. STEPS public art management services are known for being:
Iconic: Our landmark public art installations have included some of the World's Tallest Murals
Cost-effective:

We tailor our services to produce unique installations within your timeline and budget

Expert:

We have the latest knowledge in municipal policy, permits and artistic trends to produce innovative works and navigate complex processes

Transformational:

Our customized approach meets the needs of your site by reflecting and contributing to the character of communities
Interested in engaging with STEPS to jump-start your public art management and art installation goals? Have an idea for a large-scale commercial mural or complex multimedia installation? Take a look at our process to help realize your public art vision for your community.
Step 1: Think about your public art installation goals. Take a look at our Frequently Asked Questions (FAQ) to learn more about public art management and the services available.
Step 2: Contact STEPS with information about your goals and ideas.
Step 3: We will respond within two (2) business days and set up a meeting.
Step 4: STEPS will develop a custom proposal unique to your public art management and consulting needs after the meeting.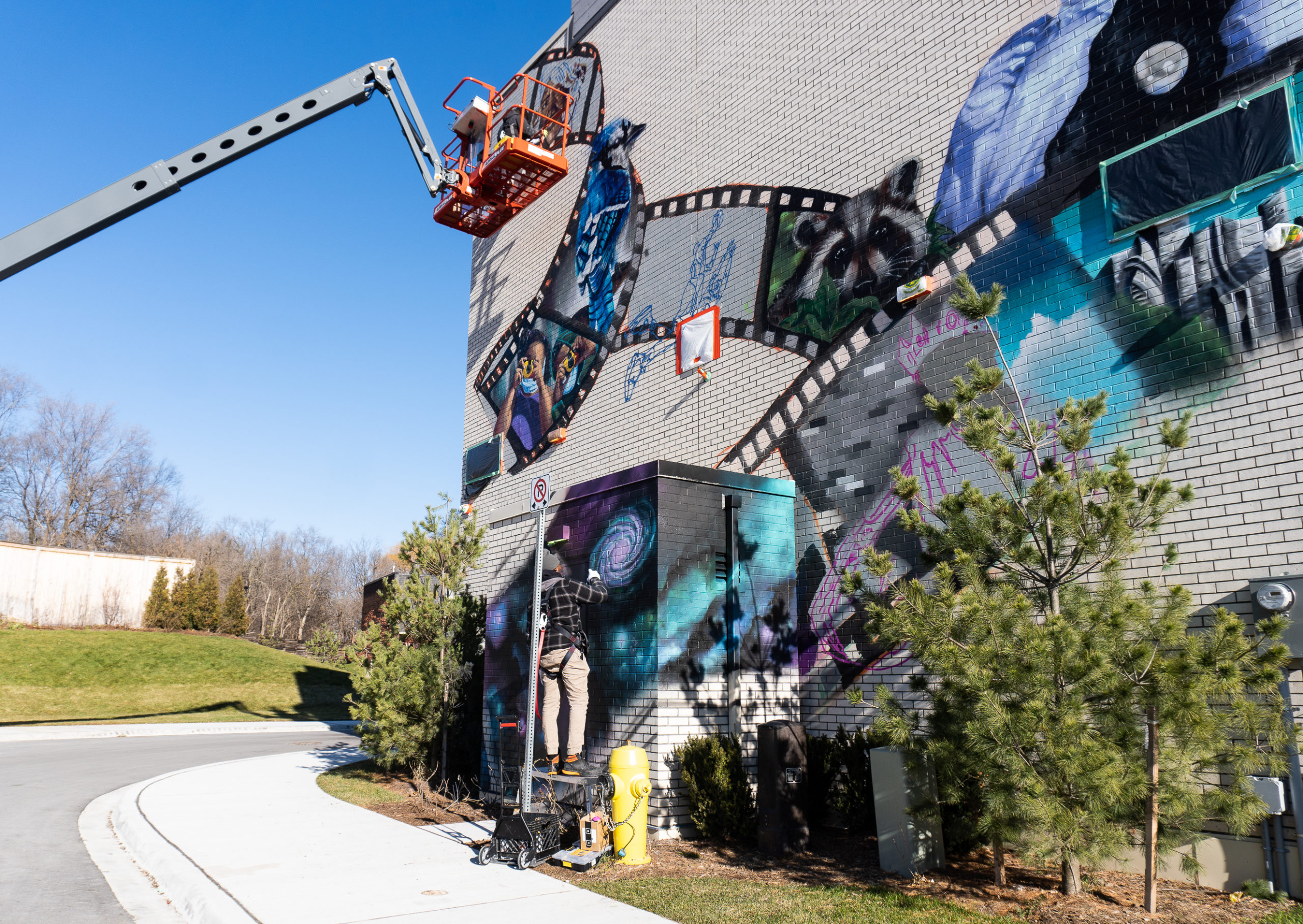 Engage, Design and Inspire with STEPS
STEPS Public Art is an award-winning Canadian-based national public art and cultural organization that fosters inclusive communities through one-of-a-kind art initiatives.
Hear From STEPS Collaborators!
Tridel
"
We are proud of the artwork we have produced together. With STEPS guidance, it was a seamless process.
"
Katie Fong (Director Asset Management, Slate)
"We couldn't have anticipated the positive response and interest that the mural has generated from the community. The success of this project has given us a new energy and way to look at how we would like to see the area develop."
David Barrick (Chief Administrative Officer, City of Brampton)
"This project with Brampton Fire and Emergency Services, our Cultural Services team and STEPS perfectly illustrates what great collaboration can bring to the community. These murals will connect our fire stations to their surroundings as spaces of safety, relationship building and creativity, contributing to our vibrant community."
Who funds public art?
Public artwork can be funded by municipal, federal or provincial governments (through Percent-for-Art programs or grants to non-profit organizations like STEPS), or from contributions from individuals, corporations, and foundations.
What counts as public art?
Public art has changed rapidly in recent years, with exciting new methods and mediums becoming popular in the field. All kinds of artistic animations count as public art, from large scale commercial murals, to temporary seasonal installations like decorated warming stations, construction hoarding exhibits, audiovisual works like the Interconnected Mural, or public performances like Charmaine Lurch's project I am Lucie, I am Thornton.
Why is public art management important?
Public art benefits cities in different ways; it can develop a sense of place and shared identity, represent the populations that call the place home, strengthens community ties in the area, and encourage conversations about issues or histories facing the site of public space. Public art has the power to change the way people think about their cityscape.
STEPS' public art management service brings our extensive knowledge and experience to your project to ensure a smooth, positive public art installation. Our roster of professional artists and staff of urban planners, public art managers, and placemaking professionals are excited to tackle your public art ideas!
Can we engage an artist of our liking, or do we have to work with one from the STEPS Roster?
STEPS has an extensive roster of artists based in the Greater Toronto Area (GTA) and a growing network of artists across the country. Based on the project requirements, we can suggest artists from this roster or create a tailor-made shortlist for our partners. We also facilitate local, provincial and national Calls for Artists.
How do I hire a mural artist for my commercial building mural project?
Contact STEPS with additional details about your mural project idea to see how we can help you hire a mural artist or provide you with resources to support your initiative.
STEPS Public Art
c/o Art Hub 27
39 Queens Quay E, Suite 100
Toronto, ON, M5E 0A4
P: 1-888-STEPS-80 / 1-888-783-7780
E: info@stepspublicart.org
Want to get involved with STEPs Public Art?
Let's Work Together!
Explore our opportunities.
See our latest events, calls for artists,  and employment opportunities.
Tell us about your needs.
We can't wait to help you reimagine public spaces in your community.
make an impact.
 Support artists and communities to breathe creativity into public spaces.