Over the past year, STEPS has been working with the City of Toronto to support a community-engaged approach and the development of this EOI. We encourage all interested artists to apply!
CALL TO ARTISTS FOR EXPRESSION OF INTEREST (EOI)
PUBLIC ARTWORK FOR LAWRENCE HEIGHTS TRIANGLE PARK
Ward: Eglinton – Lawrence
Value of the Awarded Commission:
Approximately $475,000.00 CAD (+HST)

Deadline for Submissions Extended:
5pm ET, March 1, 2021
Header image: Lawrence Heights, Courtesy Dillon Consulting
The City of Toronto invites professional artists (including artist teams) to submit their Expression of Interest to the first stage of a competition for a public artwork or artworks as part of the design of a new park for the Lawrence Heights neighbourhood.
The art component of this new public space will be selected through an open, two-stage competition, with a net budget of approximately $475,000.00 (+HST) CAD. The project budget includes all costs directly associated with the artwork: all fees for design, fabrication, installation, engineering and professional services, insurance, travel and other incidental expenses.
The design, by Dillon Consulting, is currently underway, and construction is planned for completion in 2023.
The City of Toronto's new Public Art Strategy outlines the City's commitment to public art created for, and with the input of, Toronto communities, and to create opportunities for artists of diverse backgrounds, experience and practice. We welcome submissions from Indigenous, Black, and racialized artists, and those who may not have previously worked in the public realm.
Lawrence Heights is an historical neighbourhood that is home to a strong, diverse, and engaged community. Artists are asked to consider the social impact of their work and how they can engage with community members, both long-time residents and those newer to the area, during the development and/or creation of their proposals. Community engagement will be a requirement for the selected artist and as such, interested artists should be prepared to outline how they intend to do so within their submissions.
The primary site (1) for artists to consider is the south west edge of the park, along the new Deep Roots Terrace, where a series of locations is possible in a linear promenade, accessible to the street as well as the park.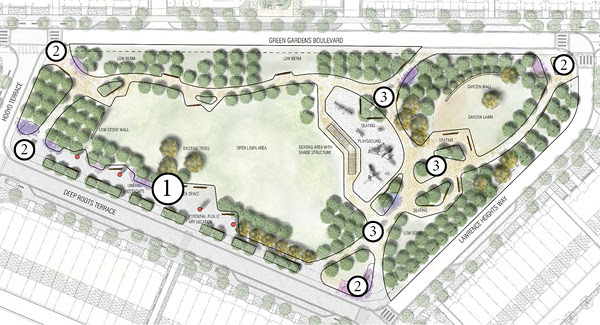 Other sites may be available at the entrances to the park (2), and at several sites within the park itself (3). It is an option for artists to work at one or a combination of sites. The sites will be described in detail in the Terms of Reference for short-listed artists.
This is a two-stage, open, international competition for professional artists.
Per the Canada Council's guidelines, a professional artist is defined as someone who:
has specialized artistic training (not necessarily in academic institutions)
is recognized as a professional by their peers (artists working in the same artistic tradition)
has a history of public exhibitions
has produced an independent body of work
A specially convened Selection Panel, composed of practicing arts professionals and community members, will be established for this two-stage competition.
Stage 1: Request for Expression of Interest:
December 17th, 2020 – March 1st, 2021
The Selection Panel will review all submissions and meet in March 2021 (date TBC) to identify a short-list of five (5) artists, based on artistic excellence and demonstrated or perceived ability to create and execute an innovative, engaging public artwork that is complementary to the overall design scheme and community context.
Stage 2: Request for Concepts: Early March – Early May, 2021
The short-listed artists will be notified shortly after the selection panel's first meeting, and invited to submit a conceptual design proposal. A detailed Terms of Reference document will be provided to short-listed artists, with all of the detailed information required to prepare and submit their proposals. Short-listed artists will be paid a fee of $3000.00 (+HST) for this stage.
All proposals will undergo a technical review by City staff and design team members, in order to assess them for safety and maintenance concerns. Each artist will receive their technical feedback notes, and have time to incorporate them into their proposals, if necessary, and all technical reviews will be circulated to the selection panel. Proposals which are deemed not technically viable will not advance to the interview stage.
Short-listed artists will attend an interview (interviews may be online) and present their proposals to the Selection Panel in May, 2021 (date TBC). The panel will choose a finalist whose vision for the site best suits the overall scope and intent of this project, and has the ability or perceived ability to conceive and realize a public artwork on this site.
The short-listed artists will be notified of the competition results by mid-June, 2021.
ArtworkxTO, the City's Year of Public Art, will take place in 2021 as part of the City's commitment to artists and art as part of COVID-19 recovery. All new commissions will be included in the ArtworkTO program wherever possible.
December 17, 2020: EOI issued
March 1, 2021, 5pm ET: EOI submissions due
Early March, 2021: Selection panel meeting
Mid-March, 2021: Short-listed artists notified
Mid-May, 2021: Proposal deadline
End of May, 2021: Technical Review
Mid-June, 2021: Artist interviews and selection
Professional artists are invited to respond to this EOI by submitting a single pdf document:
This pdf document must be labeled with the name of the artist and project (Last Name First Name_ LHTriangle) and include:
CV (one for each team member, if applicable)
Brief artist statement outlining interest in project, showing relevant experience, ability, and general artistic approach. Please include your experience and general approach to the community engaged process. Do not include proposals at this stage.
Maximum ten (10) images of work, with caption including title, materials, dimensions, location, and commissioning body (if applicable). Audio / Video files may be provided via URL.
Names and contact information for two references (preferably from recent projects).
Submissions must not exceed 20 MB total size.
Submissions must be received by March 1st, 2021 at 5pm.
Late submissions will not be accepted.
Email submissions to: publicartcompetitions@toronto.ca
Please use subject line: LH Triangle Park EOI Submission
Contact
Catherine Dean
Public Art Officer
(647) 458-5657
catherine.dean@toronto.ca
The City of Toronto is on the traditional territory of many nations, including the Mississaugas of the Credit, the Anishnabeg, the Chippewa, the Haudenosaunee and the Wendat peoples and is now home to many diverse First Nations, Inuit and Métis peoples. The City also acknowledges that Toronto is covered by Treaty 13 signed with the Mississaugas of the Credit, and the Williams Treaties signed with multiple Mississaugas and Chippewa bands.