7
workshops & consultations
150
community members engaged
PROJECT DETAILS
Daily Migration is a community based, participatory public art project that began in the summer of 2020 offering social connection through three unique yet interconnected programming threads: community engagement sessions, collaborative arts workshops, and an online exhibition featuring artwork and writings of workshop participants. Canadian-Chilean artist Shalak Attack, known for their distinctive murals, presents a visual journey of shared community stories about arrival, departure, home and longing.  The project culminated in the creation of a 1,400 square foot mural in September 2021,  transforming Wilson TTC Station into a vibrant cultural space, TTC art to be enjoyed by 17,000+ daily visitors.
"This project is honing in on that idea of 'home is where the heart is', no matter if it's a physical space, a spiritual space or an emotional space."
– Shalak Attack, Lead Artist

Because of the current pandemic, workshops were reimagined to follow social distancing protocols and took place online. Fifteen individuals from the City of Toronto who self-identified as newcomers participated in workshop sessions each based on storytelling, shared experiences, and art-making. Each participant was inspired by the theme of Daily Migration either through lived experiences or from a universal perspective, culminating in an online exhibit of writing and one-of-a-kind artwork. These strong visions created with watercolour and mixed media approaches became an integral inspiration for the mural project. 
"The richest part of this workshop experience was that it gave us an opportunity to share our stories and have our voices heard, both verbally and visually. This opportunity could not have come at a more opportune time given the current social and health climate. I feel inspired to start creating more."
– Workshop Assistant

Expressing the ties that connect us to each other, to nature, and to the earth on which we travel, the capacity-building and collaborative opportunities culminated in a community-informed mural design championed by inclusivity and diverse narratives. Daily Migration is a new and vibrant co-created community mural that spans a concrete pedestrian pathway at Wilson TTC Station that offers a cultural experience in the everyday lives of public transit users by transforming public infrastructure into a creative space for 17,000+ daily transit users at this station. This TTC art project idea was brought to life in collaboration with STEPS, the City of Toronto's StreetARToronto Partnership program, the Toronto Transit Commission (TTC), and Councillor James Pasternak, Ward 6 – York Centre. 
"As a descendant of immigrants myself, I understand the hardships and challenges that come with leaving your home behind to start somewhere anew, while keeping your roots in your heart. Public art is a cultural bridge between our diverse communities, and the Year of Public Art is an opportune time to showcase local talent, tell unique stories and transform our public spaces."
– Councillor James Pasternak, Ward 6 – York Centre
"I am honoured to have led this mural project echoing the voices and stories of migration. It is a theme close to my heart as migration has impacted my life story in so many ways, and it has been incredible to share these stories and connect with so many others who also experience the lifelong questions of identity and belonging!"
– Shalak Attack, Lead Artist

Daily migration unveiling
Local residents and visitors alike were invited to experience the Daily Migration mural by visiting Wilson TTC Station or joining us and the artist team in the unveiling pop-up event, including ribbon cutting, interviews and cultural activities.
Daily Migration Self-Guided Art Tour
Experience the Daily Migration project through an immersive self-guided art tour on the STEPS Public Art App. In celebration of Neighbourhood Arts Network's Newcomer Week, learn more about the creation of this project, see amazing images of the different murals, watch interviews with the artists and more! 
Scan the QR code to view the tour on our web app or visit the links below: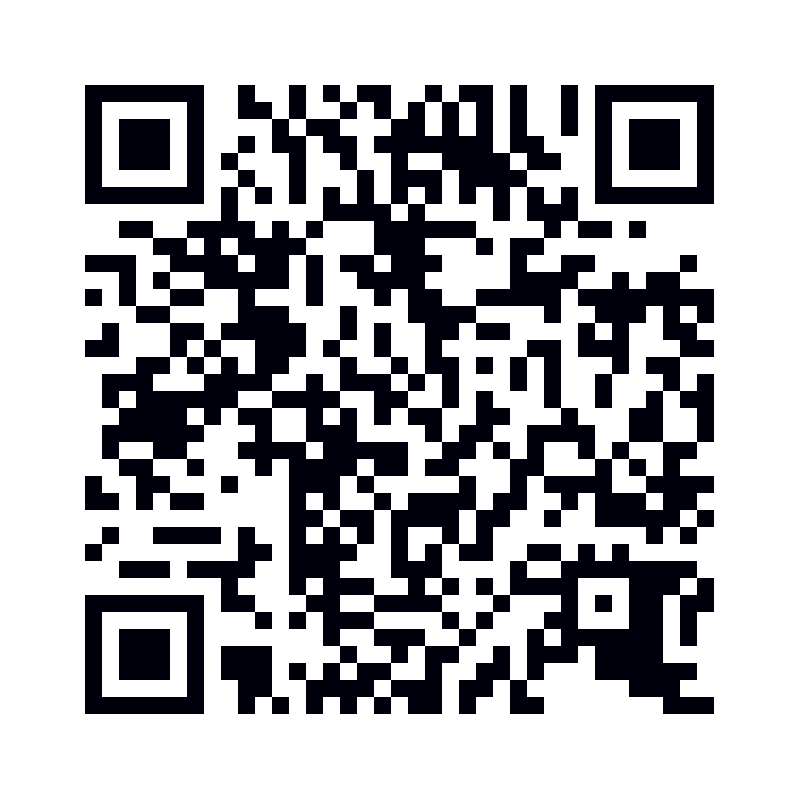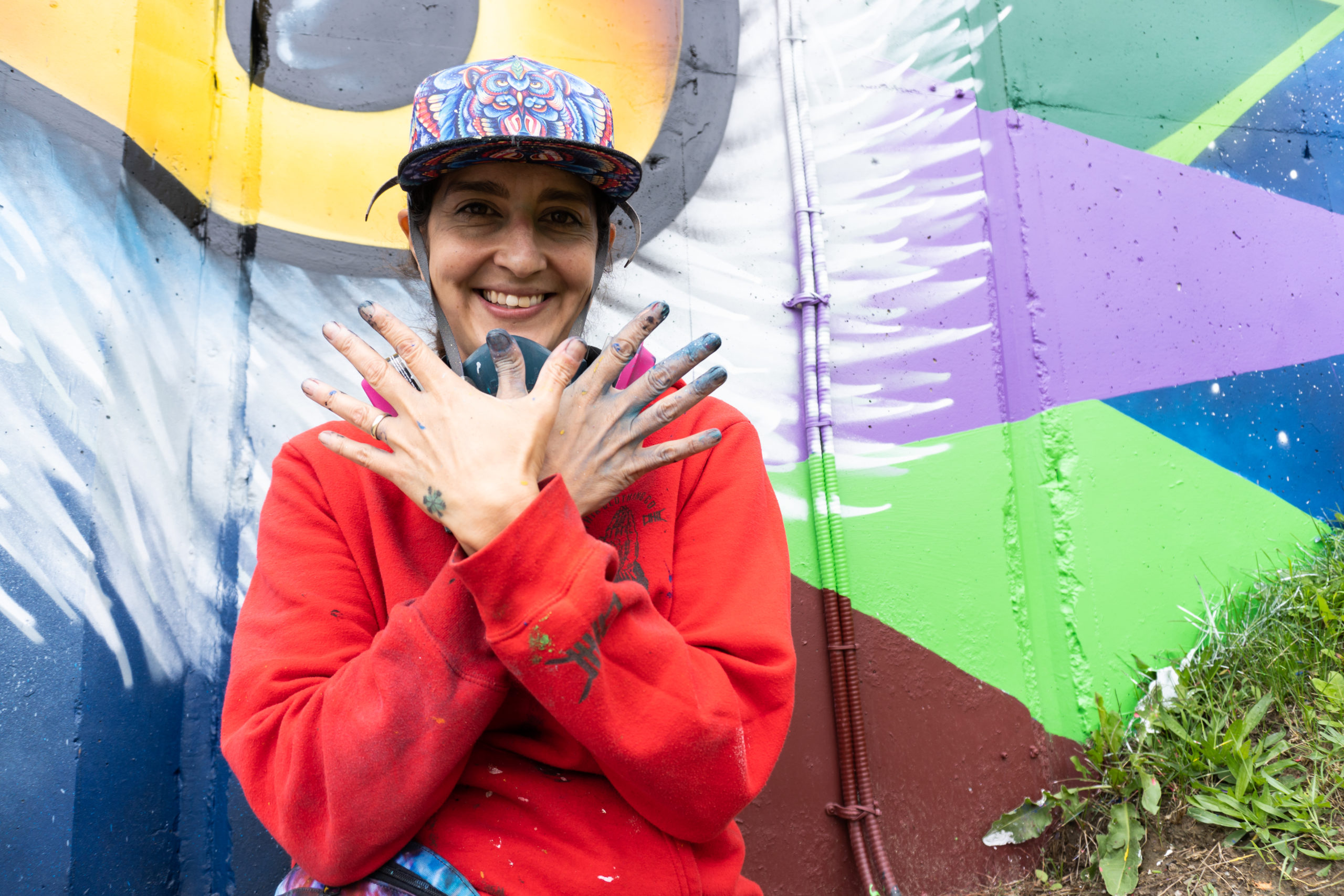 Shalak Attack is an internationally-known Canadian-Chilean visual artist dedicated to painting large-scale street art murals, community murals and canvas art around the world. In Shalak's artistic practice, she fuses the spirit of South American muralism with contemporary street art. Shalak's distinctive multi-layered and signature use of colour are emblematic of her unique style that inhabits the realm of psychedelic magical realism.
Currently based in Toronto, Canada, Shalak's murals have contributed culture, life, consciousness and personality to public and otherwise forgotten spaces. Shalak shares her passion for freedom of expression, and has facilitated visual art workshops to at-risk youth, women and community empowerment groups, as well as prisoners in various countries across the Americas, Europe, the Middle East and in Africa. Her artistic work and community art-reach is rooted in the social and cultural values she received from her family who immigrated to Canada as part of the Chilean political diaspora caused by the country's military dictatorship in the 1970s.
About the Artist assistants
As part of STEPS' commitment to cultivating paid training opportunities for underrepresented Canadian artists, several paid mentorships were also embedded within the project to support the production of the final mural design, as well as provide meaningful experiences for the artist mentees with Shalak's breadth of arts facilitation and mentorship experience.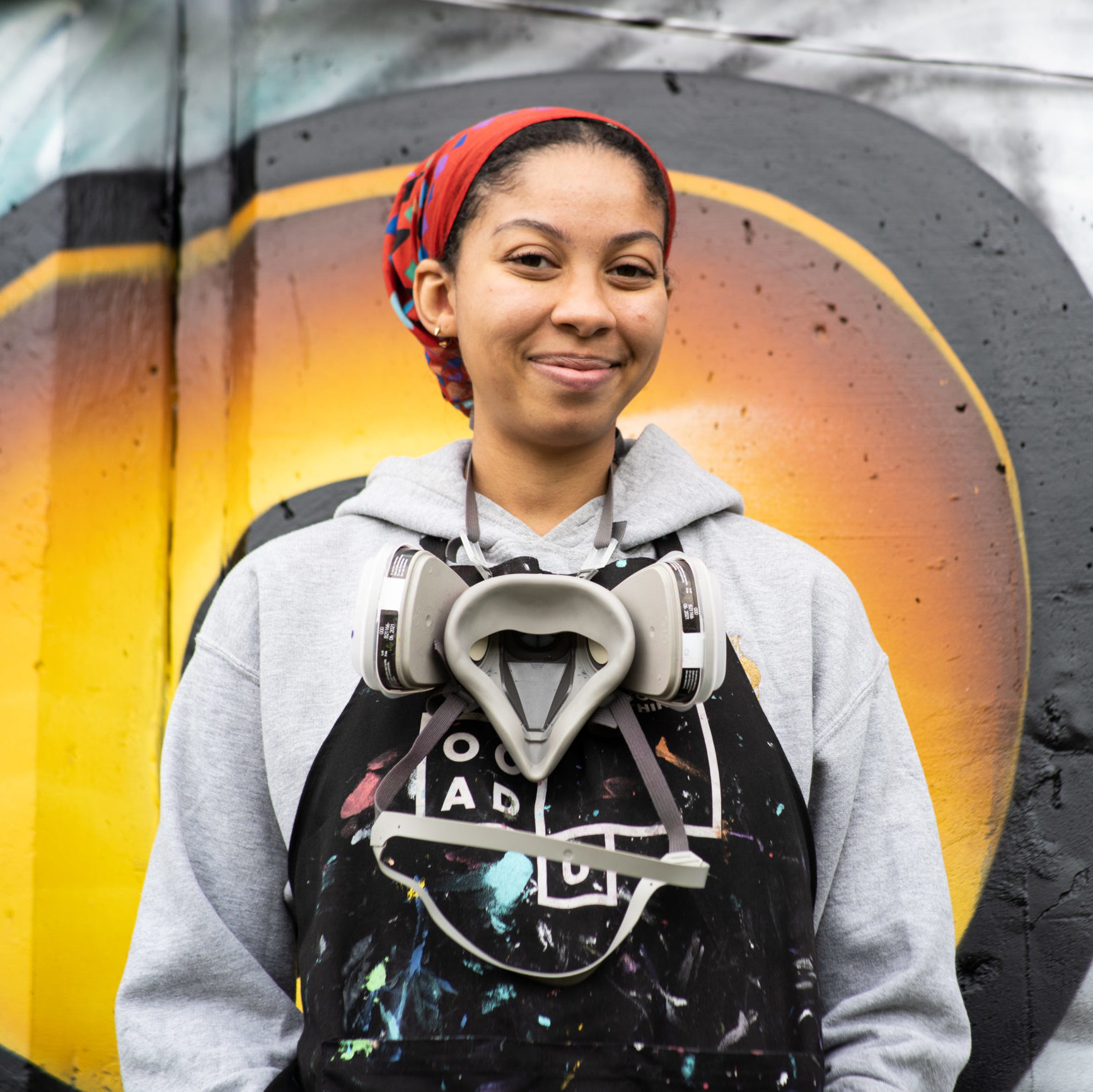 Edan Maxam
Artist Assistant
Edan Maxam is an Afro Indigenous (Cuban, Caymanian and Mi'kmaw) multidisciplinary artist born and raised in T'karonto. Edan works with analog and historical methods of photography to discuss themes of identity, family history, oral storytelling, healing and activism. She received her BFA in Photography with a minor in Art and Social Change. Edan continues to do work in community arts and has future plans of becoming an Art Educator that supports BIPOC youth.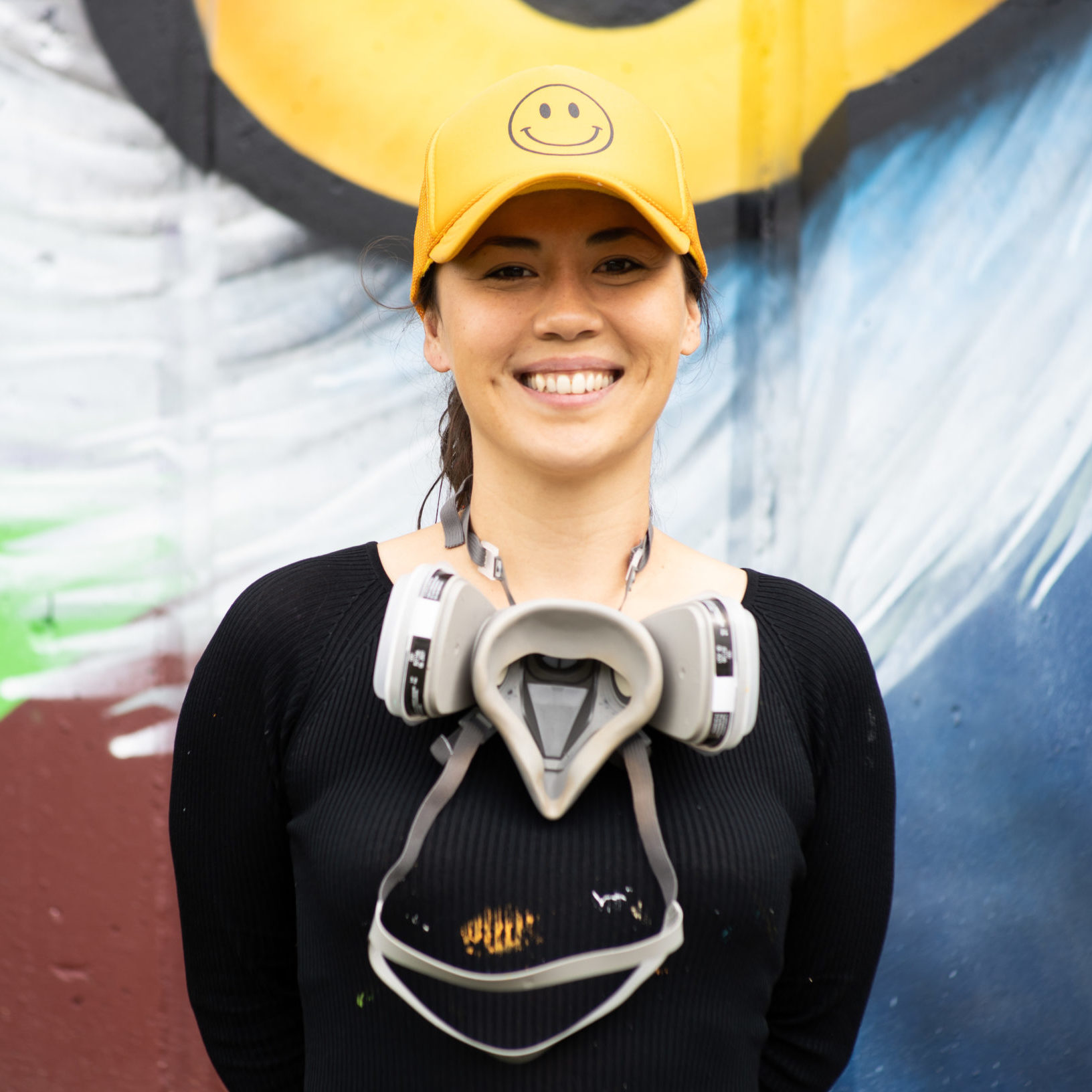 Kseniya Tsoy
Artist Assistant
Kseniya Tsoy is a new Canadian community-engaged artist originally from Uzbekistan. Whether it's community murals, illustration or cultural production, her work has a distinct social purpose and focuses on diversity and inclusion. As a visual artist, her works are inspired by folk motifs and legends of different cultures that influenced her throughout her life. For her as a person of mixed heritage, it is a visual expression of her never-ending exploration of identity and belonging.
"Shalak introduced me to murals 7 years ago and to be able to work alongside her feels like a full circle in my muralmarking journey, particularly as the production team was all women of colour."
– Edan Maxam, Artist Assistant
"I was very lucky to be a part of the community workshops a year ago where Shalak connected with many immigrants and refugees in Canada. As a recent immigrant to Canada, the theme of Migration spoke to me. I love culturally-inspired public art and I think representation in the arts matter."
– Kseniya Tsoy, Artist Assistant
StreetARToronto (StART), an initiative of the City of Toronto, Transportation Services Division, is a suite of innovative city building programs intentionally designed to showcase, celebrate and support street, mural and graffiti artists and art throughout Toronto. StART programs and projects are rooted in a set of values that demonstrate the positive and powerful impacts of diversity and inclusion, foster community engagement and civic pride, add colour and vitality to neighbourhoods, encourage active transportation, showcase Toronto artists their ideas and beliefs and contribute to their skills development, mentor emerging talent, and create opportunities for positive engagement among residents, business owners and operators, artists and arts organizations.
Daily Migration is made possible with the support of StreetARToronto, a program by the City of Toronto, Toronto Transit Commission (TTC), Councillor James Pasternak, funding by the Government of Ontario, and Dulux Paints.