The Eglinton Way Business Improvement Area (BIA) has partnered with STEPS and the City of Toronto to bring excitement and improvements to the neighbourhood by creating an Art Walk!
In the coming years, starting in 2021, the BIA in partnership with the City of Toronto will be adding various sculptures at various locations along Eglinton Ave W, between Oriole Pkwy and Chaplin Cres. The locations were identified and approved by the BIA Board.
Award winning public art consultants, STEPS Public Art, is managing the Public Art Competition to help the BIA select the artists and artwork. The BIA intends to select five original public artworks for installation on the City-owned lands along Eglinton Avenue West at approved locations.
The public art will be installed by City-approved contractors, and paid for and maintained by the BIA. The City and BIA partnership is critical in animating the public realm creating a unique cultural experience that supports a vibrant local economy and livable neighbourhood. 
Join our Community Open House on August 18 at 6:30pm EDT via Zoom!
To date 10 artists have been shortlisted. Each artist concept proposal will be shared on The Eglinton Way BIA website on August 11. A community Open House with a Q&A session with the artists will take place virtually on August 18 at 6:30 PM. Join us for a chance to ask questions to the artists or send your question or comments by August 22 via email to collin@stepspublicart.org.
Location of the 5 first public artworks: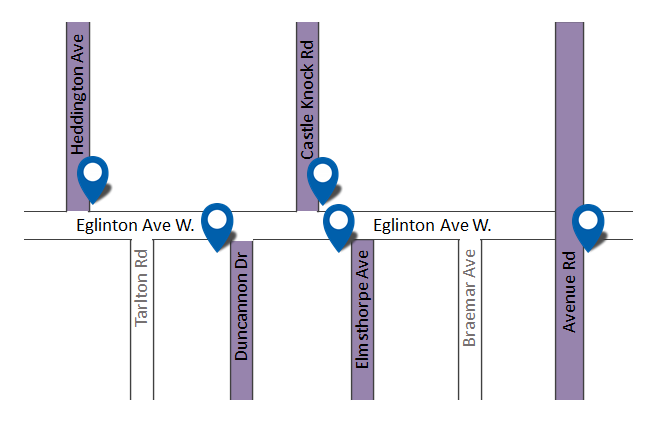 This is a long-term project that will be executed in the coming years. The Eglinton Way BIA is very excited to share this competition to select the first 5 pieces of art, from 10 different artists, that will be installed in the community! 
If you have any questions, please contact The Eglinton Way BIA at info@theeglintonway.com or 416-487-3294.