A STEPS PROJECT
Art in Transit Toronto
Commuting and Other Lonely Thoughts
Commuting and Other Lonely Thoughts is a 2021 CreateSpace community-led art activation by artist-in-residence, Yasmeen Nematt Alla, that investigates the loneliness of our commutes. This project communicates art in transit Toronto spaces.
---
PROJECT AT A GLANCE
Location: Subways, buses, TTC stations and art spaces across Toronto, Marion Nicoll Gallery (1407 14 Ave NW, Calgary, AB), and PLATFORM Centre (121-100 Arthur St, Winnipeg, MB), Bathurst Centre for Culture, Arts, Media and Education (918 Bathurst St, Toronto)
Artist: Yasmeen Nematt Alla
Year: 2021
Services: Artist Capacity Building
3
participating provinces
1000+
print media distributed
PROJECT DETAILS
As an ode to crying on buses, trains and subways in the middle of crowds that have somewhere to go, Commuting and Other Lonely Thoughts examines the time spent in transition and in transit. The project becomes a prompt, conversation, and space in the form of a phone number on a card, poster or ad on transit that shares a lonely feeling with you and invites you to share with it.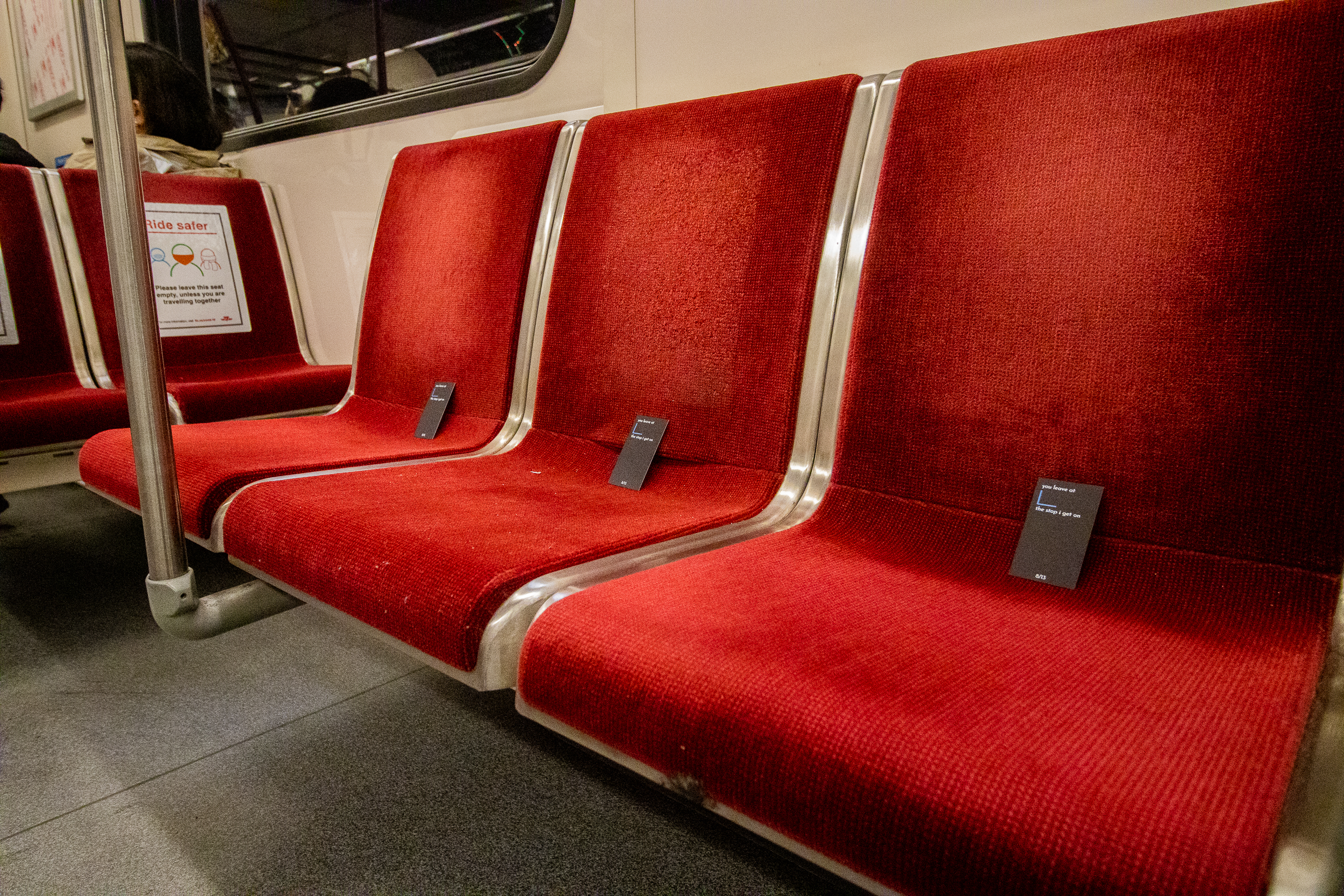 "When the loneliness comes, I'll be sitting on a bus, going somewhere I don't care about going, I'll burst into tears and everyone will know not to ask any questions." 
– Yasmeen Nematt Alla, Artist-in-Residence

This project entered public spaces in the form of small cards distributed across Toronto subways, buses and subway stations where commuters were invited to text the number on the card to prompt a series of questions through SMS messaging. Posters were also installed at various Toronto art spaces, including Above Ground (Junction and Beach locations) and 918 Bathurst Centre for Culture, Arts, Media & Education Centre. Commuting and Other Lonely Thoughts will also debut in Calgary, Alberta at the Marion Nicoll Gallery in late 2021, and at the PLATFORM Centre in Winnipeg, Manitoba in January 2022 for more people to voice their silent and lonely thoughts. 
A culmination event for Commuting and Other Lonely Thoughts will take place on January 28, 2022 from 7PM-9PM at 918 Bathurst Centre for Culture, Arts, Media and Education in Toronto. This event will be a sound and visual installation of the hundreds of responses Yasmeen has received across her project.
The goal of this project is to allow participants to enter their thoughts into a void, allowing them to be shared and archived as a catalogue of collective loneliness and grievances. With the support of artist mentor Hiba Abdallah and the CreateSpace Public Art Residency, Yasmeen brought this community-led project to life across mediums and interactive spaces that spanned three provinces.
"The STEPS residency was really great at allowing people to connect with each other and see work in the country that I wouldn't have connected with otherwise, and it made space for me to ask questions that I wouldn't have been able to ask. The workshops gave me space to create and made me think about creating in ways I wouldn't have though about in other circumstances."
– Yasmeen Nematt Alla, Artist-in-Residence

"It has been really nice to participate in something that definitely didn't exist when I was a young artist, and being able to have relationships with mentors that look like you and have similar experiences to you as a racialized artist, and I'm really happy to take part in something like that, and I hope it continues! It's a great project to see."
– Hiba Abdallah, CreateSpace Mentor

About Yasmeen Nematt Alla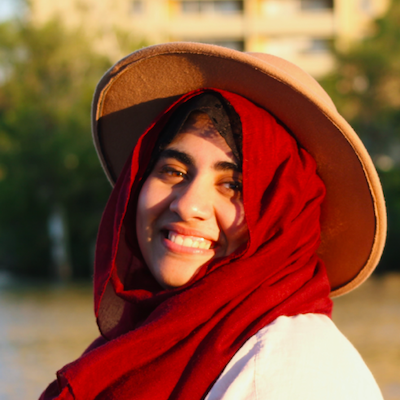 Yasmeen Nematt Alla (she/her) is an Egyptian artist and art worker living in Tkaronto, Ontario. Her practice approaches alienated narratives from an interpreter's perspective. As someone who lives between cultures, she deciphers language barriers attached to alienation and otherness. 
About CreateSpace Residency
CreateSpace is a national public art residency program designed in consultation with advisors from coast to coast, to provide emerging Black, Indigenous and racialized artists with the skills, relationships and practical experience needed to take their public art practice to the next level.  
The program aims to strengthen solidarity amongst artists working in diverse contexts and build connections between these artists and their communities. This residency also encourages conversations of social equity in city-building, design and placemaking.
This year's virtual residency takes place from March to December 31, 2021 and through this nine (9) month program, ten (10) emerging or mid-career public artists will convene, connect and create socially-engaged public artwork across Canada. For the latest updates, be sure to follow @STEPSpublicart and #CreateSpaceResidency.
The CreateSpace Residency is made possible by support from TD Bank Group through the TD Ready Commitment, the City of Toronto as part of ArtworxTO: Toronto's Year of Public Art 2021 – 2022, Partners in Art, MAWA, Canada Council for the Arts, and funding provided by the Government of Ontario.