CreateSpace Public Art Forum 2022
An artistic response to the 2022 CreateSpace Public Art Forum, a national forum virtually convening participants who identify as Black, Indigenous (First Nations, Inuit and Métis), racialized, rural and/or youth with disabilities and between the ages of 18-25. Participants were presented with online talks themed around public art practices, studio tours by artist facilitators, a Keynote Event by artist Lori Blondeau, and opportunities to engage with fellow peers to inspire their final creations.
45
CreateSpace participants
As an artist, No one is interested in poetry as a medium that express the  language of the interior and helps bring to life the internal landscape of emotion. A lifetime is about bringing our shadows to light, letting go of limiting beliefs, finding courage and addressing the anxiety that we have as human being concerning our existence and our place in the world.
A lifetime 
This is not a poem
By No one
My heart whispers of a life
That I can't give her
She works too hard
To fill an infinite void
An endless disaster
We've listened to the screams of my death
As lies crashed in me in waves
I spent too many mornings walking along despair
Bathing in its waters
Swimming in its care
And you watched me too many nights
Trying to close my eyes
Wanting to fall into its depth
But here
They don't bury the deads
That stays alive
We just slowly watch them dissolve
Into the one, they were before
The one they could have been
The one they struggle to be
You told me once
That I could've lose myself in life
Like I would have in death
If I could turn your whispers into roars
And dreams into plans
If
I had enough courage to walk beside you
If
I took better care of myself
If
I learn to transcend pain
If
someday
I surrender to gods plans
So you replanted something in me
And watched me grow back into a seed
That sprouted in your hands
Once I started to transmute
Life into plans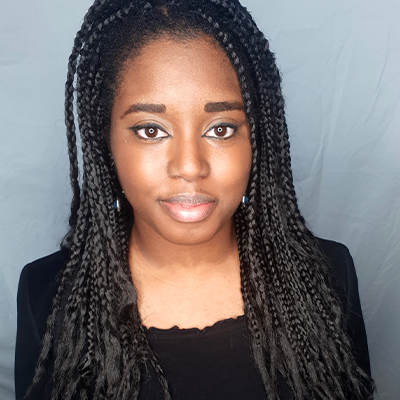 No one (Yoanna Joseph)
No one (she/her) is an emerging singer-songwriter and writer based in Tiotia:ke/Montreal. She's an undergraduate of French literature from the University of Montreal. No one's work focuses on vulnerability that she explores through the internal landscape of emotions. Her two favourite mediums are poetry and songs. She believes in the cathartic proprieties of art and uses it to undress silences. No one was part of Geordie's Theatre mental health workshops for 10 black youths, the Black Arts Mentorship program at Theatre Passe Muraille and a past participant of the Artist program at Imago Théâtre. Her first play, Aborted was developed at the Young Creator's Unit of Playwrights Workshop Montreal with the help of a Jeunes Volontaires grant and a Culture Laval grant. As a singer-songwriter, No one has performed at Trois-Pistoles en chanson, Udem en spectacle, Festival musique-jeunesse. No one was also part of this year's Montreal Fringe where she presented an excerpt of her poetic musical work For what lay in the Invisible. Additionally, she participated in the co-creation of a short film called Passionnée at the Connexion 360 short-film program of Chantier Jeunesse and she was also part of the podcasting program Empathy squad of Fixpoint Art and media, Currently, she's part of the BCRC Innovative book project and Untold Stories: Past, Present & Future where she is continuing to learn and work on her artistic skills.
CreateSpace Public Art Forum
STEPS Public Art believes public art has the ability to challenge the systemic inequities that exist in public space. In support of this important work, we facilitate artist capacity building programs that foster inclusive public art practices, build the capacity of underrepresented artists, and demonstrate how public art can help reimagine equitably designed cities.
CreateSpace Public Art Forum is a digital forum that virtually convenes participants who identify as Black, Indigenous (First Nations, Inuit and Métis), racialized, rural and/or youth with disabilities and between the ages of 18-25. This forum fosters connections, builds understanding across geographies and cultures, as well as provide emerging equity-seeking artists with the skills, relationships and support needed to develop public art practices. Visit the online gallery to view all artistic responses by the 2022 forum participants.
CreateSpace Public Art Forum is supported by Canadian Heritage, Canada Council for the Arts and CIBC.

Ready to get your project started with STEPS?