CreateSpace Public Art Forum 2022
An artistic response to the 2022 CreateSpace Public Art Forum, a national forum virtually convening participants who identify as Black, Indigenous (First Nations, Inuit and Métis), racialized, rural and/or youth with disabilities and between the ages of 18-25. Participants were presented with online talks themed around public art practices, studio tours by artist facilitators, a Keynote Event by artist Lori Blondeau, and opportunities to engage with fellow peers to inspire their final creations.
45
CreateSpace participants
This piece of writing alludes to a symbolic rebirth. Throughout the STEPS workshop I had the privilege to immerse myself in a nurturing community when I needed it the most. This emersion felt like a grounding ritual that was needed given the current social upheavals, severe isolations and artistic rust. The end of the writing points to the ripple effect of change in community stemming from individual change.
Arrival 
Emerging from the rust-blooding of volcanic craters,
We flew feet-first into echoes within parentheses' 
Our exits; as deliberate as crushed petals,
as often as mountains in the Andes.
We had let ourselves wash up amongst seashells,
Drifting coast to coast,
Immersed within brine passions,
In flesh to bones with marrow and magma,
We dissolved into whisper
In submission to changing seasons, in triumph of time,
We, occupants of tunnels leading towards observatories, 
within nothingness, within chaff.
Dancing flames breezed into damp silence of history,
We lived within the partiality of penumbra,
Bargaining light,
Begging for sunlight.
Missiles of rain beating us into decay
As rainbows bent into promise of uncertain resplendence,
Tides rose, swelling within hope's bowels.
Up from the pierced head of volcanic chorus. 
I arrived,
Within the love that digs deep like acid,
From the hope that wallows in waterlogged cavities,
For the moon who came out to me, full and bloodied,
In the wind that blows broken dreams east,
Towards the heavens gate that barely exists, 
With my own flood wetting our knees.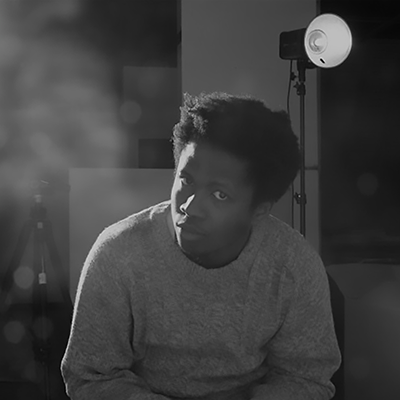 Dubem (Chukwudubem Ukaigwe)
Dubem is a Nigerian born song, dispersed by a transient Atlantic breeze currently passing through Canada. He consciously uses a variety of mediums to relay a plurality of ideas at any given time. He approaches his art practice as a conversation, or a portal into one, and in some instances, as an interpretation of this ongoing exchange. Dubem operates as an interdisciplinary artist, curator, writer, and cultural worker. He is a founding member of Patterns Collective.
CreateSpace Public Art Forum
STEPS Public Art believes public art has the ability to challenge the systemic inequities that exist in public space. In support of this important work, we facilitate artist capacity building programs that foster inclusive public art practices, build the capacity of underrepresented artists, and demonstrate how public art can help reimagine equitably designed cities.
CreateSpace Public Art Forum is a digital forum that virtually convenes participants who identify as Black, Indigenous (First Nations, Inuit and Métis), racialized, rural and/or youth with disabilities and between the ages of 18-25. This forum fosters connections, builds understanding across geographies and cultures, as well as provide emerging equity-seeking artists with the skills, relationships and support needed to develop public art practices. Visit the online gallery to view all artistic responses by the 2022 forum participants.
CreateSpace Public Art Forum is supported by Canadian Heritage, Canada Council for the Arts and CIBC.

Ready to get your project started with STEPS?