'Fun is important'
BEACHES SANDBOX MURALS
The Beaches Sandbox murals are a community-engaged public art project created by artist Bareket Kezwer in collaboration with Beaches Sandbox, BMO Bank of Montreal and STEPS Public Art. These works of art, which consist of two murals that grace the front and back of the building, were created as a response to the excitement and joy the local community shared about the opening of a new space to play and build new memories together in.
14
Hours of Community Engagement
40
Community Youth Participants
Public art has the power to inspire, spread joy, story tell and bring communities together. Beaches Sandbox, a new community hub in the heart of Toronto's The Beach neighbourhood, aims to cultivate these experiences within the local community and make it a landmark artwork on the front and back of the building. 
With support from BMO and through STEPS' expertise in public art management and customized approach to one-of-a-kind installations, these community-oriented exterior murals by Bareket Kezwer was inspired by celebrating the joy in life while aligning with the Beaches Sandbox's commitment to investing in all children through community-based programs for fun and play through sport, the arts and education.
"
I think that public art has a huge capacity to make us feel connected to a place and is one of the many vehicles that will allow us to remain connected to hope. It has the potential to offer us not only comfort but to remind us of our sense of belonging.

"
–

Bareket Kezwer, Lead Artist
Community-engaged Activities
Led by artist Bareket with support from the STEPS team, these fun and interactive workshops were an opportunity for youth between the ages of 4-20 to explore themes related to the murals through drawing, collaging, and introduction to mural production with the chance to experiment with spray paint! Some of the themes identified by the participants during these sessions include: 
Nature 

Playful

Creativity 

Possibilities 

Experience 

Learning

Connection

Family and friends
Fun is Important – Mural Production
In Summer 2022, Bareket began painting Fun is Important, two exterior murals that span approximately 4,000 square foot painted on the front and rear of the building, made in collaboration with Beaches Sandbox with support from BMO.
The desire to see bright colours in an urban landscape, appreciation of the natural environment, the excitement and joy expressed at the opening of a new community space, and the opportunity to build new memories together are just some of the thoughts that inspired the resulting artwork.
Thank you to Brian Bennett who assisted in the making of this mural.
"
I hope that the murals have a lasting legacy of reminding people how important it is to make time to play and make time to connect with each other.

"
–

Bareket Kezwer, Lead Artist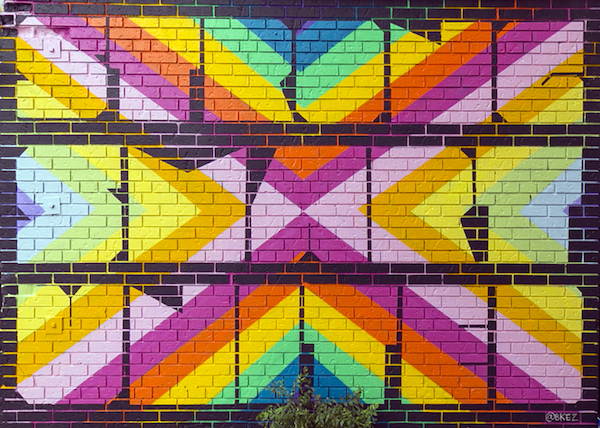 Bareket Kezwer
Lead Artist
Bareket is a multidisciplinary artist, facilitator, curator, graphic designer, frequent collaborator and eternal optimist. They create art to spread joy, bring people back into the present moment, cultivate gratitude, celebrate the power of kindness and compassion, and foster new social interactions that support the growth of inclusive and connected communities. Bareket is an inquisitive, adaptive and active urban resident dedicated to creating art that promotes radical self love and acceptance. 
Find public art activations near you with the STEPS Public Art App, a free mobile and web application with an interactive map of STEPS projects, self-guided walking tours and artist profiles. This app is updated regularly with new photos, videos and projects to help you explore your city and virtually visit public art projects in other cities!

The STEPS Public Art App is best experienced on your mobile device via the App Store or Google Play (also accessible via the Web App on your browser). Please rate and review to help spread the word and enhance your experience with the digital platform.
This public art project is in partnership with Beaches Sandbox, with the support of BMO Bank of Montreal.
Our Public Art Management Service is recognized for being iconic, cost-effective and transformational. From murals to sculptures and projection mapping, STEPS produces one-of-a-kind public art installations with partners that meet your needs.
Ready to get your project started with STEPS?