Be a part of creating a mural for Beaches Sandbox, a new community hub coming to 2181 Queen Street East Toronto!
All hands on deck! Learn the fundamentals of mural painting and help create the base layer of Bareket's Beaches Sandbox Mural!
We are inviting youth 12 years+ living in the Beaches Neighbourhood in Toronto to join Bareket to learn mural painting techniques, including aerosol painting, wall priming, and colour blocking. Participants will get to play and try out their newly learned skills on the wall that will soon host Bareket's new mural for the Beaches Sandbox at 2181 Queen St. East. 
These workshops are led by Artist Bareket Kezwer and supported by STEPS Public Art in partnership with the Beaches Sandbox. Two (2) in-person workshops will be held on Saturday, May 7, 2022, for youth ages 12-20. 
Registration is free, and all materials will be provided. 
Limited spots are available! The deadline to register is Friday, April 29, 2022, at 11:59 pm ET.
All workshops are

free

and open to youth ages 12-20 living, working, or playing in the Beach neighbourhood

Snacks and water will be provided. Please note lunch will

not

be provided. 

All participants must wear clothing & shoes they are comfortable getting non-washable paint on. 

All participants will be provided with materials necessary for their workshops.

No experience is necessary!
IN-PERSON WORKSHOPS WILL BE HELD AT BEACHES SANDBOX 2181 QUEEN STREET EAST
We recommend that each participant sign up for one of the following workshops. STEPS and Beaches Sandbox will not provide lunch or be responsible for participants between 12:30 pm and 2:00 pm. 
Workshop 1: Paint & Play – Exploration of Aerosol Painting Techniques
Saturday, May 7, 2022 11:00am – 12:30pm
For ages 12-20: Learn the fundamentals of aerosol painting and have the opportunity to test out the new techniques on the back wall of Beaches Sandbox before the installation of the mural.
Workshop 2: Priming or Colour Blocking Workshop
Saturday, May 7, 2022 2:00pm – 4:30pm
For ages 12-20: Join the artist and help lay down the base layer of the mural installation with priming and colour blocking the wall.
COVID Safety Considerations:
Let's work together to keep everyone safe! We kindly request that participants wear a face mask or covering during this event. Contact information will be collected for tracing purposes. 
Accessibility Notice:
STEPS Public Art is committed to the community's full participation in this project. Please indicate the support you require during registration or contact margaux@stepspublicart.org for more information.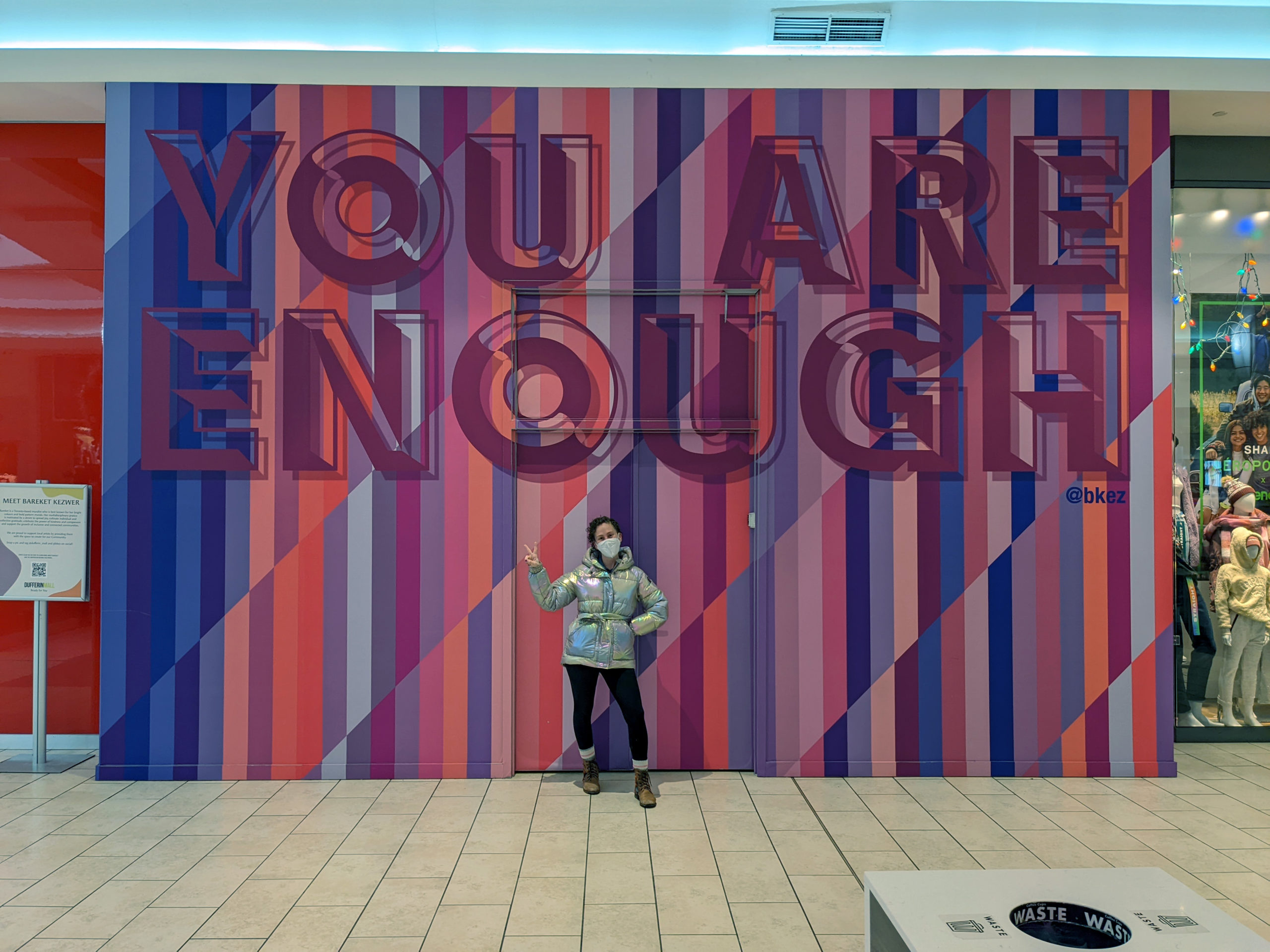 Bareket Kewzer
Bareket is a Toronto-based muralist, community-engaged artist and facilitator, curator, cultural producer, graphic designer, frequent collaborator and eternal optimist.
Her multidisciplinary practice is motivated by a desire to celebrate the power of kindness and compassion, cultivate gratitude, spread joy, and support the growth of inclusive and connected communities. She programs and facilitates projects that enable people to express themselves through creative engagement and increase the representation of Toronto's diverse population. In her murals, she works with bright colours and bold patterns to captivate people's attention and fill them with delight.
In 2017, she founded Women Paint, a street art jam celebrating the strength, resilience and diverse stories of women and non-binary artist and community members. As the initiative's creative director, she has produced over 100 murals by emerging and established artists, and facilitated intergenerational community murals and mural camps with youth.

Create, connect, and have fun! A community hub where you are free to be you.