Vancouver Based-Project Platforms: We Are Here, Live Stages Pandemic Responses in City Spaces
In the recent years marked by isolation and distancing, our social life largely moved outside. Open-air public spaces became more vital than ever as Canadians went for walks, spent time in parks, or ate outdoors. These activities also became a crucial way to physically connect with culture and arts as galleries, theatres, and other venues had to close their doors for safety.
Public art became a powerful method to respond to these conditions, with artists and groups across Canada and globally reflecting, engaging with, and questioning the current crisis.
Artworks can physically and conceptually shape public space from everyday surfaces like bus shelters, billboards, urban facades, decorative banners, and signage. As residents and visitors walk through city spaces, the public art we encounter can be uplifting, inspiring, and validate different experiences in space. In times of crisis and change, as people wonder what's next, public artworks can also address the question: How do we move forwards to build a better, more equitable future?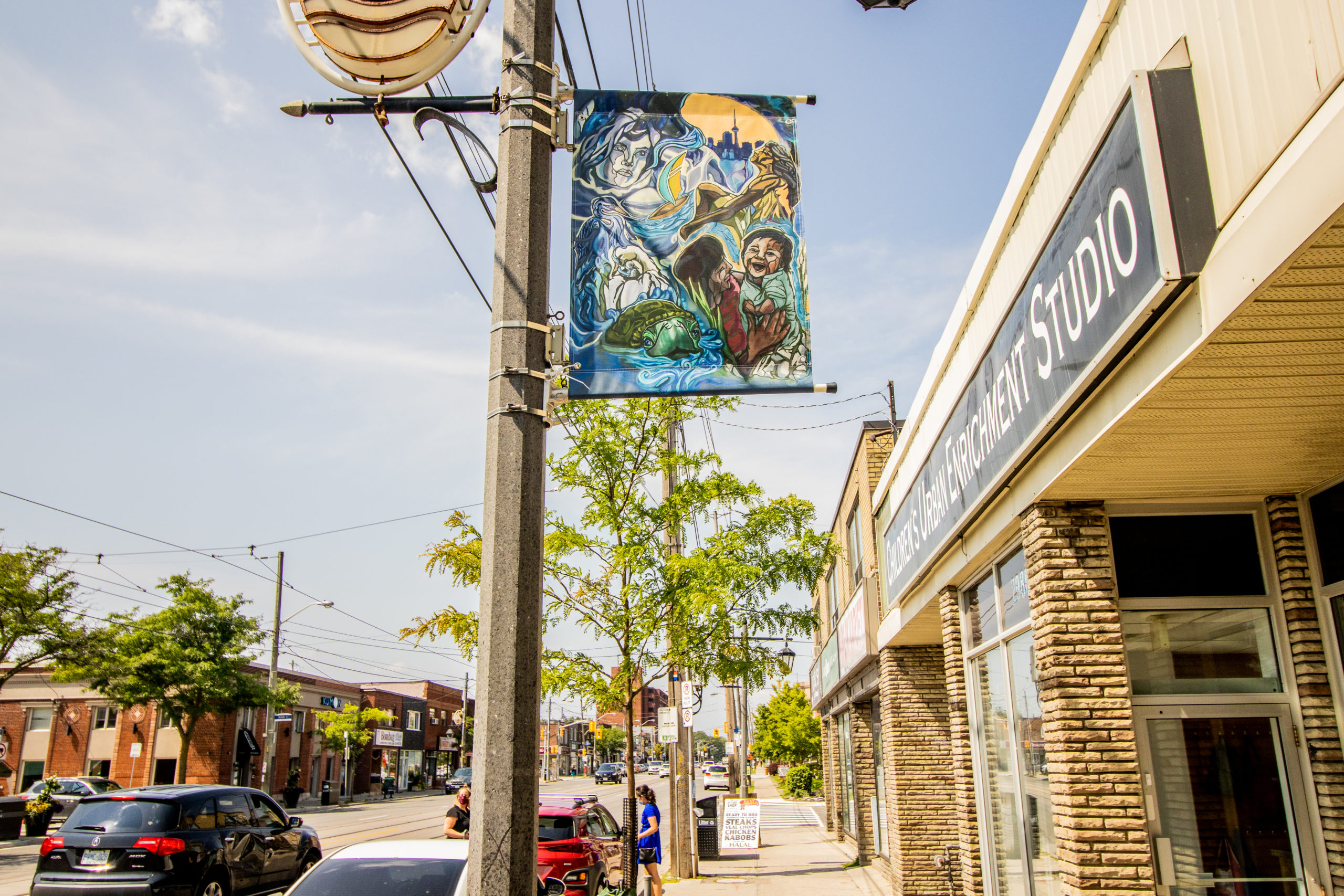 Platforms: We Are Here, Live
In Vancouver, the municipal project Platforms: We Are Here, Live commissioned public artworks from  23 local and xʷməθkʷəy̓əm (Musqueam), sḵwx̱wú7mesh (Squamish), and səlilwətaɬ (Tsleil-Waututh) artists to exhibit public works that address the impacts of the global pandemic, considering the ever-present social issues brought to light by our changing world.
As the City of Vancouver states: "COVID-19 has magnified and deepened all of the social, health, and economic inequities of our society, and art-making is an important way to respond creatively to this moment."
The platforms for this project were billboards, light-boxes, digital displays, posters in transit lines, and wall animations across the city.
As part of the city-wide project, Svava Tergesen's photographic works are exhibited in bus shelters throughout Vancouver. These collages use elements of the domestic everyday to transform traditional still life composition, reflecting how life at home has been altered and "shape-shifted" throughout the ongoing pandemic.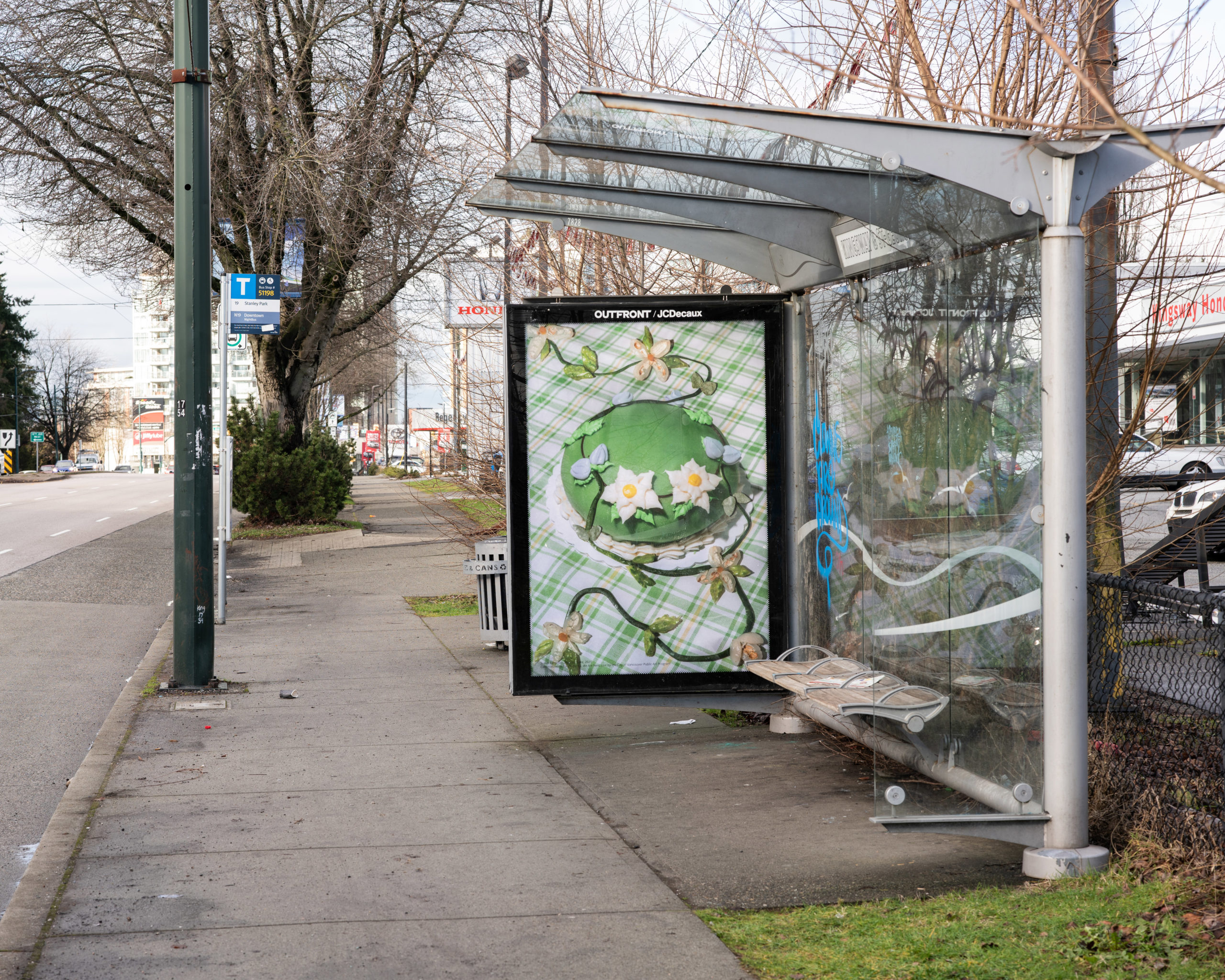 Artist Credit: Svava Tergesen's Princess Cake from the series Garnished Sundries, 2021
Photo courtesy of the artist
In the Vancouver Public Library, six vinyl banners were installed as part of the work Out of Many by the textile artist Tafui. In them, ambiguous forms emerge from a mosaic of black and white spot patterns, illuminated by the library's windows. The project builds on the idea of interconnectedness between Indigenous and racialized cultures across the world, based on shared experiences and histories. Informed by the idea that "we belong together", this installation promotes cultural exchange and representation in a public library, in line with creative placemaking that disrupts exclusionary library systems.
Westside Palimpsest by artist Dona Nabata posits a large illustration featuring a portrait of an Asian woman on a billboard on Arbutus St and West 12th Ave. Nabata's work explores her family history and Japanese heritage in relation to performing "Canadian-ness", issues of alienation, and cultural identity. As the project statement says, the artist "hopes the Vancouver public will see themselves reflected in Westside Palimpsest by identifying with the central figure or by finding kinship with other characters."
By funding, supporting, and prioritizing work that engages with issues like anti-Asian racism, rising violence directed at immigrants and displaced people, shared histories of systemic inequalities between marginalized groups, and general feelings of uncertainty and anxiety heightened during the ongoing pandemic, Platforms prompts critical thought in public space.
Shifting Platforms: Means of Access
Presenting art on innovative platforms like bus shelters and billboards widens the scope of citizens who can connect with the work. This has long been true from a postmodernist framework–moving artistic expressions outside of exclusionary institutions like museums bridges the divide between popular culture and 'high' culture of fine art–but also in a more contemporary pandemic context; cultural connections that happen outdoors are safer and more accessible for diverse populations.
In an analysis of Canadian public engagement in the arts throughout the pandemic, published in December of 2021, research showed that 56% of pre-pandemic attendees preferred waiting before returning to indoor cultural events, with residents of Quebec and the Atlantic provinces most likely to have returned to an indoor art gallery or museum, residents of Ontario and the Prairies most likely to wait longer before doing so, and residents of British Columbia sitting between these two extremes.
Public art projects and programming that take place outdoors, which is still the safest way to connect socially, are more likely to reach Canadian residents. Public artworks are free, displayed at all hours, and don't always involve time designated as 'cultural engagement'; projects like Svava Tergesen's photographs on bus shelters or Dona Nabata's streetside billboard can be seen on your daily commute or while running errands. This can be a more digestible form of societal criticism, as encounters are more integrated into our everyday lives.
Alternate Platforms: Public Art and Civic Engagement
Raising questions about societal issues and histories can also spark civic action; arts on alternative spaces like lampposts, billboards, signage, and transit systems can happen outside of city planning, through more DIY initiatives. Resilient methods of community-building have emerged during the pandemic in both publicly funded and citizen-led projects. Nonprofit organizations, like STEPS' Main Street Recovery in partnership with Business Improvement Areas (BIAs), can operate somewhere in between, facilitating neighbourhood-led art activations on platforms like lampposts, sidewalks, and public-facing windows.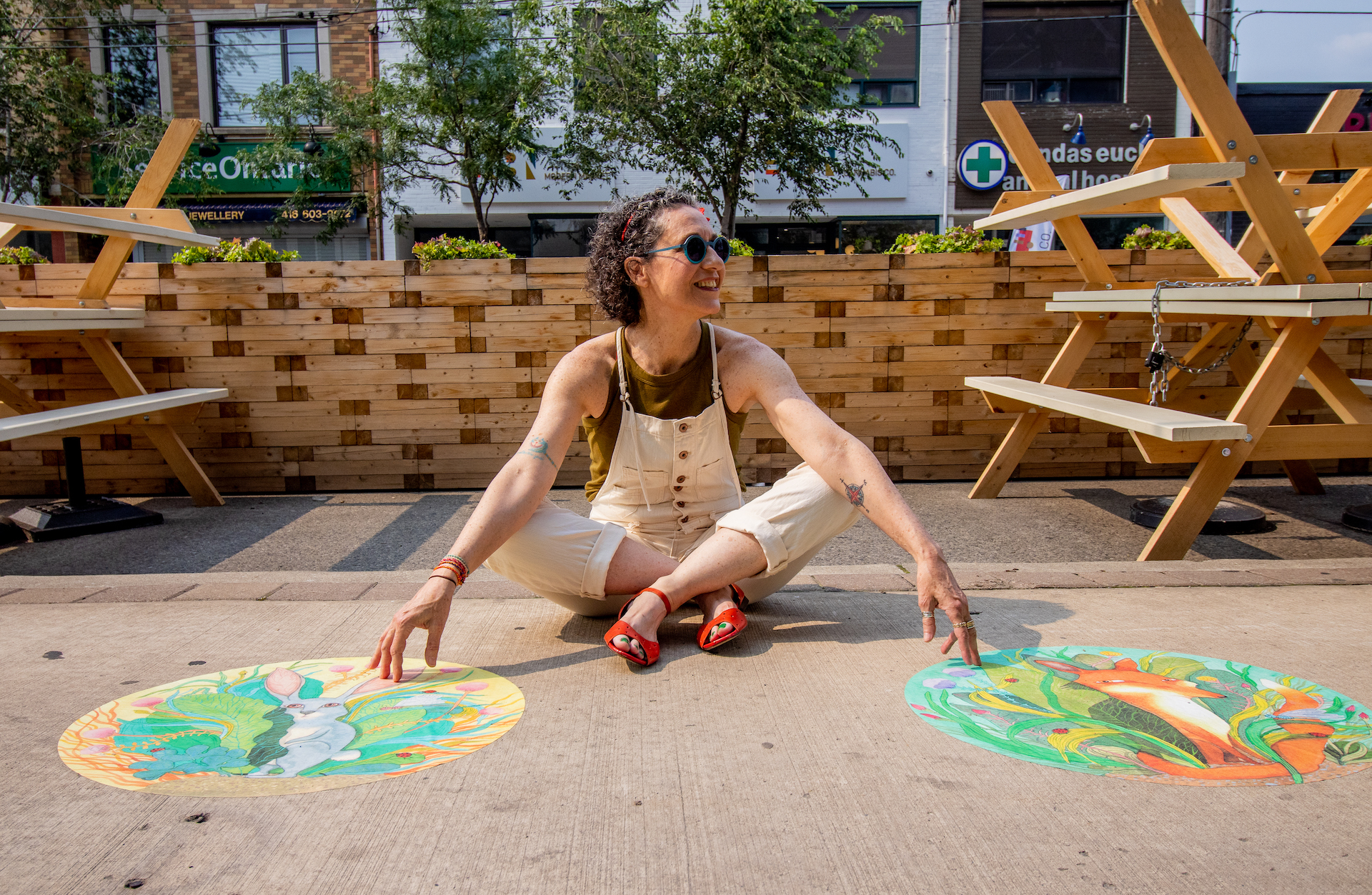 Alternative presentation models for public art can stem from creative collaborations, like art collectives, artist-run spaces, and online communal groups, that exist outside of institutions of art. An Art in Alternative Spaces Panel with Ammar Mahimwalla, Florence Yee, Bo Yeung and Philip Ocampo recently discussed emerging spaces for public art outside of institutional boundaries, touching on trends like the increased amount of public art in transit spaces that allow works to reach many publics.
Transforming platforms in city space to depict a range of experiences and perspectives on the pandemic is one way to open public space for dialogue. As our lifestyles and cityscapes change for the better and the worse throughout the ongoing health crisis, it can be validating to have public art that reflects and affirms our reality and inspiring to see projects address these issues. 
Positioning these works on non-traditional platforms like street signage, banners, or lightboxes can illuminate issues in the social realm, explore what is and isn't working, and pursue a more hopeful future.
Eva Morrison
Cultural Content Writer
This article was written by Eva Morrison (she/her), a writer, curator, and painter based in Montreal. Her work has recently been published by Culture Days, Winnipeg Arts, and FARR Montreal. She received a BFA from Concordia University in 2019, specializing in Art History and Studio Arts.