Cedar Cone Rain Catcher is a CreateSpace public art activation by 2021 artist-in-residence Laara Cerman that interacts with nature to create rain chime sounds in the surroundings of Rose Park in Squamish, British Columbia.
Through the virtual CreateSpace Public Art Residency and additional support by artist mentor Winnie Truong, Squamish Arts Council through the Community Enhancement Grant, Prince Rupert Community Arts Council, and Cassiar Cannery, artist Laara Cerman expands on her work that intersects art, science, and history. Inspired by rainy British Columbia where the artist is based, Laara seeked ways to collaborate and interact with the rain for her public art project.
"What this project means to me is the chance to take the next step in my career as an artist. It's a chance to work in a new medium that will withstand the outdoor elements."
– Laara Cerman, Artist-in-Residence
Cedar Cone Rain Catcher is a brass sculpture in the shape of a cedar cone that collects rain, which then releases the water through a bell siphon to play what the artist calls "rain chimes". The musical notes of the rain chimes are informed by a small sequence of DNA from Western Red Cedar trees which the artist translates to musical notes. The cedar cone scales are open as though it has already released its seeds, in which the "seeds" will be its song. 
This public art installation is installed at Rose Park in Squamish, British Columbia. The frequency of the rain chimes playing is dependent on the amount of rainfall which can vary quite a lot each day and each hour!
"Going into these outdoor spaces has been a small refuge for a lot of us, so having public art in these spaces helps make everything a bit more beautiful and hopeful."
– Laara Cerman, Artist-in-Residence
"My experience collaborating with STEPS has been really great. I am encountering a new territory in my art career and it's been wonderful having [STEPS] there in the background for support."
– Laara Cerman, Artist-in-Residence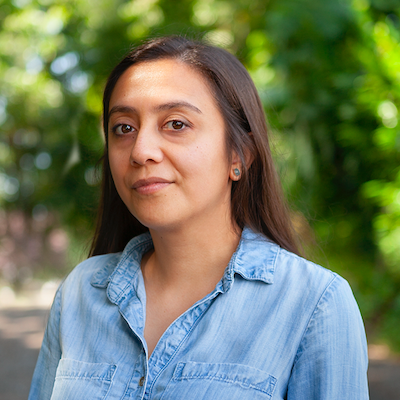 Laara Cerman
Laara Cerman is based in Vancouver, Canada, her work explores the intersection of art, science, and history through investigating patches of wildness that survive within suburban and urban landscapes. Her explorations continue into the forests of British Columbia where she aims to teach herself how to see the diversity of the forest floor in the midst of an era where this knowledge has lost its priority but not its importance. 
About CreateSpace Residency
CreateSpace is a national public art residency program designed in consultation with advisors from coast to coast, to provide emerging Black, Indigenous and racialized artists with the skills, relationships and practical experience needed to take their public art practice to the next level.  
The program aims to strengthen solidarity amongst artists working in diverse contexts and build connections between these artists and their communities. This residency also encourages conversations of social equity in city-building, design and placemaking.
The CreateSpace Residency is made possible by support from TD Bank Group through the TD Ready Commitment, the City of Toronto as part of ArtworxTO: Toronto's Year of Public Art 2021 – 2022, MAWA, and Canada Council for the Arts.

Additional funding and support for this project by:

STEPS believes that public art should reflect the diverse identities and perspectives of the communities that host it. Artists have a critical role to play in shaping cities, and our Artist Capacity Building Programs are designed to amplify the work of Black, Indigenous, Persons of Colour, female, LGBTTQQIAAP and newcomer artists in public spaces.
Ready to get your project started with STEPS?