CreateSpace Public Art Forum 2022
An artistic response to the 2022 CreateSpace Public Art Forum, a national forum virtually convening participants who identify as Black, Indigenous (First Nations, Inuit and Métis), racialized, rural and/or youth with disabilities and between the ages of 18-25. Participants were presented with online talks themed around public art practices, studio tours by artist facilitators, a Keynote Event by artist Lori Blondeau, and opportunities to engage with fellow peers to inspire their final creations.
45
CreateSpace participants
This multimedia animated work is an artistic response to the talks led by Dee Barsy, Latifa Pelletier-Ahmed and Florence Yee. I was very interested in this idea of thinking back to the time and place where we created an artwork and how we felt in that moment. For me personally, it always feels like a moment of pure joy even if I am tackling difficult issues in my creative work.
There may be feelings of tension and sadness while creating but then at the end there's a great sense of relief and happiness that I am able to do this creative work. It also got me thinking that for me, artistic creation is mostly intuitive rather than analytical and that I get so much inspiration from dreams. It could be lucid dreaming at night or day dreaming either way it brings together various ideas and thoughts into a strong image and/or narrative. The natural world and social justice issues are frequent themes that I return to repeatedly in my artwork, so I found those videos to be of personal interest.
My main point here: Artistic creation is what gives my life meaning. It helps me when I need to try to understand the world around me and express thoughts and feelings that are difficult to put into words at times. It's my reason for existence and there's nothing else I want to do in life.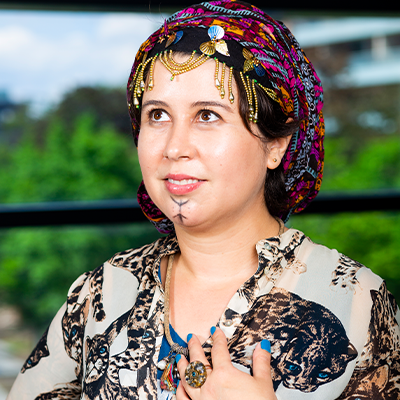 Chris (M.C) Cruz
Chris (M.C) Cruz is a child of Chilean immigrants, who was born, raised and currently based in Toronto but has also lived two years in Chile and more recently completed an Artist Residency in Morocco. They attended Etobicoke School of Arts and majored in Visual Arts before moving to Vancouver to study film and video production at Capilano University. They facilitated filmmaking workshops for marginalized communities as part of Fright Film Academy and Fright Film School. They have written, directed and produced several live action and animated short films including "Vampyric PSA", "La Llorona" and "Root Causes".The animated film "Root Causes" screened at OCAD in a special preview and Rendezvous with Madness Film Festival with an invitation to join a filmmakers panel.
Their painting series "Refuge From Home" was showcased at the University of Toronto and Toronto City Hall during October 2019 as well as at TMAC for Being Scene 2020. Recently, they created and presented paintings for "Unusual Spaces" a virtual art party by Hercinia Arts Collective. This work was done in Asilah, Morocco during the Covid 19 pandemic and addresses the strange times and circumstances we are in. The Cruz Herrera Museum in Spain also featured their latest artwork in a special online video presentation.
They were recently awarded a 15,000 dollar grant from the ISO Solidarity Fund to research and write a screenplay. They are also working on a feature documentary film and series of paintings about the massive street protests happening in Chile (el estallido social). Their goal is to continue creating work that challenges the status quo while being visually and narratively compelling.
CreateSpace Public Art Forum
STEPS Public Art believes public art has the ability to challenge the systemic inequities that exist in public space. In support of this important work, we facilitate artist capacity building programs that foster inclusive public art practices, build the capacity of underrepresented artists, and demonstrate how public art can help reimagine equitably designed cities.
CreateSpace Public Art Forum is a digital forum that virtually convenes participants who identify as Black, Indigenous (First Nations, Inuit and Métis), racialized, rural and/or youth with disabilities and between the ages of 18-25. This forum fosters connections, builds understanding across geographies and cultures, as well as provide emerging equity-seeking artists with the skills, relationships and support needed to develop public art practices. Visit the online gallery to view all artistic responses by the 2022 forum participants.
CreateSpace Public Art Forum is supported by Canadian Heritage, Canada Council for the Arts and CIBC.

Ready to get your project started with STEPS?