CreateSpace Public Art Forum 2022
An artistic response to the 2022 CreateSpace Public Art Forum, a national forum virtually convening participants who identify as Black, Indigenous (First Nations, Inuit and Métis), racialized, rural and/or youth with disabilities and between the ages of 18-25. Participants were presented with online talks themed around public art practices, studio tours by artist facilitators, a Keynote Event by artist Lori Blondeau, and opportunities to engage with fellow peers to inspire their final creations.
45
CreateSpace participants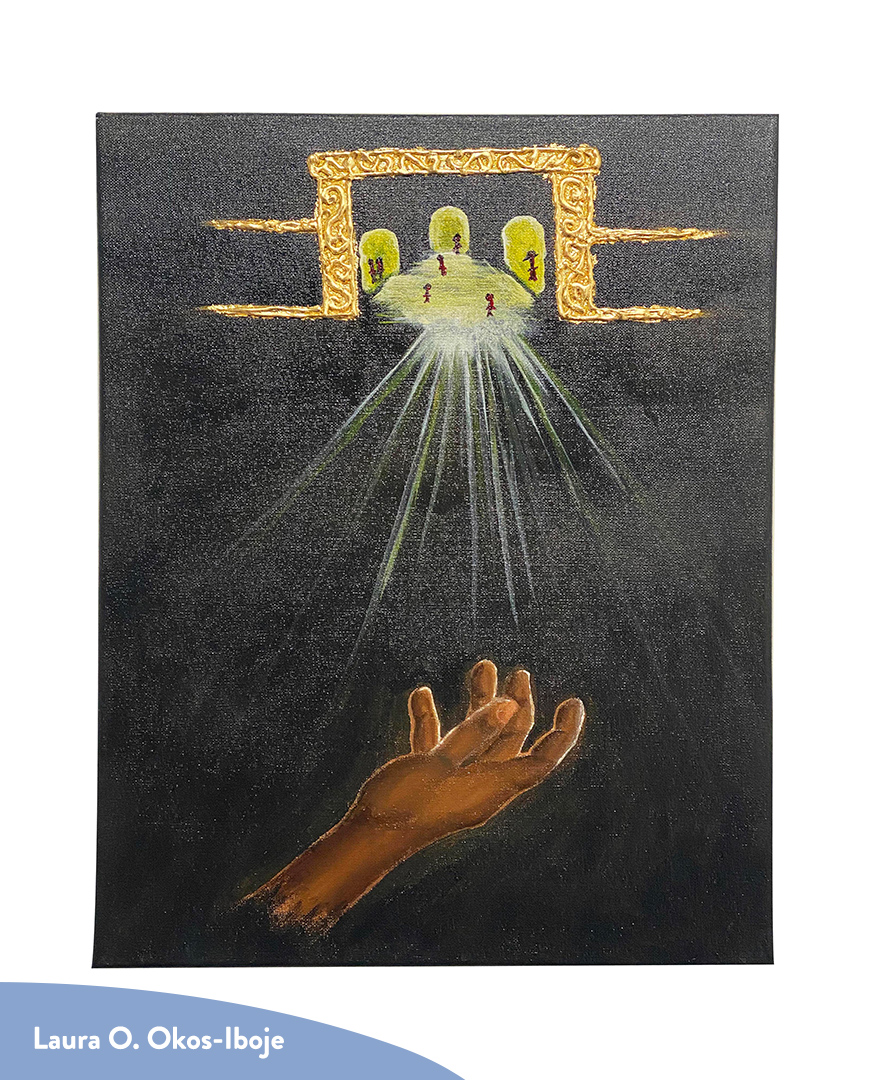 'Finding Solace' is a 16" x 20" painting on canvas with acrylic and gold leaf. The work was in response to the 'On Making Space: Virtual Community Spaces' talk by Sanaa Humayun and Kiona Callihoo Ligtvoet. The background was inspired by Francisco Goya, whose paintings are usually dark in colour and content. I wanted to use a similar theme but interpret it with something more positive since the painting essentially means the longing for community. The hand is reaching out because they want to be a part of the community, but they are also far away as they are hesitant and don't know what to expect. The gate is without bars as a symbolic reference to the openness and acceptance of the community. If you can make it there, you can be one of them. That feeling of comfort and support is like a beacon of light when one feels alone or is overwhelmed. The work addresses the need for a support system in all humans.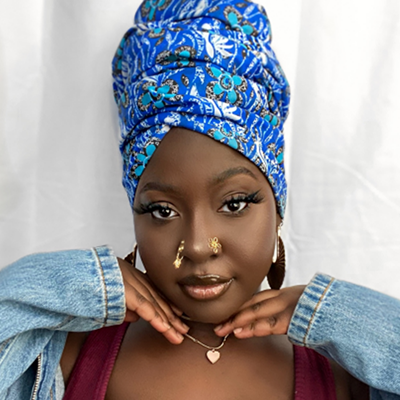 Laura O. Okos-Iboje
My name is Laura Oghenerabome Okos-Iboje. I was born in Warri, Delta state which is located in the southern region of Nigeria. Although from different villages, both my parents are part of the Isoko tribe. I attended Highquest nursery and primary school in Warri, Delta state. After I graduated, I attended Presentation National High School in Benin City, Edo.  I am currently attending the University of Manitoba where I am studying for a Bachelor's degree in Fine Arts. I am a self-taught artist and I am currently focusing on drawing and painting. I currently work with acrylic paint, water colour, charcoal, graphite and pastel. However, I would like to explore other mediums in the future. I believe that it could possibly be the freest way to live as developing relationships with different mediums could impact the artist in an infinite number of ways. If I could describe my painting process in one word it would be emotional. I would like to see how that translates with other mediums.
CreateSpace Public Art Forum
STEPS Public Art believes public art has the ability to challenge the systemic inequities that exist in public space. In support of this important work, we facilitate artist capacity building programs that foster inclusive public art practices, build the capacity of underrepresented artists, and demonstrate how public art can help reimagine equitably designed cities.
CreateSpace Public Art Forum is a digital forum that virtually convenes participants who identify as Black, Indigenous (First Nations, Inuit and Métis), racialized, rural and/or youth with disabilities and between the ages of 18-25. This forum fosters connections, builds understanding across geographies and cultures, as well as provide emerging equity-seeking artists with the skills, relationships and support needed to develop public art practices. Visit the online gallery to view all artistic responses by the 2022 forum participants.
CreateSpace Public Art Forum is supported by Canadian Heritage, Canada Council for the Arts and CIBC.

Ready to get your project started with STEPS?