CreateSpace Public Art Forum 2022
An artistic response to the 2022 CreateSpace Public Art Forum, a national forum virtually convening participants who identify as Black, Indigenous (First Nations, Inuit and Métis), racialized, rural and/or youth with disabilities and between the ages of 18-25. Participants were presented with online talks themed around public art practices, studio tours by artist facilitators, a Keynote Event by artist Lori Blondeau, and opportunities to engage with fellow peers to inspire their final creations.
45
CreateSpace participants
The CreateSpace Public Art Forum workshops helped me view and think about public art in new ways. The 'Artist's Talks' explored themes like public art as physical intervention, political statements and objects of knowledge transfer. The workshops also gave me a deeper understanding of public art within urban spaces as they relate to nature and our bodies.
Historically, city centres have been areas for communal exchange of things such as goods, policy, knowledge, and entertainment. I wanted to visually translate this experience and draw the comparison of these centres to our bodies. In my art pieces, I liken the 'city centre' to our heart – the primary organ of our circulatory system and vital life force like a city centre facilitating the many functions of our metropolis.
In my line artwork, I often use a circle to represent ideas of wholeness, completeness, and the cyclical nature of life. To me, the curvature and form of a circle connotes safety, and unity. In my first image, I have drawn two circles. One outer ring and, at the centre  of this form is another, small ring. The outer circle is a circular seating area, and the inner circle is the centrepiece. The space in-between and surrounding the circles is  meant to be filled by grass, plants, and trees. Viewers can sit at a distance, or they can  walk up to the centre sculpture to interact with it. This minimalistic sketch is the essential layout and birds eye view of my digital collage that follows. 
My second image is a digital collage. Using digital paint, photos I've taken from around Toronto and a couple of stock images, I've created an idyllic scene of what the "Heart Centred" sketch could look like if it came to life. 
Figuratively placed in a park by the lakeshore, the "Heart Centred" sculpture would stand in the middle of a circular and slightly lowered green area. Often, we see hearts in an illustrated form – two humps converging to a point at the bottom. This sculpture would be an anatomically correct sculpture of the human heart and made of reflective metals. The reflective materials would be an interactive element for viewers to see themselves, at every angle, within the heart. The green space within and surrounding my art installation is meant to be inviting to nature and wildlife as an effort to seamlessly  integrate with the local environment. Green space is critical to this piece as it correlates to the symbolism of the colour green. In Hindu Yogic traditions green relates to the heart chakra. This chakra represents our centre for love, compassion, and empathy – hence the title "Heart Centred." Similarly, the sky has traditional shades of pink and red as they relate to love. This piece is meant to encourage outdoor immersive and somatic experiences for visitors.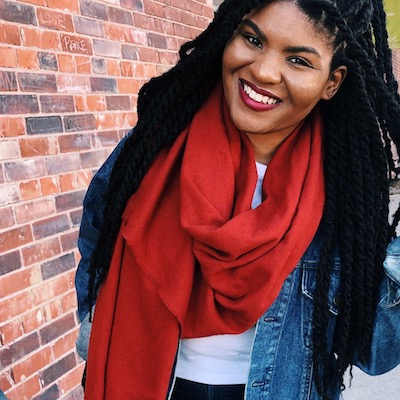 Miranda KG
Miranda KG is a self-taught, interdisciplinary artist based in Toronto, Canada. Her practice primarily focuses on painting and mixed media via the methodologies of sense-making and storytelling. 
She explores themes of portraiture and identity through an observation of the interconnectedness of places, people and objects. Furthermore, her fascination with psychology, otherworldliness, time and reality tie into her body of work.
Miranda is a graduate of Ryerson University's innovative Creative Industry program where she specialized in Storytelling in Media, Fashion and minored in business and communications. 
With a diverse creative background, her cross disciplinary approach equips her with a broad focus within communications, media and the arts. 
Over her career, Miranda has completed graphic design projects freelancing for organizations such as the Toronto Symphony Orchestra and the Ontario Federation of School Athletics Association (OFSAA). 
In 2019 she was a recipient of the Daniels Artscape Bursary and a participant of the Soho House mentorship program. Early 2020 Miranda produced a collective showcase as an exhibitor for DesignTO Festival. She has also worked in art facilitation for kids at Toronto's Action Potential Lab.
CreateSpace Public Art Forum
STEPS Public Art believes public art has the ability to challenge the systemic inequities that exist in public space. In support of this important work, we facilitate artist capacity building programs that foster inclusive public art practices, build the capacity of underrepresented artists, and demonstrate how public art can help reimagine equitably designed cities.
CreateSpace Public Art Forum is a digital forum that virtually convenes participants who identify as Black, Indigenous (First Nations, Inuit and Métis), racialized, rural and/or youth with disabilities and between the ages of 18-25. This forum fosters connections, builds understanding across geographies and cultures, as well as provide emerging equity-seeking artists with the skills, relationships and support needed to develop public art practices. Visit the online gallery to view all artistic responses by the 2022 forum participants.
CreateSpace Public Art Forum is supported by Canadian Heritage, Canada Council for the Arts and CIBC.

Ready to get your project started with STEPS?