How to Say Thank-You (to a Tree)
CreateSpace Public Art Forum 2022
An artistic response to the 2022 CreateSpace Public Art Forum, a national forum virtually convening participants who identify as Black, Indigenous (First Nations, Inuit and Métis), racialized, rural and/or youth with disabilities and between the ages of 18-25. Participants were presented with online talks themed around public art practices, studio tours by artist facilitators, a Keynote Event by artist Lori Blondeau, and opportunities to engage with fellow peers to inspire their final creations.
45
CreateSpace participants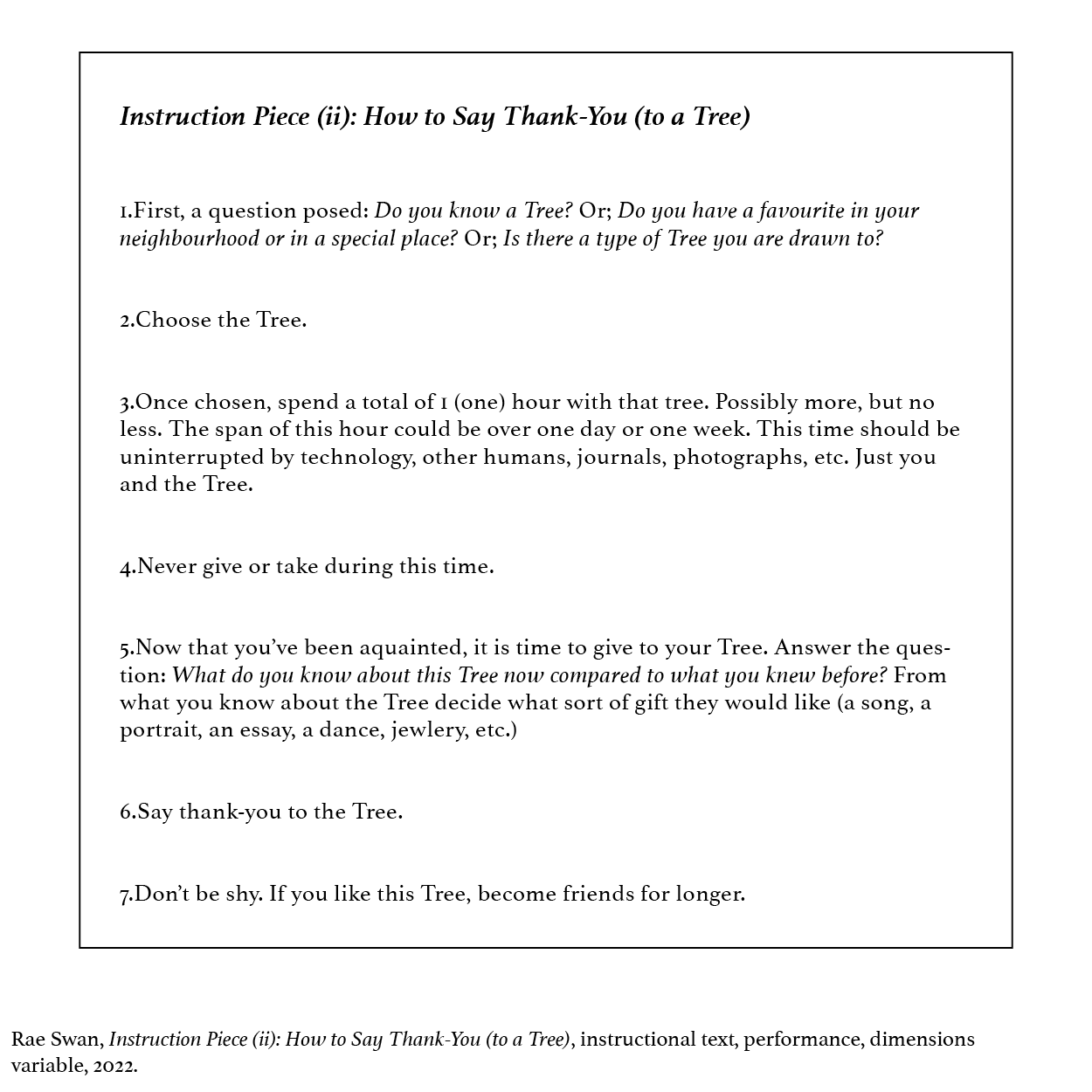 This piece was created in response to the presentations by Latifa Pelletier-Ahmed, Aubyn O'Grady and Amanda Lederle. I am currently developing my relationship with the land through my art practice and found the work Pelletier-Ahmed is doing is a way to give back to what the land gives us. Although this is a text piece, I hope that people interact with the instructions to begin (or continue) to develop their own reciprocity-based relationship with the land. O'Grady's work seems to fill void spaces in her community. I find that our interactions with nature, especially in urban environments could use some filling. As for Lederle, their work informs the art of place further, using place to reflect inwards and discovering relationships with the architecture of our urbanscapes. Instructional pieces are public works as they engage the audience to act on their own and to do art as a non-artist. This piece could be put up as a poster in downtown spaces, or hung up as a banner in a window.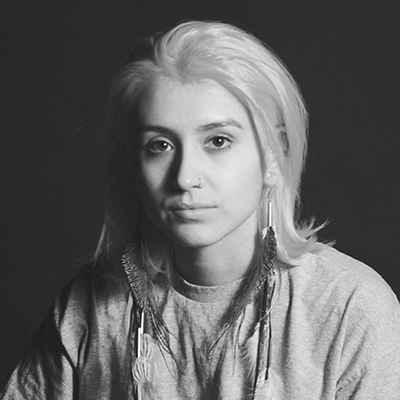 Rae Swan
Reanna Swan (also known as Rae Swan) is an emerging interdisciplinary Michif artist living on Treaty 1 land. Rae uses the pronouns She/Her/They/Them. Reanna's work focuses on exploring the subtle feelings of nostalgia, unease, delight in the beauty and the act of curiosity in her work through soft and detailed visuality. She works in a vast array of media such as photography, drawing, beading, text, video and is beginning to explore the medium of performance. Reanna's work is often layered, with story being a prominent focus on delivering complicated narratives. Works such as How Lucky to be Made for This (ii), featured in TakeHome MB's winter show To Be; Have Become (2022), explore Rae's dive into the experience of their gender. These photolumens and photograms highlight the intimacy of collected objects and our natural inclination to find comfort through them. Reanna is currently studying to finish their Honours in Fine Art at the School of Art in Winnipeg.
CreateSpace Public Art Forum
STEPS Public Art believes public art has the ability to challenge the systemic inequities that exist in public space. In support of this important work, we facilitate artist capacity building programs that foster inclusive public art practices, build the capacity of underrepresented artists, and demonstrate how public art can help reimagine equitably designed cities.
CreateSpace Public Art Forum is a digital forum that virtually convenes participants who identify as Black, Indigenous (First Nations, Inuit and Métis), racialized, rural and/or youth with disabilities and between the ages of 18-25. This forum fosters connections, builds understanding across geographies and cultures, as well as provide emerging equity-seeking artists with the skills, relationships and support needed to develop public art practices. Visit the online gallery to view all artistic responses by the 2022 forum participants.
CreateSpace Public Art Forum is supported by Canadian Heritage, Canada Council for the Arts and CIBC.

Ready to get your project started with STEPS?