I Just Don't See How a World That Makes Such Wonderful Things… Could be Bad
CreateSpace Public Art Forum 2022
An artistic response to the 2022 CreateSpace Public Art Forum, a national forum virtually convening participants who identify as Black, Indigenous (First Nations, Inuit and Métis), racialized, rural and/or youth with disabilities and between the ages of 18-25. Participants were presented with online talks themed around public art practices, studio tours by artist facilitators, a Keynote Event by artist Lori Blondeau, and opportunities to engage with fellow peers to inspire their final creations.
45
CreateSpace participants
This work is in response to artist talks by Excel Garay and Dee Barsy. I took away two questions from these talks:
How can we begin to dismantle Eurocentric structures through our work? 
How will your artwork impact communities in seven generations? 
"I just don't see how a world that makes such wonderful things… could be bad" attempts to decontextualize Ariel's last spoken line before she launches into her ballad, "Part of your world", from Disney's The Little Mermaid. I love the illustrations that accompany fairytales, both classic and contemporary, and wish to create work in that vein. Excel's talk illuminated the Eurocentric structures at play which keep these fairytales predominant. I began to imagine what the next revitalization of this tale could look like, in seven generations. Is there a way to decontextualize this story; to reveal something harmful about the Eurocentric structures from which it originates? Ariel's ballad could teach future generations of the materialism, capitalism, and colonial structures which have damaged our oceans.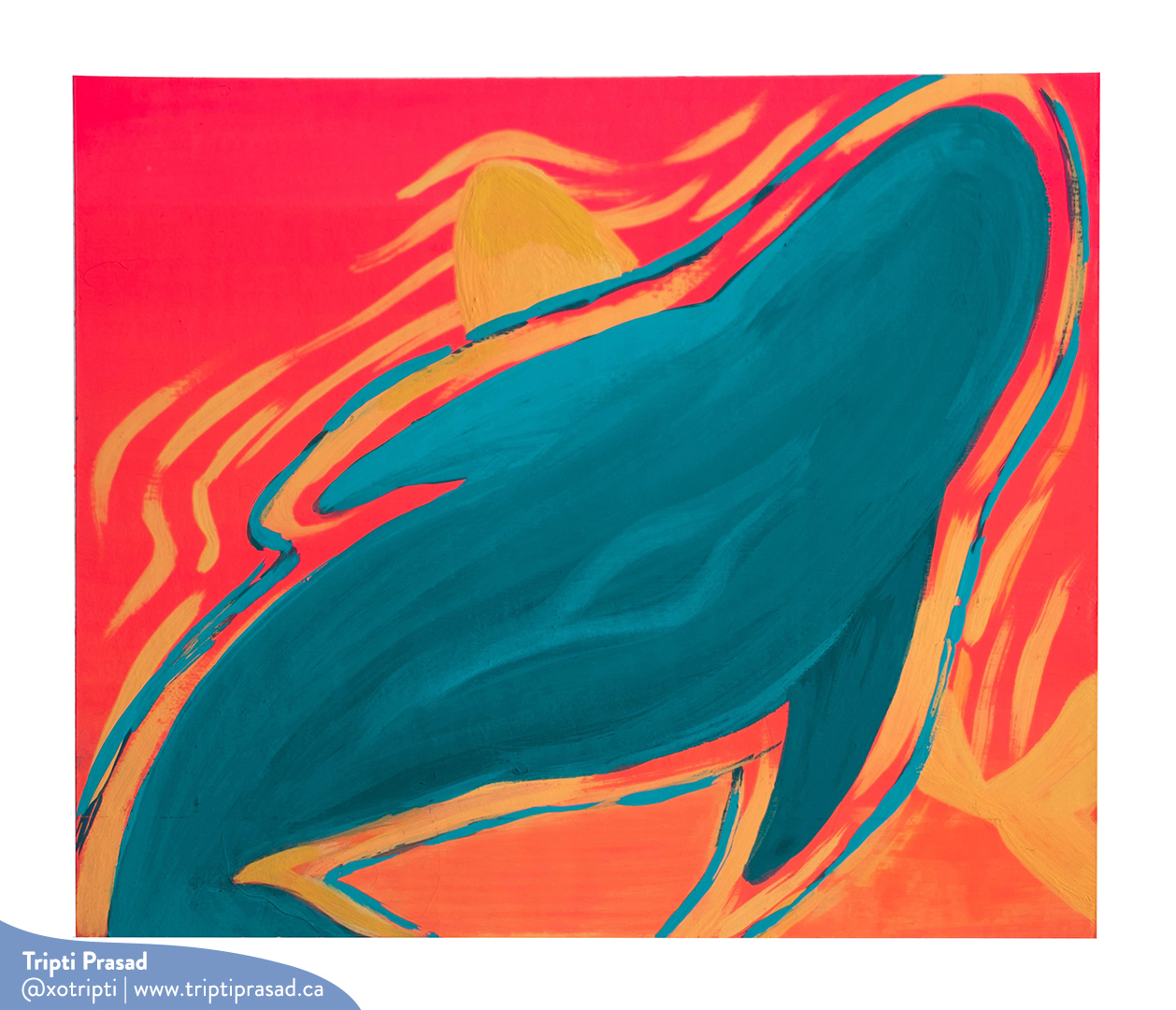 Showing two ambiguous whale-shapes, this work explores how our whales – whales of all species – are absorbing countless toxic, human-made pollutants into their blubber, and offloading them into their first borns. First borns die. Thus, the deceased whale's body becomes a form of pollution. Little ones will cry, in seven generations, when they have difficulty grasping the idea that no one said anything, to prevent these deaths. This work hopes to show the people of the future that we tried to speak up.
*Special thanks to Rebecca Giggs for her book "Fathoms", and Patrick Ness and Rovina Cai for their book "And the Ocean was their Sky".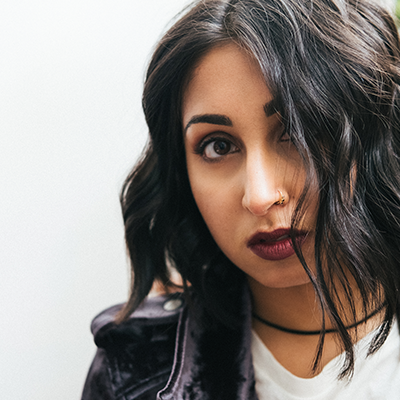 Tripti Prasad
Tripti Prasad (she/her) is a first generation, queer, differently-abled, Indian woman who is wending her way through her curiousities. She earned a Bachelor of Environmental Design in 2016 from the University of Manitoba, and works as an Interior Designer on Treaty 1 Territory. Over the course of 2021, she completed a poetry workshop with Di Brandt through McNally Robinson, and an introductory Illustration course through Emily Carr University, taught by Erin Green. She is self-taught in book binding, digital and film photography, and hand lettering. Tripti is curious & excited about learning how to cultivate all her whims into a working artistic practice. 
Tripti's work thus far has focused on expressing the joyous / cataclysmic / vibrant / irrepressible spectrum of emotion she experiences, and how her neurodivergent, chronic-pain addled brain colours the world around her. When she isn't creating, she supports young folks as a Girl Guide leader, patiently practices yoga, hungrily consumes fantasy literature, and  painstakingly attempts to re-learn her first language, Hindi. Tripti enjoys diverting public expectations of adulthood and happily co-owns her home with her partner and two soul-friends.
CreateSpace Public Art Forum
STEPS Public Art believes public art has the ability to challenge the systemic inequities that exist in public space. In support of this important work, we facilitate artist capacity building programs that foster inclusive public art practices, build the capacity of underrepresented artists, and demonstrate how public art can help reimagine equitably designed cities.
CreateSpace Public Art Forum is a digital forum that virtually convenes participants who identify as Black, Indigenous (First Nations, Inuit and Métis), racialized, rural and/or youth with disabilities and between the ages of 18-25. This forum fosters connections, builds understanding across geographies and cultures, as well as provide emerging equity-seeking artists with the skills, relationships and support needed to develop public art practices. Visit the online gallery to view all artistic responses by the 2022 forum participants.
CreateSpace Public Art Forum is supported by Canadian Heritage, Canada Council for the Arts and CIBC.

Ready to get your project started with STEPS?