CreateSpace Public Art Forum 2022
An artistic response to the 2022 CreateSpace Public Art Forum, a national forum virtually convening participants who identify as Black, Indigenous (First Nations, Inuit and Métis), racialized, rural and/or youth with disabilities and between the ages of 18-25. Participants were presented with online talks themed around public art practices, studio tours by artist facilitators, a Keynote Event by artist Lori Blondeau, and opportunities to engage with fellow peers to inspire their final creations.
45
CreateSpace participants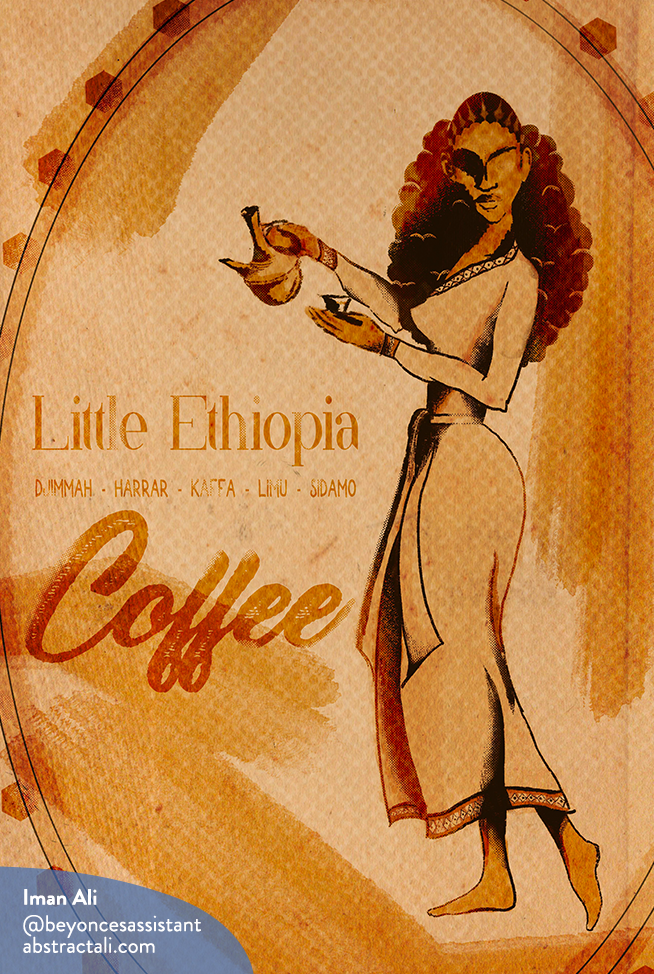 This artistic piece was developed in response to Ammar Mahimwalla's talk which circled around representation in public space. He highlighted how often the communities that live in and bring these neighbourhoods to life aren't present in the art and design that we see walking down the street. For this reason I decided to create 'Little Ethiopia'. It is a vintage poster style work created to offer a nod to the budding community of Ethiopians that occupy the core of downtown Winnipeg. Established most dominantly on the Sargent Avenue strip, Ethiopian businesses, restaurants, salons, and shops decorate the street sides offering a little glimpse into the culture of the land locked country originally in the horn of Africa. This artwork is designed to resemble a vintage advertisement to spark thought and wonder about the community it reflects, promote the exploration of this growing Winnipeg communities commerce and culture, as well as showcase a small wonder of its history, the coffee bean.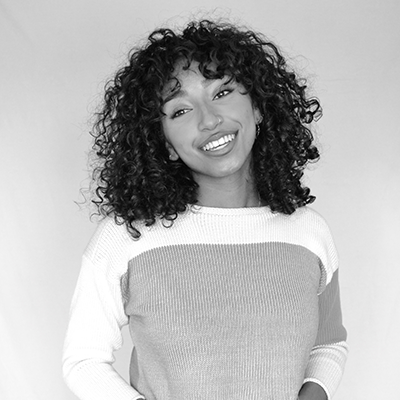 Iman Ali
Iman Ali is a second-generation Ethiopian – Canadian artist and designer creating in Treaty one territory. Carving out her artistic journey by learning and unlearning her identity while searching for a home in her own mind, she finds her practice focuses on the way the spiritual manifests itself in the physical. Often leaning on others to further her case studies of self, she enjoys a documentary style of expression. Studying the expressions of others and crafting her interpretations, she finds herself furthering her own personal story. Exposing her stories through mediums such as photography, paint, and print. She layers words of thought and particularly selected colours to embody the multitudes of her identity, taking the intersections of her life and applying them to her art.   
CreateSpace Public Art Forum
STEPS Public Art believes public art has the ability to challenge the systemic inequities that exist in public space. In support of this important work, we facilitate artist capacity building programs that foster inclusive public art practices, build the capacity of underrepresented artists, and demonstrate how public art can help reimagine equitably designed cities.
CreateSpace Public Art Forum is a digital forum that virtually convenes participants who identify as Black, Indigenous (First Nations, Inuit and Métis), racialized, rural and/or youth with disabilities and between the ages of 18-25. This forum fosters connections, builds understanding across geographies and cultures, as well as provide emerging equity-seeking artists with the skills, relationships and support needed to develop public art practices. Visit the online gallery to view all artistic responses by the 2022 forum participants.
CreateSpace Public Art Forum is supported by Canadian Heritage, Canada Council for the Arts and CIBC.

Ready to get your project started with STEPS?