CreateSpace Public Art Forum 2022
An artistic response to the 2022 CreateSpace Public Art Forum, a national forum virtually convening participants who identify as Black, Indigenous (First Nations, Inuit and Métis), racialized, rural and/or youth with disabilities and between the ages of 18-25. Participants were presented with online talks themed around public art practices, studio tours by artist facilitators, a Keynote Event by artist Lori Blondeau, and opportunities to engage with fellow peers to inspire their final creations.
45
CreateSpace participants
Content Warning: Domestic Abuse, Gender-Based Violence, Choking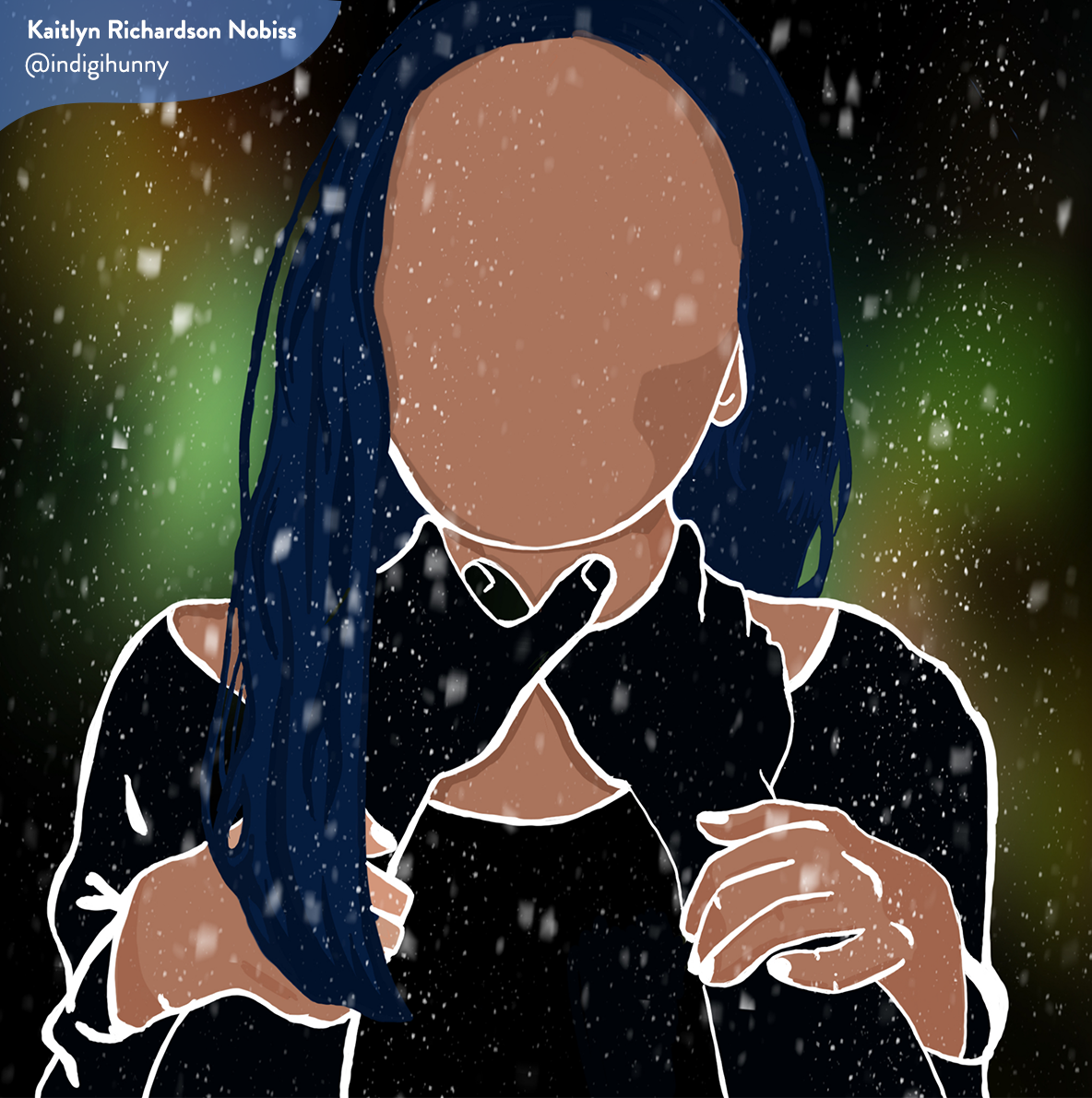 The idea to create "Shush "was inspired by Florence Yee's Artist Talk: "Activist Inclinations in Public Art." I felt the most attuned to this video. It voiced the direction I want my art to proceed in. Often, the driving force behind my art is the emotional unpacking I haven't had the chance to do in any other form than visual art. Public Art is diverse, emotionally driven and at times provocative. As an Indigenous person, I have always felt immense pressure to be socially aware and knowledgeable on social issues First Nations, Metis and Inuit face. I was born an activist, whether I wanted to be or not.
As a young adult, I had an experience with a dysfunctional relationship where it ended in me being choked. I don't believe anyone intends to be drawn into a codependent or unhealthy relationship. There are lessons in life, and some hit harder than most. It took me years to recover, which I did through therapy, exercise, ceremony, reflection. The healing product of that experience is "Shush."
Out of a traumatic experience, there is a moment where you sit with yourself and ask, "will I let this experience define me?"
I've chosen not to be a victim.
In Nunavut, a report by Pauktuutit Inuit Woman of Canada states: "women in Nunavut are the victims of violent crime at a rate more than 13 times higher than the rate for women in Canada as a whole".
As well as:
" A number of challenges have been raised in the literature that call into question whether policing in Inuit Nunangat is being carried out in a manner that upholds justice and protects the safety and security of the communities being served, including problems with policing in remote communities; the short duration of RCMP postings; the inexperience of officers; staffing shortages and turnover; language barriers; failure to recruit Inuit police officers; lack of cultural competency; lack of resources; underfunding; and lack of wrap-around services."
I can attest through my own experience with the RCMP that enough was not done. It saddened me that my first interaction as a complainant led to a huge letdown. The ex that choked me, his father failed to hold him accountable even though he wears the uniform. There is a lack of support I see from the community that victims desperately need and deserve. Victim blaming and shaming are not unknown within Nunavut.  If there is one thing you could take away from this piece of art it is that: "three things cannot be long hidden; the sun, the moon and the truth"
Victims of domestic abuse and gender-based violence deserve to be heard not silenced.
Artist provided resources: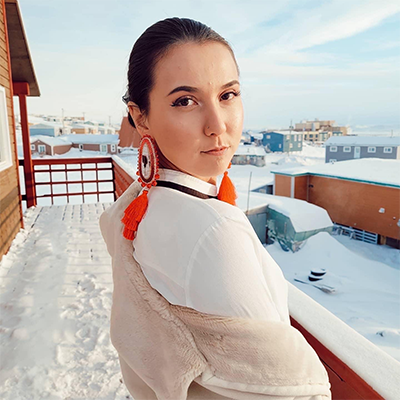 Kaitlyn Richarson Nobiss
Kaitlyn Richardson Nobiss was born in Dawson Creek, British Columbia. From the age of 3, she was in the Foster Care system until her and her two siblings were adopted when she was 8. This led to being uprooted and moved to Winnipeg, Manitoba where she grew up in the countryside. Kaitlyn is an aspiring visual artist who desires to be involved in Public Art practice.
Her lineage is Cree and European. She is in the process of cultural reclamation and decolonization. The first experience Kaitlyn had the opportunity to showcase her work publicly was in March 2021 at the Ivviulutit Art Show. The art show was in support of LGBTQIA2S+, where Kaitlyn first felt she identified as Two-Spirit. Three pieces were created to honour her upbringing in the queer community, her parents and her alter ego Indigenous Savage. Her self-portrait sold that night.
The second piece of art she sold was to the Native Woman's Association of Canada titled "Little Kokum". A piece dedicated to what she interpreted resilience to look like in indigenous communities. Since then, she has been working on building her portfolio while balancing working professionally within Inuit Nunangat.
CreateSpace Public Art Forum
STEPS Public Art believes public art has the ability to challenge the systemic inequities that exist in public space. In support of this important work, we facilitate artist capacity building programs that foster inclusive public art practices, build the capacity of underrepresented artists, and demonstrate how public art can help reimagine equitably designed cities.
CreateSpace Public Art Forum is a digital forum that virtually convenes participants who identify as Black, Indigenous (First Nations, Inuit and Métis), racialized, rural and/or youth with disabilities and between the ages of 18-25. This forum fosters connections, builds understanding across geographies and cultures, as well as provide emerging equity-seeking artists with the skills, relationships and support needed to develop public art practices. Visit the online gallery to view all artistic responses by the 2022 forum participants.
CreateSpace Public Art Forum is supported by Canadian Heritage, Canada Council for the Arts and CIBC.

Ready to get your project started with STEPS?