A STEPS PROJECT WITH
INDIGENOUS ARTIST-IN-RESIDENCE, BRUNO CANADIEN
Source of Life
Source of Life is a 2021 CreateSpace public art activation representing Truth and Reconciliation by Indigenous artist-in-residence, Bruno Canadien and Grade 11 art students from Oilfields High School in Black Diamond, Alberta.

---
PROJECT AT A GLANCE
Location: Foothills Family Medical Centre, 114 1 St SW, Black Diamond, AB
Artists: Bruno Canadien
Year: 2021
Services: Artist Capacity Building
PROJECT DETAILS
With Bruno's interest in acquiring the skills and knowledge to create meaningful and impactful public art, the support of the CreateSpace BIPOC Public Art Residency, artist mentor Dawn Saunders Dahl, local community members and organizations made his second largest public art project possible. Incorporating images from the land and sky, Source of Life brings colour to downtown Black Diamond, Alberta – recognizing the many changes to communities caused by settlement.
"What this project means to me is the chance to give back to the community, the chance to work with community members in creating this mural, as well as the chance to give back to the medical community in the times of COVID."
– Bruno Canadien, Indigenous Artist-in-Residence

Engaging with the local community was very important to Bruno's creative process from the start of the project that took months of planning and five production days. While drawing upon his perspective as a Dene artist, Bruno connected with members of the community at different stages of the mural. With Grade 11 art students from Oilfields High School, Bruno designed a concept filled with images from the land and sky, such as flowers, prairie chicken feathers and butterflies. Students also came up with the idea of incorporating their own handprints in orange as a sign of solidarity with residential school survivors.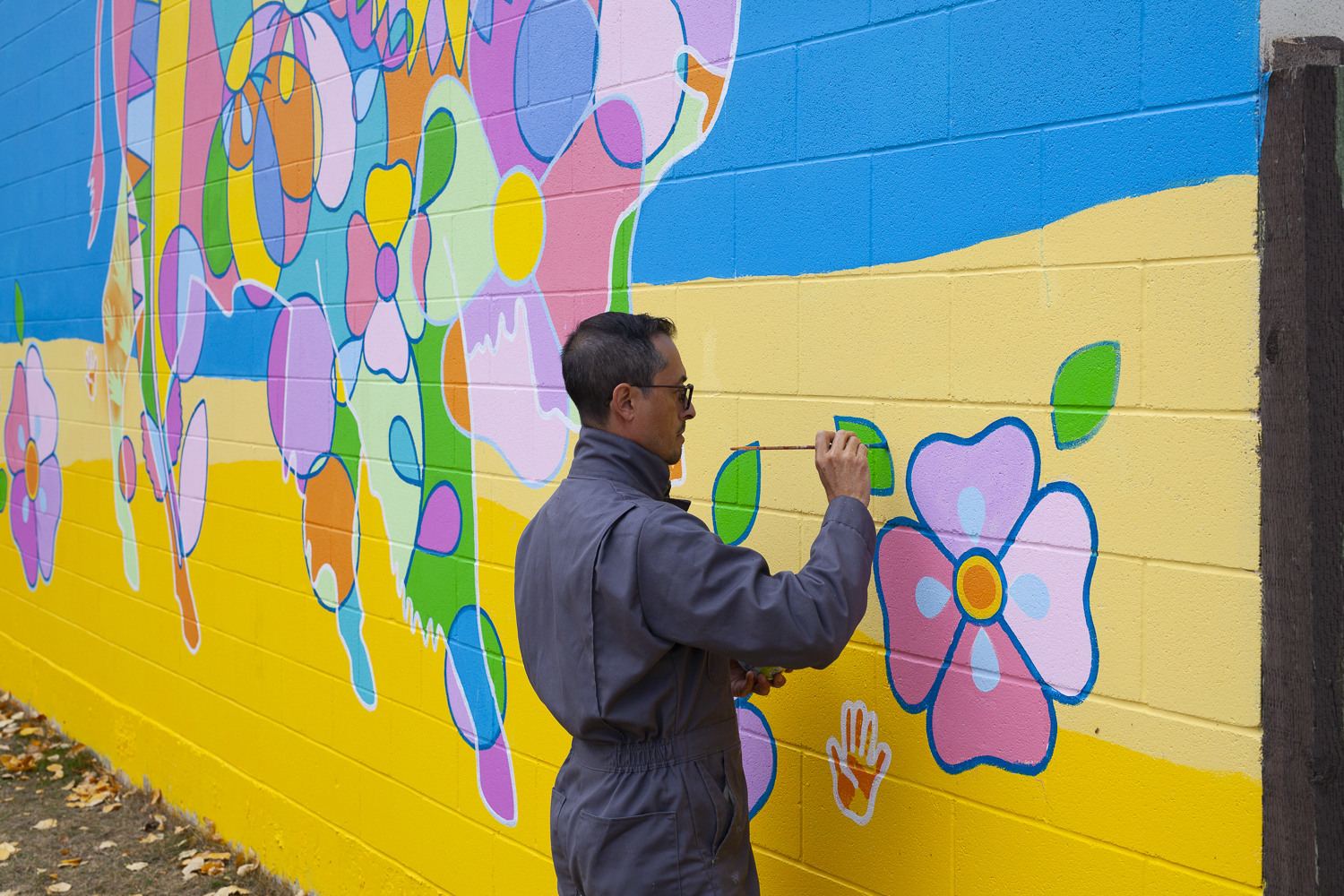 Photo Credit: Jeremy Pavka
"Many view Reconciliation as the re-establishment of respectful relations between ourselves and the land, and the bison was prominent in this web of relationships. This mural imagines the central role of bison in the landscape of the past and the future."
– Bruno Canadien, Artist-in-Residence

In addition to the art students, Bruno also worked with the Whyte Museum of the Canadian Rockies, who connected him to Cheyenne, an artist painting assistant from Stoney Nakoda Nation, as well as a local RONA who donated paints and supplies.
Videography by: Jeremy Pavka
Edited by: May Shi
Located at the back of the Foothills Family Medical Centre in Black Diamond, the colourful mural is not only a way to access art in the public realm without barriers, but also a way to give back to the medical community.
"As I was painting this mural on the back of this medical clinic in Black Diamond, the medical staff would see it in progress and I received a lot of positive feedback. I realized that [the mural] was for them as well. It is on their building, they'll be seeing it everyday. In that way, it means a lot to me that they appreciate it and will get to live with it."
– Bruno Canadien, Artist-in-Residence

Photo Credit: Jeremy Pavka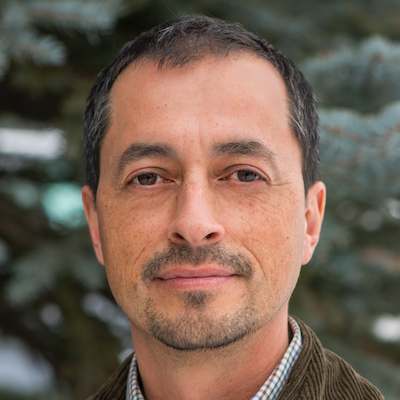 Bruno Canadien is a member of the Deh Gah Got'ı́é Dene First Nation, a Deh Cho Region member of the Dene Nation.
Canadien's art practice is primarily focused on addressing issues surrounding the intersection of First Nations/Tribal sovereignty, resource exploitation and environmental concerns. Using collage, adornment, painting and drawing, he presents evidence of contemporary Indigenous presence and resistance throughout his work, which can be found in private and public collections, including Alberta Foundation for the Arts, Glenbow Museum, Nickle Galleries and the Indigenous Art Centre. Bruno currently resides in the Moh'kinsstis (Calgary) area, gratefully grounding himself in the landscapes and traditional territories of the Siksikaitsitapi, Tsuut'ina and Îethka Nakoda Wîcastabi nations.
About CreateSpace Residency
CreateSpace is a national public art residency program designed in consultation with advisors from coast to coast, to provide emerging Black, Indigenous and racialized artists with the skills, relationships and practical experience needed to take their public art practice to the next level.  
The program aims to strengthen solidarity amongst artists working in diverse contexts and build connections between these artists and their communities. This residency also encourages conversations of social equity in city-building, design and placemaking.
This year's virtual residency takes place from March to December 31, 2021 and through this nine (9) month program, ten (10) emerging or mid-career public artists will convene, connect and create socially-engaged public artwork across Canada. For the latest updates, be sure to follow @STEPSpublicart and #CreateSpaceResidency.
The CreateSpace Residency is made possible by support from TD Bank Group through the TD Ready Commitment, the City of Toronto as part of ArtworxTO: Toronto's Year of Public Art 2021 – 2022, MAWA, and Canada Council for the Arts.