CreateSpace Public Art Forum 2022
An artistic response to the 2022 CreateSpace Public Art Forum, a national forum virtually convening participants who identify as Black, Indigenous (First Nations, Inuit and Métis), racialized, rural and/or youth with disabilities and between the ages of 18-25. Participants were presented with online talks themed around public art practices, studio tours by artist facilitators, a Keynote Event by artist Lori Blondeau, and opportunities to engage with fellow peers to inspire their final creations.
45
CreateSpace participants
What you carry with you is about the teachings that people bring with them on their life journey. Billy Parrell created this work while participating in the CreateSpace Public Art Forum with STEPS. She engaged with artist mentor lectures through the program and developed ideas around pedagogy and intentionality. Her project goal was to show a different vision of public art in downtown Peterborough, Ontario. To achieve this, she reached out to two of her friends to sit as her models. She surrounded them with affirming keepsakes and photographs of loved ones. The first model had hair to braid, whereas the second model had recently cut their hair after a ceremony. Both performances lead to a discussion around ability, passion, and friendship. Billy began fingerweaving in 2020. Over several virtual gatherings and phone calls with peers to discuss the relationship between community care and material practice, she developed the project what you carry with you. The video you see here is Billy's latest interpretation of weaving as a healing practice. Here, weaving is used in performance to prepare a stage for exchanging vulnerability and allowing space for discussion. She uses video to present the moving image in the style of a painted mural. The recording of the performance has been digitally superimposed on buildings to evoke billboards. Billy has projected moments between friends in the public realm to create a place for tenderness, calm, and storytelling.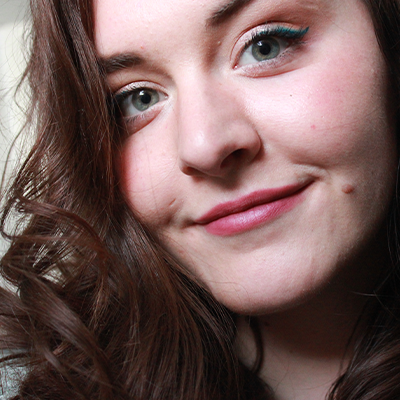 Billy Parrell
More Motif is a small studio run by artist Billy Parrell. She is an interdisciplinary, self-taught maker with a passion for working with her hands. Beginning with a sketch or a poem, whether it be a work of ceramic, textile, or visual art, her work is brought to you with love and good medicine from dedicated teachings of her mixed Cree, Métis, and Irish ancestry. In an effort to explore the challenges of identity and privacy, she publishes her work under the artist name Motif. Billy is based in Nogojiwanong under Treaty 20 with great respect to the surrounding Michi Saagiig nations and watersheds that connect the land back to Treaty 13 in Tkarón:to where the studio started. It is crucial to the livelihood of creation that we extend gratitude and stewardship to the territories, plants, animals, and people with whom we may gather, work, and thrive.
CreateSpace Public Art Forum
STEPS Public Art believes public art has the ability to challenge the systemic inequities that exist in public space. In support of this important work, we facilitate artist capacity building programs that foster inclusive public art practices, build the capacity of underrepresented artists, and demonstrate how public art can help reimagine equitably designed cities.
CreateSpace Public Art Forum is a digital forum that virtually convenes participants who identify as Black, Indigenous (First Nations, Inuit and Métis), racialized, rural and/or youth with disabilities and between the ages of 18-25. This forum fosters connections, builds understanding across geographies and cultures, as well as provide emerging equity-seeking artists with the skills, relationships and support needed to develop public art practices. Visit the online gallery to view all artistic responses by the 2022 forum participants.
CreateSpace Public Art Forum is supported by Canadian Heritage, Canada Council for the Arts and CIBC.

Ready to get your project started with STEPS?