Header Image: Shelby Gagnon, 2021 CreateSpace Artist-in-Residence
Are you, or an artist you know, interested in gaining experience, building networks and professional skills needed to launch or expand a public art practice?
We are thrilled to launch the 2022 CreateSpace Public Art Residency, a national public art program designed in collaboration with advisors from coast to coast, to provide emerging Black, Indigenous (First Nations, Inuit and Métis) and racialized artists with the skills, relationships and practical experiences needed to build and advance public art practices.
Ten artists from across the country participated in the program's inaugural year, acquiring valuable skills in the field of public art. Each artist created unique and inspiring public artworks that ranged from experimental to performative to sculptural. Visit the  2021 CreateSpace Public Art Residency webpage to learn more about these artists and their projects.
This residency is open to early to mid-career Canadian-based visual and media artists working in public space, who identify as Black, Indigenous (First Nations, Inuit and Métis) and/or racialized, interested in participating in a virtual residency from March through December 2022. Up to ten artists will be selected for this opportunity by a review panel composed of members of the arts community who identify as Black, Indigenous and/or racialized. Program components will be offered primarily in English, with translation and ASL services available as needed to support participation of a diverse community of artists. 
Applicants must be a Canadian citizen, or Permanent Resident to qualify for this opportunity. Interested applicants must submit their expressions of interest by Monday, January 31, 2022 at 11:59pm PST. Those living outside of the Pacific time zone are encouraged to use a timezone converter to ensure your application is received by the deadline.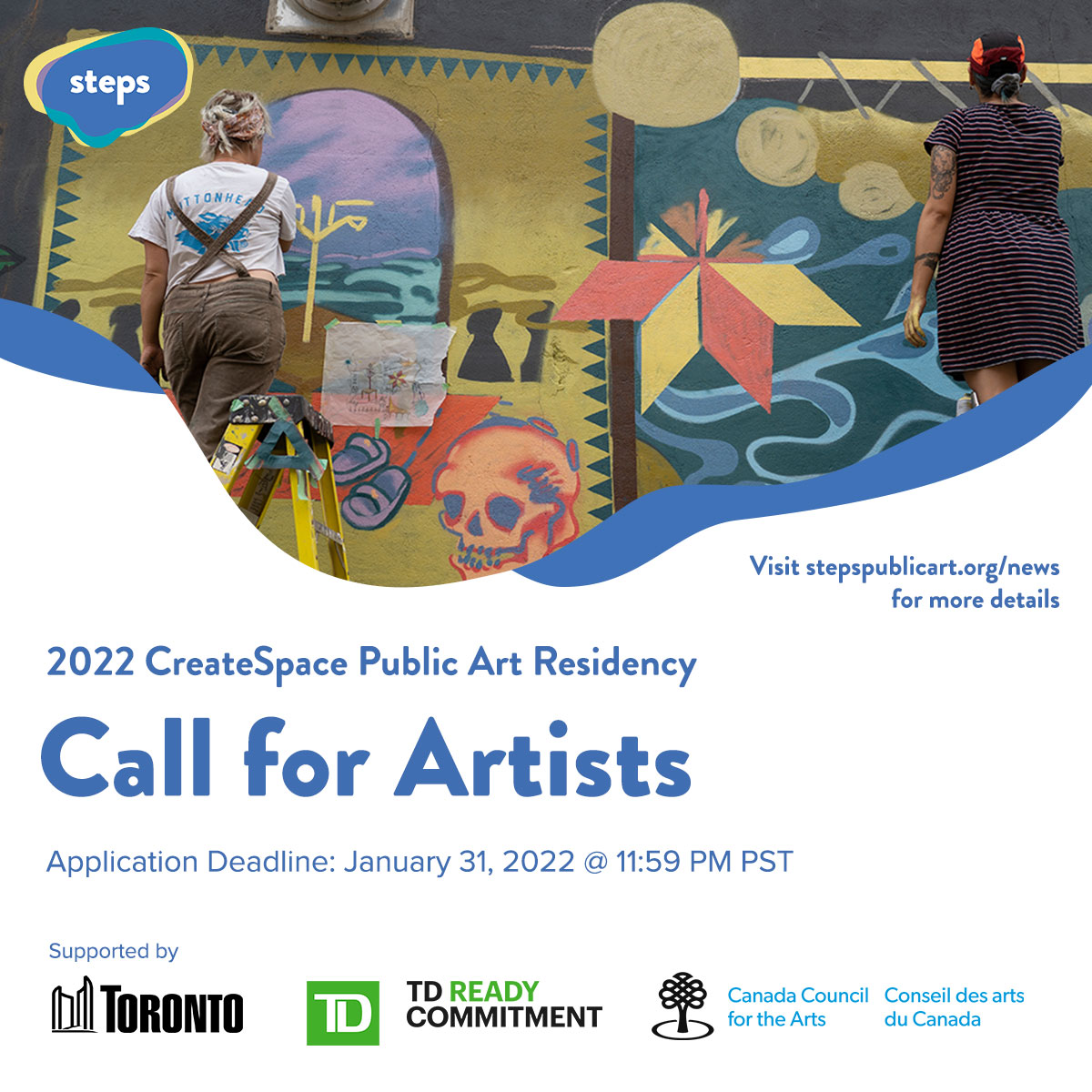 PLEASE NOTE: Applicants cannot save the form and return to complete it at a later time. We strongly recommend downloading the following form and saving your answers on a separate document prior to filling out the online form.
We encourage all applicants to visit the STEPS website prior to preparing this application to have a better understanding of the organization that will be facilitating this residency. Answers to Frequently Asked Questions (FAQ) for the CreateSpace Public Art Residency program are here (at the bottom of this page).
We encourage applications from all qualified candidates that represent the full diversity of communities in Canada, including complexities of intersecting identities such as ability, class, gender, race and sexual orientation. We are particularly interested in receiving applications from equity-seeking communities, such as those who identify as two-spirit, trans, Indigiqueer, Afro-Indigenous, as well as individuals living with a disability. 
Applicants who are Deaf, have a disability, or who need support applying for this opportunity are encouraged to contact Belinda Uwase at belinda@stepspublicart.org or call 416.366.6565 ex. 2 at least two weeks before the application deadline (by Monday, January 17, 2022) to allow STEPS to appropriately accommodate your needs and to discuss alternate formats for submitting your application.
2022 CreateSpace participating artists will gain:
Skills: 

virtual workshops, artist talks and studio visits for greater understanding of the public art process through the lens of Community, Identity, Accessibility, and Land, including: demystifying public art RFPs, exploring fabrication and approaches to public engagement.

Relationships:

 opportunities to connect with public art practitioners from across the country, cultivating professional networks in various sectors and industries.

Practical Experience: 

creating new public art work with tailored coaching from STEPS staff and artistic advisors, through which experimentation is encouraged.

Public Audiences: through promotional support leveraging STEPS and partner network, as well as supports to document and present past and current public work.

Financial Support: artists will each receive individual support valued at $3500, inclusive of a $1500 participation stipend as well as production, documentation, engagement and accessibility supports.
Participating artists, with the support of STEPS staff and program mentors, are expected to:

Attend at least 10 of approx. 15 residency sessions held over 10 months which will include: workshops, artist talks, facilitated discussions, studio visits, etc. We estimate each session to be an hour to an hour and a half time commitment per session. These sessions will run primarily between 1pm and 8pm EST, Monday through Saturdays.

Identify and execute a public art project by the end of the residency.

While participating artists are NOT expected to have well thought out plans for a public art project at the time of their application, having a project concept and clearly defined learning objectives for advancing your public art practice are important to make the most of the support that STEPS and CreateSpace partners can provide.

Participate in ongoing program evaluation that will help shape the CreateSpace Public Art Residency and other artist capacity building programming.

Respect the time and knowledge of CreateSpace advisors, mentors, staff and fellow participating artists, by committing to cultivate a safe, inclusive, supportive and respectful space for learning, exploration and growth.
Key program dates:
Deadline to request accommodations (for application process):

Monday, January 17, 2022 

Application Deadline: Monday, January 31, 2022 11:59 PST

Selected Artists Announced: March 2022

Residency Programming: March – December 2022
The CreateSpace Residency is supported by the City of Toronto as part of ArtworxTO: Toronto's Year of Public Art 2021 – 2022, TD Bank Group through the TD Ready Commitment and Canada Council for the Arts.

Êtes-vous, ou un artiste que vous connaissez, intéressé en acquérir l'expérience, dans la création des réseaux et compétences professionnelles nécessaires pour lancer ou développer une pratique d'art public?
Nous sommes ravis de lancer la 2022 Résidence d'Art Public, un programme national d'art public conçu en collaboration avec des conseillers d'un océan à l'autre, afin de fournir aux artistes noirs, autochtones (Premières nations, Inuits et Métis) et les artistes racialisés avec les compétences, les relations et les expériences pratiques nécessaires pour construire et faire progresser les pratiques d'art public.
Dix artistes à travers le pays ont participé à la première année du programme, acquérant des compétences précieuses dans le domaine de l'art public. Chaque artiste a créé des œuvres d'art public uniques et inspirantes, variant de l'expérimentation à la performance en passant par la sculpture. Visitez la site web de la 2021 CreateSpace Résidence d'Art Public pour en savoir plus sur ces artistes et leurs projets.
Cette résidence est ouverte aux artistes visuels et médiatiques basés au Canada, en début ou en milieu de carrière, travaillant dans l'espace public, qui s'identifient comme noirs, indigènes (Premières Nations, Inuits et Métis) et/ou racialisés, qui s'intéresse à participer à une résidence virtuelle de mars à décembre 2022. Jusqu'à dix artistes seront sélectionnés pour cette opportunité par un comité composé de membres de la communauté artistique qui s'identifient comme noirs, indigènes et/ou racialisés. Les éléments du programme seront offerts principalement en anglais, avec des services de traduction et des services de langue des signes américaine en anglais (ASL) seront disponibles au besoin pour soutenir la participation d'une communauté diversifiée d'artistes.
Les candidats doivent être citoyens canadiens ou résidents permanents pour se qualifier pour cette opportunité. Les candidats intéressés doivent soumettre leur manifestation d'intérêt avant le lundi, 31 janvier, 2022 à 23 h 59 HNP. Les personnes vivant dehors du fuseau horaire du Pacifique sont encouragées à utiliser un convertisseur de fuseau horaire pour s'assurer que leur demande est reçue avant la date limite.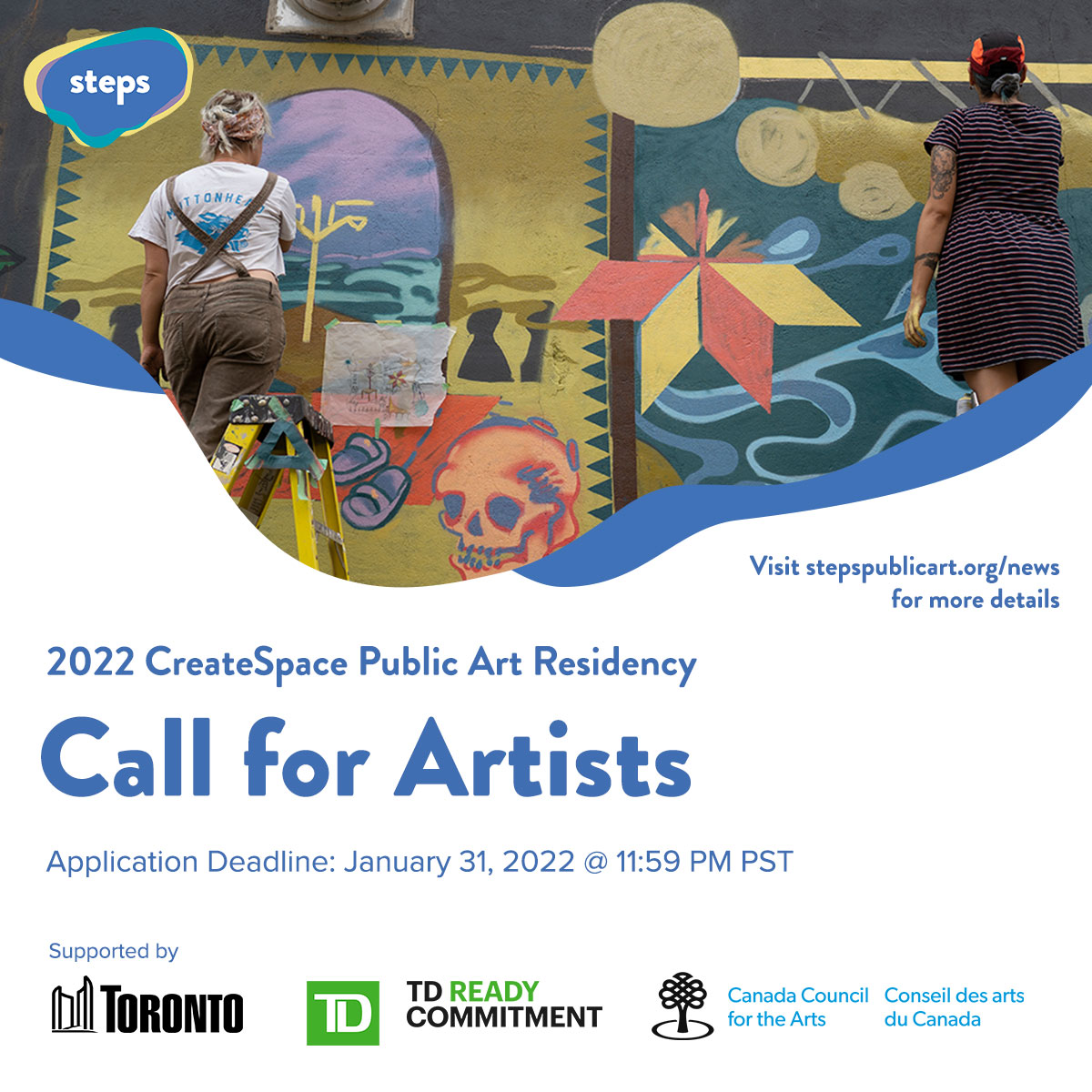 REMARQUE : les candidats ne peuvent pas sauvegarder le formulaire et revenir le remplir plus tard. Nous recommandons fortement de télécharger le formulaire suivant et de sauvegarder vos réponses sur un document séparé avant de remplir le formulaire en ligne.
Nous encourageons tous les candidats à visiter le site web STEPS avant de préparer cette demande afin de mieux comprendre l'organisation qui facilitera cette résidence. Les réponses aux questions fréquemment posées concernant le program 2022 CreateSpace Résidence d'Art Public se trouvent ici (au bas de cette page).
Nous encourageons les candidatures de tous les candidats qualifiés qui représentent toute la diversité des communautés au Canada, y compris les complexités des identités croisées comme la capacité, la classe, le sexe, la race et l'orientation sexuelle. Nous sommes particulièrement intéressés à recevoir les candidatures des communautés qui recherchent l'équité, comme celles qui s'identifient comme bi-spirituelles, trans, indigènes, afro-indigènes, ainsi que les personnes vivant avec un handicap. Les candidats sourds, handicapés ou qui ont besoin d'aide pour postuler à cette opportunité sont encouragés à contacter Belinda Uwase à belinda@stepspublicart.org ou à appeler le 416.366.6565 ex. 2 au moins deux semaines avant la date limite de candidature (avant lundi, le 17 janvier, 2022) afin de permettre à STEPS de répondre à vos besoins et de discuter de formats alternatifs pour soumettre votre candidature.
Les artistes participants de 2022 CreateSpace gagneront :
Des compétences : des ateliers virtuels, discussions avec les artistes et des visites de studios pour une meilleure compréhension du processus d'art public à travers le prisme de la Communauté, de l'Identité, de l'Accessibilité et du Territoire, notamment : démystifier les demandes de propositions d'art public, explorer la fabrication et les approches de l'engagement public.
Les relations : des occasions d'entrer en contact avec des praticiens de l'art public de tout le pays, en cultivant des réseaux professionnels dans divers secteurs et industries.
Expérience pratique : création de nouvelles œuvres d'art public avec un accompagnement personnel par le personnel et les conseillers artistiques de STEPS, grâce auquel l'expérimentation est encouragée.
Publics : accès aux public grâce à un soutien promotionnel tirant parti de STEPS et des réseau partenaires, ainsi qu'à des aides pour documenter et présenter les œuvres publiques passées et actuelles.

Soutien financier :

les artistes recevront chacun un soutien individuel évalué à 3500 $, comprenant une allocation de participation de 1500 $ ainsi que des soutiens à la production, à la documentation, à l'engagement et à l'accessibilité.
Les artistes participants, avec le soutien des personnels de STEPS et des mentors du programme, doivent :

Assister à au moins 10 des quelque 15 sessions de résidence organisées sur 10 mois, qui comprendront : des ateliers, discussions avec les artistes, des discussions animées, des visites de studios, etc. Nous estimons que chaque session représente un engagement d'une heure à une heure et demie par session. Ces sessions se dérouleront principalement du lundi au samedi entre 13 h et 20 h HNE.

Identifier et exécuter un projet d'art public par la fin de la résidence.

Tandis que les artistes participants ne sont PAS censés avoir des plans bien pensés pour un projet d'art public au moment de leur candidature, avoir un concept de projet et des objectifs d'apprentissage clairement définis pour faire progresser votre pratique de l'art public sont importants pour tirer le meilleur parti du soutien que STEPS et les partenaires de CreateSpace peuvent apporter.

Participez à l'évaluation continue du programme qui contribuera à façonner le CreateSpace Résidence d'Art Public et d'autres programmes qui renforcement des capacités des artistes.

Respecter le temps et les connaissances des conseillers, des mentors, du personnel et des collègues artistes participants de CreateSpace, en s'engageant à cultiver un espace sûr, inclusif, favorable et respectueux pour l'apprentissage, l'exploration et la croissance.
Dates clés du programme :
Date limite pour demander des aménagements (pour le processus de candidature) : Lundi, le 17 janvier, 2022


Date limite pour candidatures : Lundi, le 31 janvier, 2022 à 11 h 59 HNP 

Annonce des artistes sélectionnés : mars, 2022

Programmation de la résidence : mars – décembre, 2022
La CreateSpace Résidence est soutenue par le Canada Council for the Arts, TD Bank Group, et est un projet signature d'ArtworxTO : Toronto's Year of Public Art.