As part of the
2022 CreateSpace Public Art Residency
, a national artist capacity building program for emerging artists to build and advance their public art practice, artist-in-residence and urban-Indigenous visual artist Stephanie Babij led a mural-painting activation in her local community in Unceded Algonquin Territory (Ottawa, Ontario).
15-20
community members engaged
Inspired by Ontario's natural environment, Stephanie Babij created a unique mural in Parkdale Park located in Ottawa. Hoping to inspire viewers to think circularly about the natural world and the flow of energy between the sun, forest, and water sources, the mural uses pointillism and organic shapes to form a landscape. At the 2022 ArtsPark Festival and Market day-long event, community members of all ages were invited to take part in painting the artwork.
"
The role of public art is important during the pandemic because it creates space to have people connect within a community

.

"


– Stephanie Babij, Artist-in-Residence
"
My approach to this piece was inspired by the flow of energy. I also use dot work to represent the flow of energy. I think it really symbolizes what we can't really see and more so what we really feel.

"


– Stephanie Babij,

Artist-in-Residence
Explore Stephanie's public art activation virtually through the STEPS Public Art App, a free mobile and web application with an interactive map of STEPS projects, self-guided walking tours and artist profiles. This app is updated regularly with new photos, videos and projects to help you explore your city and virtually visit public art projects in other cities!

The STEPS Public Art App is best experienced on your mobile device via the App Store or Google Play (also accessible via the Web App on your browser). Please rate and review to help spread the word and enhance your experience with the digital platform.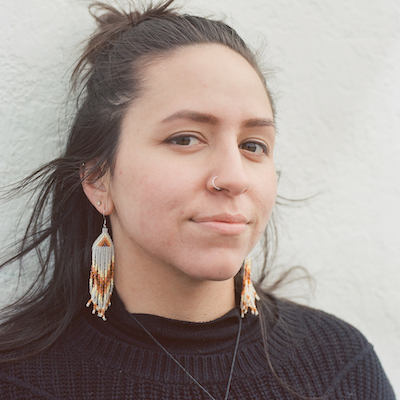 Stephanie Babij
Artist-in-Residence
Stephanie Babij (she/her) is an urban-Indigenous visual artist of Ojibwe and mixed-settler heritage. Originally from Sudbury, Ontario, with her maternal roots tied to Wikwemikong Unceded First Nation, she now makes her home in Unceded Algonquin Territory/Ottawa, Ontario.
Stephanie's visual arts practice includes acrylic paintings, drawings and wood-burnings crafted from fallen trees. Her self-taught artistic expression reflects both her personal healing journey and cultural reclamation. Stephanie's visual storytelling is guided by her dreams and awareness of her subconscious. Through her art, Stephanie blends her background in environmental science with her deep love of the natural world. In her work you'll find elements of Indigenous teachings, animals, plants and the celebration of women's bodies. The pieces that Stephanie creates call people to honor their relationship with the land and welcome dialogues about climate justice and living ethically with creation. 
As her career continues to unfold, Stephanie looks forward to developing her craft, supporting others in finding their own healing through art, and to creating murals.
Project Partners and Funders
This work was created in collaboration with Wellington West BIA and MASC, and was supported by STEPS as part of the CreateSpace Public Art Residency, a national program for emerging Black, Indigenous (First Nations, Inuit and Métis) and racialized artists to build and advance their public art practices, foster more equitable public spaces, and strengthen communities through engaging public art.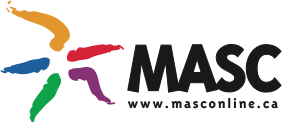 The CreateSpace Residency is supported by the City of Toronto as part of ArtworxTO: Toronto's Year of Public Art 2021 – 2022, TD Bank Group through the TD Ready Commitment, Canada Council for the Arts, and Ontario Arts Council. We also acknowledge the support of the Canadian Race Relations Foundation with funding provided by the Government of Canada.

STEPS believes that public art should reflect the diverse identities and perspectives of the communities that host it. Artists have a critical role to play in shaping cities, and our Artist Capacity Building Programs are designed to amplify the work of Black, Indigenous, Persons of Colour, female, LGBTTQQIAAP and newcomer artists in public spaces.
Ready to get your project started with STEPS?