A STEPS PUBLIC ART MURAL PROJECT
Asutta Aki
Shelby Gagnon's public art mural in Thunder Bay, Ontario is in collaboration with Lora Northway from Die Active Art Collective and the 2021 CreateSpace Residency. The mural combines Ojibwe floral designs and Finnish ancestral designs that complement each other, representing the artists' heritage and their shared overlapping history in the area.
---
PROJECT AT A GLANCE
Location: Haven Hostel, 226 Ambrose St, Thunder Bay, Ontario
Artists: Shelby Gagnon
Year: 2021
Services: Artist Capacity Building
1
large-scale mural activation
PROJECT DETAILS
After the CreateSpace BIPOC Public Art Residency call for artists with nearly 100 submissions across Canada, Shelby Gagnon was one of the ten emerging or mid-career public artists selected to create socially-engaged public artwork with the support of STEPS and multidisciplinary artistic mentors. This virtual residency began in March 2021 and runs until December 31, 2021, where Shelby and fellow artists-in-residence across five provinces are provided access to resources and support to develop the skills to bring their projects to life. Through this virtual residency, Shelby was supported by artist collaborator Lora Northway to collaborate on her first ever large outdoor mural called Asutta Aki.
"This is my first large-scale mural conceptualized and designed with another artist based here in Thunder Bay. It mimics the land and I focus a lot of my work on land-based learnings and teachings, mimicking hide-tanning and knowledge that I've gained through that. Combining these two practices that I love and working to learn is really exciting to me."
– Shelby Gagnon, Artist-in-Residence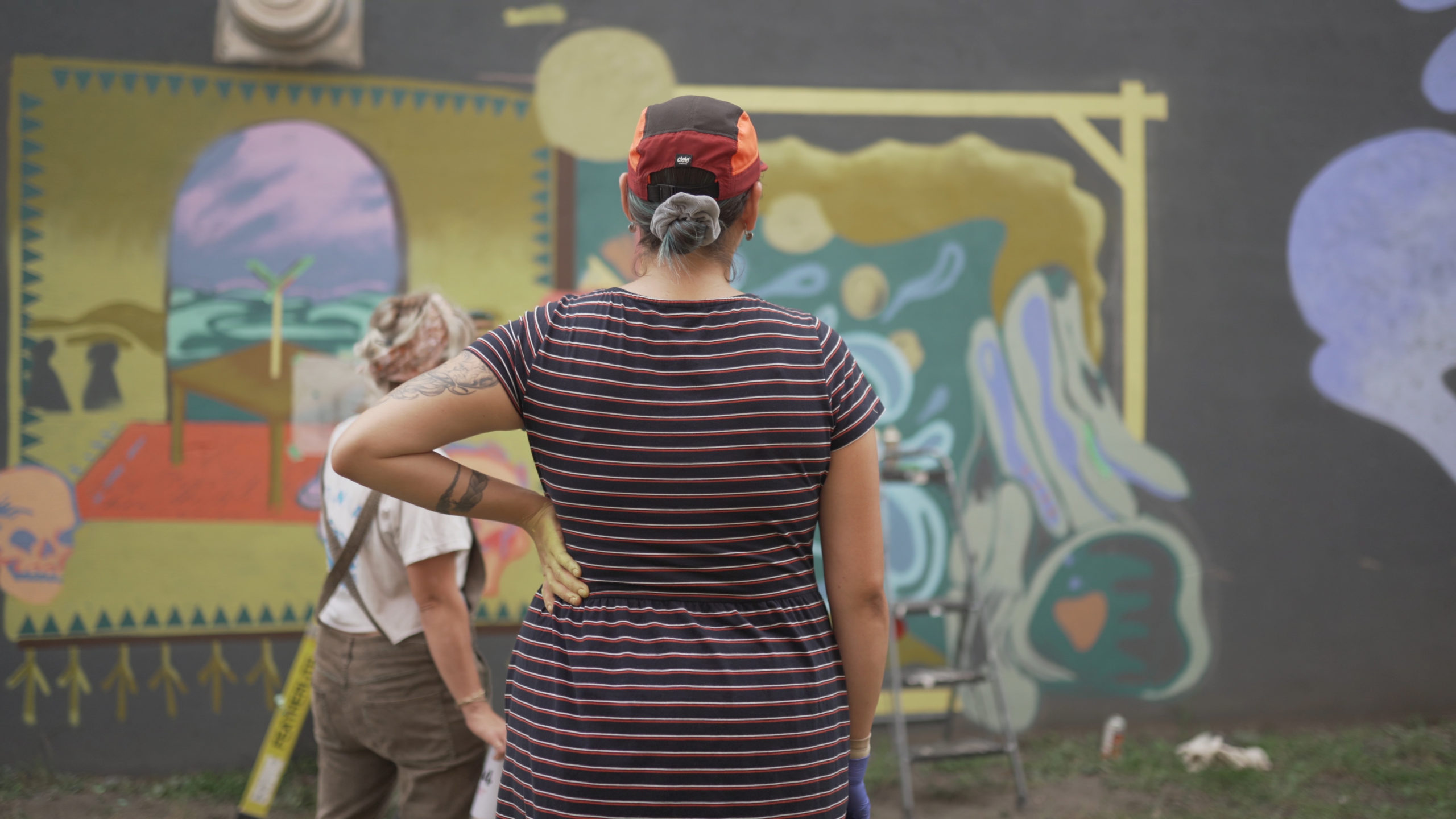 Asutta Aki incorporates traditional Anishnaabe and Finnish patterning that represents Shelby's Indigenous roots and Lora's Finnish heritage. The symbols throughout the mural explore the history of both cultures in Thunder Bay, dreams and connections, and relation to land and identity. This mural is a visual representation of different heritages intertwined and working together to create a healthy community.
"I felt empowered to create something that I've never learned how to do before. I felt empowered after finishing the mural and seeing the concept brought to life on the wall."
– Shelby Gagnon, Artist-in-Residence

As part of a youth group called Die Active Art Collective that provides mentorship and support to new and local artists, Shelby hopes this mural resonates with young people to create opportunities for future artistic collaborations in Thunder Bay, as well as engage with Indigenous and non-Indigenous people to facilitate growth and understanding in the community.
Behind-the-scenes photos with Asutta Aki, creating the public art mural.
"I've been learning so much that it has influenced the art that I've been creating, and I think that life is inspiration for the art that I put out. Having it be in the public eye feels carefree – I was able to move my body and be outside and talk with passersby so I felt like it helped me create stronger connections with my practice and my community."
– Shelby Gagnon, Artist-in-Residence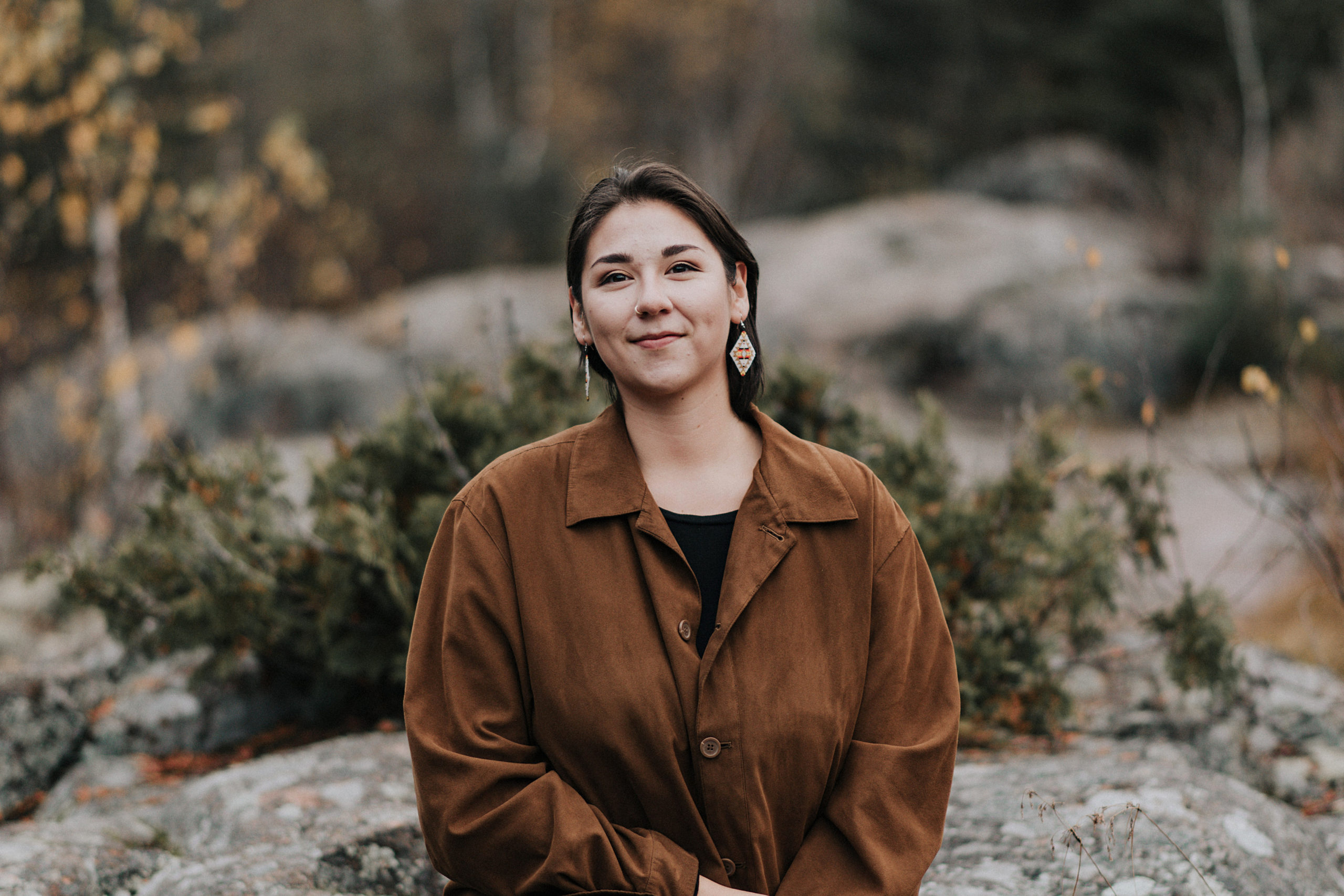 Shelby Gagnon is an Anishinaabe/Cree artist from Aroland First Nation but has lived in Thunder Bay, Ontario for most of her life. Shelby is a graduate of Lakehead University in the Fine Arts program where she explored the reclamation of identity and traditions of being an Indigenous woman on turtle island. Through involvement with community-engaged organizations and projects, she uses multi-disciplinary mediums to express and share her holistic feelings and perceptions.
About CreateSpace Residency
CreateSpace is a national public art residency program designed in consultation with advisors from coast to coast, to provide emerging Black, Indigenous and racialized artists with the skills, relationships and practical experience needed to take their public art practice to the next level.  
The program aims to strengthen solidarity amongst artists working in diverse contexts and build connections between these artists and their communities. This residency also encourages conversations of social equity in city-building, design and placemaking.
This year's virtual residency takes place from March to December 31, 2021 and through this nine (9) month program, ten (10) emerging or mid-career public artists will convene, connect and create socially-engaged public artwork across Canada. For the latest updates, be sure to follow @STEPSpublicart and #CreateSpaceResidency.
The CreateSpace Residency is made possible by support from TD Bank Group through the TD Ready Commitment, the City of Toronto as part of ArtworxTO: Toronto's Year of Public Art 2021 – 2022, Canada Council for the Arts, and funding provided by the Government of Ontario.