A STEPS PROJECT
Project We!
Project Oui!
Project We! Projet Oui! CreateSpace is a series of 2021 CreateSpace public art activations by artist-in-residence Anna Jane McIntyre who is based in Montreal, Quebec. This project celebrates intergenerational community collaborations in placemaking and imaginative play with a do-it-yourself and work-with-what-you-have maker's philosophy. 
---
PROJECT AT A GLANCE
Location: Carré Isidore Hurteau, Longueuil, Quebec and more locations in Montreal
Artists: Anna Jane McIntyre
Year: 2021
Services: Artist Capacity Building
1
virtual component in the works
34
elementary school students engaged
PROJECT DETAILS
After the CreateSpace BIPOC Public Art Residency call for artists with nearly 100 submissions across Canada, Anna Jane McIntyre was one of the ten emerging or mid-career public artists selected to create socially-engaged public artwork with the support of STEPS and multidisciplinary artistic mentors. This virtual residency began in March 2021 and runs until December 31, 2021, where Anna and fellow artists-in-residence across five provinces are provided access to resources and support to develop the skills to bring their projects to life. Through this virtual residency, Anna was connected with artist mentor Golboo Amani to bring her ideas to life.
Project We! Projet Oui! CreateSpace is a joyous, accessible and intergenerational community-centred visual artwork that encourages imaginative play with minimal means. The project's playful byproduct intention is to highlight the active nature and personal power in creating culture and the act of cultivating a sense of belonging. Project We! Projet Oui! is an umbrella project consisting of multiple components; beginning in August 2021, the project celebrates the beauty and richness of living in pluralistic communities and strengthening awareness and appreciation of the local ecology.
"My favourite thing really is to create immersive installations for people of all ages, heights, backgrounds, abilities, temperaments and sensitivities to play in and relax into the ecstatic joy of shared everyday aliveness."
– Anna Jane McIntyre, Artist-in-Residence

Component 1 in Carré Isidore Hurteau (August 2021)
One of the first components of Anna's project is a 4 x 6 ft. mesh banner created in collaboration with the Grade 1A and 1B students of École primaire St. Gabriel Elementary School in Pointe-Saint-Charles, Montreal, including the artist's son Inigo. This flag reflects the thoughts and feelings of the students considering the question "What can inclusive public playgrounds of the future look like?"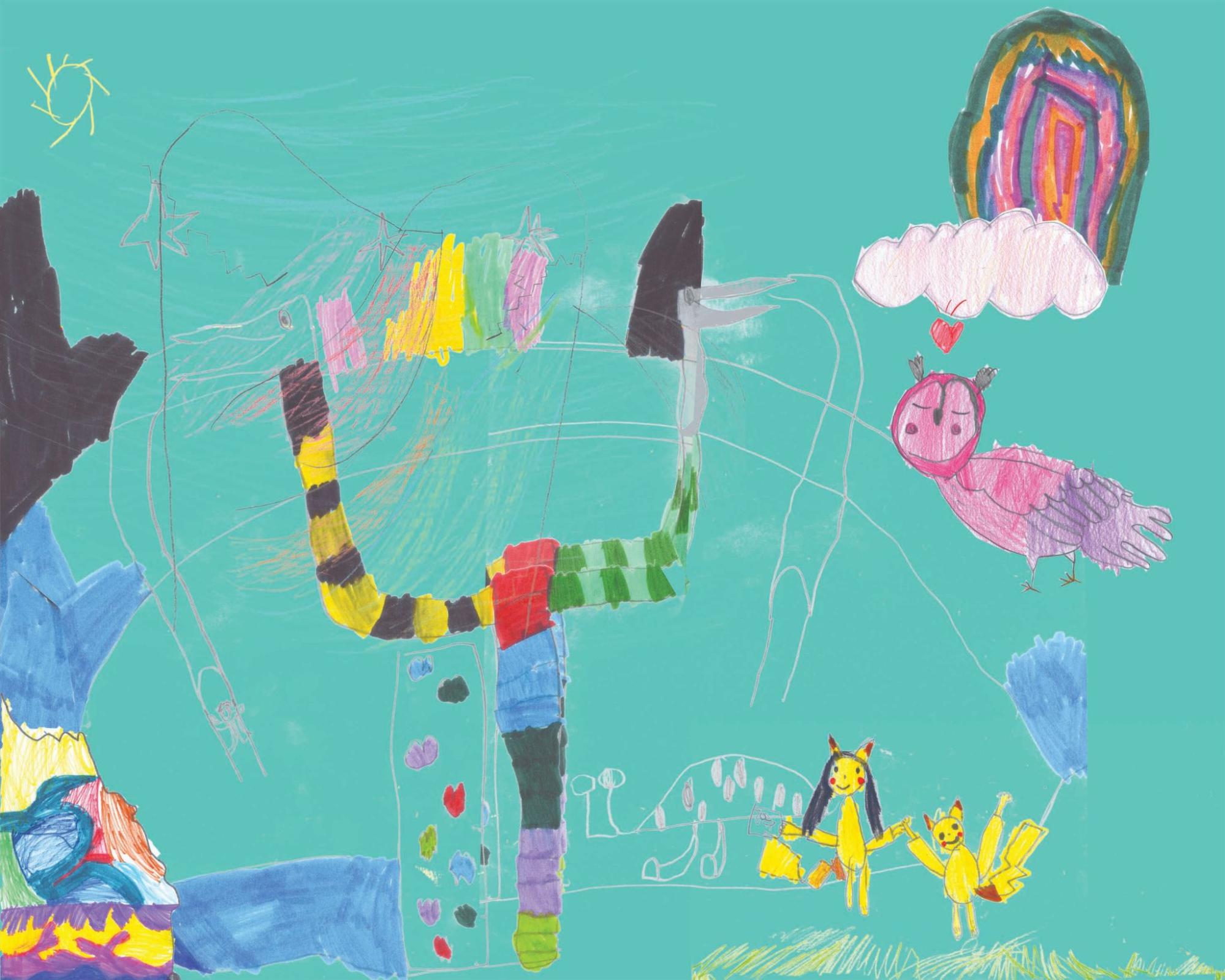 Artists: Anna Jane McIntyre and students of École primaire St. Gabriel Elementary School
"In public spaces you bring everything that you are, use all your senses and collaborate with the piece with your presence at your own pace, intensity and timeline. Sometimes this relaxed approach to art interpretation can feel trickier to access in a formal gallery setting, which can feel less inclusive and more intimidating."
– Anna Jane McIntyre, Artist-in-Residence

The flag can be found at Carré Isidore Hurteau in Longueuil, Quebec. The composition includes wonderfully whimsical imaginings representing play areas for plants, animals, and humans of all backgrounds, abilities, ages and temperaments.
"One of the many things I love about public art is that it's an art encounter that does not have set rules or expectations. I love that public spaces are both respectful of the magic in setting a beautiful context for chance encounters while simply acknowledging our physical bodies."
– Anna Jane McIntyre, Artist-in-Residence

Component 2 in Parc Sainte Cunegonde (Fall 2021)
Anna's public art projects continued in late fall with a painted picnic table mural in a local park near Atwater Market in Montreal.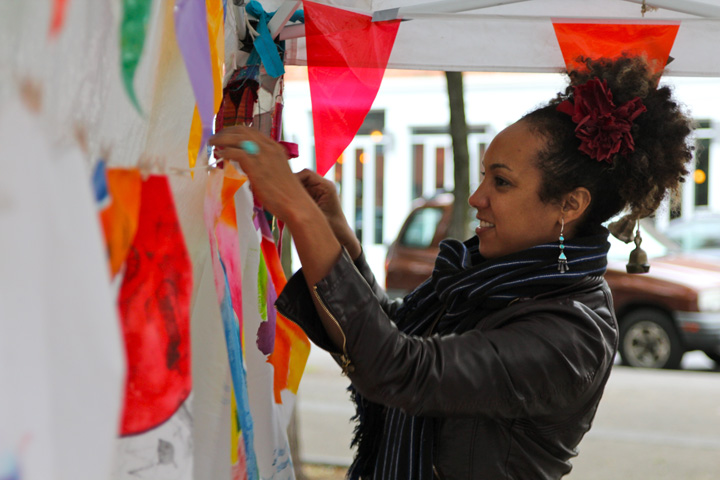 Anna Jane McIntyre is a visual artist based in Montreal with a playful practice that combines storytelling, drawing, sculpture, printmaking, performance, installation and microactivism. Her work investigates how people perceive, create and maintain their notions of self through behaviour and visual cues and is an ever-shifting visual mashup of British, Trinidadian and adopted Canadian cultural traditions.
About CreateSpace Residency
CreateSpace is a national public art residency program designed in consultation with advisors from coast to coast, to provide emerging Black, Indigenous and racialized artists with the skills, relationships and practical experience needed to take their public art practice to the next level.  
The program aims to strengthen solidarity amongst artists working in diverse contexts and build connections between these artists and their communities. This residency also encourages conversations of social equity in city-building, design and placemaking.
This year's virtual residency takes place from March to December 31, 2021 and through this nine (9) month program, ten (10) emerging or mid-career public artists will convene, connect and create socially-engaged public artwork across Canada. For the latest updates, be sure to follow @STEPSpublicart and #CreateSpaceResidency.
The CreateSpace Residency is made possible by support from TD Bank Group through the TD Ready Commitment, the City of Toronto as part of ArtworxTO: Toronto's Year of Public Art 2021 – 2022, MAWA, Canada Council for the Arts, and funding provided by the Government of Ontario.