As part of the Wall-to-Wall Mural and Culture Festival in Winnipeg, 2022 CreateSpace artist-in-residence Efemena Ogboru displayed her work "Efemena" beside the marquee entrance of the iconic Sherbrook Inn.
1
month-long mural festival
As part of the 2022 CreateSpace Public Art Residency, artist-in-residence Efemena Ogboru exhibited her public artwork in Winnipeg, Manitoba in collaboration with STEPS and Synonym Art Consulting.
Efemena Ogboru states: "I am a Nigerian artist based in Canada. My artworks and process reflect how I stay in touch with my culture in a foreign country and show the influence of my environment. Efemena means my wealth in Urhobo and Efe means wealth. The lions in this piece are used to symbolize power and authority. 
I love listening and dancing to music, especially afrobeat, which is why I included West African instruments. Since instruments cannot play by themselves, I put the children to play them. The instrument on the left is called a shekere, while the instrument on the right is called a talking drum. These instruments originated from West Africa and are popularly used in my home country, Nigeria. The talking drum offers a form of communication through music and was most times used to pass on information or make an announcement. 
The cloth he is wearing is a representation of the Isi Agu (lion's head) cloth which are mostly worn by Igbo people from the south eastern part of Nigeria. The red coral beads were mostly worn by Benin royalty or on important occasions like weddings. They also signify power, dominance, and hierarchy. I drew the African continent on the globe with the idea of it being a treasure map that foreigners keep trying to steal from or are actively stealing from and how we should be in full control of our resources. The ground is a remembrance of the red clay which has a lot of uses like pottery, sculpting, or building. 
During my process I discovered that an Afro does not have to be a perfect circle or oval shape for it to be considered an Afro so I experimented in styling it in different shapes. The staff is a representation of black power movement. Through this piece I want to remind people how wealthy we Africans are. We are intelligent, resourceful, powerful, and most importantly rich in culture."
"
I'm trying to start my professional career as an artist: I needed something to say: "I am here", so I decided to make this piece and name it Efemena.

"
– 

Efemena Ogboru, Artist-in-Residence
Explore Efemena's public art activation virtually through the STEPS Public Art App, a free mobile and web application with an interactive map of STEPS projects, self-guided walking tours and artist profiles. This app is updated regularly with new photos, videos and projects to help you explore your city and virtually visit public art projects in other cities!

The STEPS Public Art App is best experienced on your mobile device via the
App Store
or
Google Play
(also accessible via the
Web App
on your browser). Please rate and review to help spread the word and enhance your experience with the digital platform.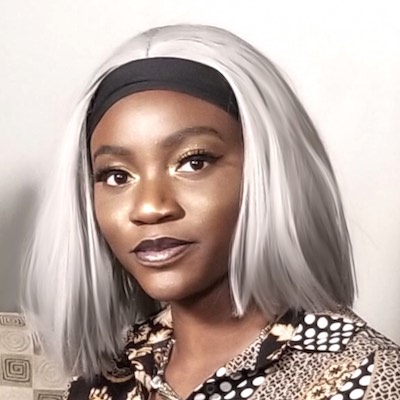 Efemena Ogboru
Artist-in-Residence
Efemena Ogboru was born in 1999. She was born and raised in Abuja, Nigeria until 2017 where she moved to Canada to pursue a degree in Fine arts at the University of Manitoba. She is an interdisciplinary artist who works with acrylics, oil paint, collages and digital works. She specializes in portraits and focuses on skin texture and the different tones in the skin. She has always had a passion for drawing from a young age, having grown up around different types of artists. She learnt how to work with oil paint from a professional Nigerian oil painter in 2016 and in 2018 she started learning graphic design. She has participated in an exhibition to help raise funds for orphans in Uganda, she has also participated in the Art Olympia 2019 competition and she has been selling her paintings and prints for over 6 years. She enjoys experimenting with different media and will continue to explore different drawing and painting techniques in the future.
Project Partners and Funders

The CreateSpace Residency is supported by the City of Toronto as part of ArtworxTO: Toronto's Year of Public Art 2021 – 2022, TD Bank Group through the TD Ready Commitment, Canada Council for the Arts, and Ontario Arts Council. We also acknowledge the support of the Canadian Race Relations Foundation with funding provided by the Government of Canada.

STEPS believes that public art should reflect the diverse identities and perspectives of the communities that host it. Artists have a critical role to play in shaping cities, and our Artist Capacity Building Programs are designed to amplify the work of Black, Indigenous, Persons of Colour, female, LGBTTQQIAAP and newcomer artists in public spaces.
Ready to get your project started with STEPS?