CreateSpace Public Art Forum 2022
An artistic response to the 2022 CreateSpace Public Art Forum, a national forum virtually convening participants who identify as Black, Indigenous (First Nations, Inuit and Métis), racialized, rural and/or youth with disabilities and between the ages of 18-25. Participants were presented with online talks themed around public art practices, studio tours by artist facilitators, a Keynote Event by artist Lori Blondeau, and opportunities to engage with fellow peers to inspire their final creations.
45
CreateSpace participants
For the CreateSpace Public Art Forum, I had the task of creating a work of art, and the result is a digital drawing titled "Great Scott!" that depicts a boy who is at a skatepark with a skateboard in hand, leaning against a bust statue. The inspiration for this piece came from a 1797 painting of Jean-Baptiste Belley by Anne-Louis Girodet.
Belley was a Haitian politician in France who leans against a bust of Guillaume Thomas Raynal, a slavery abolitionist. Similarly, in my drawing, the boy is leaning against a bust of William Lloyd Garrison, who was an abolitionist and founded The American Anti-Slavery Society in 1833. I wanted to modernize this idea. It brought me to my second inspiration for this piece, the movie Back to the Future Part II. With this influence, the 1797 painting of Jean-Baptise Belley becomes present, as seen in the clothes, environment, and style in my piece. There are also references to Back to The Future with the title "Great Scott!" a phrase used by The Doc, and "This is Heavy!" a phrase used by Marty McFly. Furthermore, there are references to the American Anti-Slavery Society logo with the "Friends of Freedom" phrase and tree in the background that sports a bell and reads "The Liberty Bell." In conclusion, this artwork is an homage to the history of art, black people in art, and black history that is brought back to the future in a colourful pop-art digital illustration.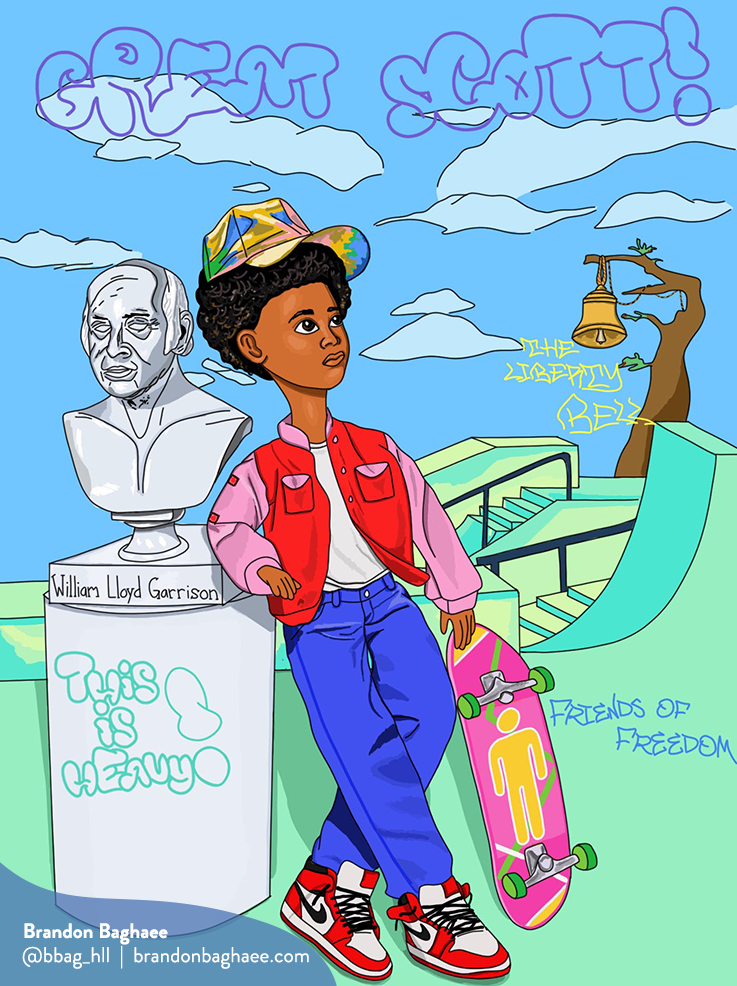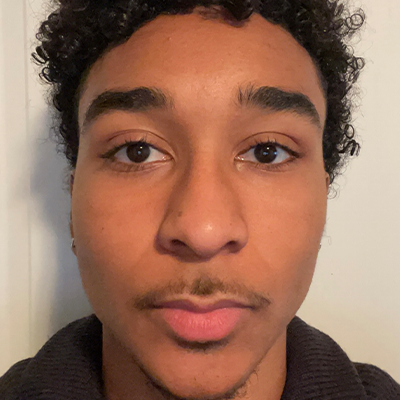 Brandon Baghaee
My name is Brandon Baghaee, and I am in my 2nd-year at OCAD University for my BFA studying Drawing and Painting. I am 19 years old, and enjoy using drawing, painting, illustration, design, and animation to convey my creative ideas! In my work, I showcase BIPOC youth in everyday events and fantasies, influenced by my experiences growing up Persian and Black. My current practice involves oil paint on canvas and video animation. In both, I incorporate form, balance, colour, space, symbolism and history to achieve my desired composition. I really enjoy painting the figure with value and depth, but there is also a very prominent cartoon influence (I used to watch Looney Tunes every single morning as a kid). There is also a common catalyst in some of my recent works, Spiderman. This was my favourite movie character as a child. And it can act as another entity in my pieces. All in all, my works are self-portraits that embody my spirit and experiences, represented through storytelling that empowers BIPOC youth and people.
CreateSpace Public Art Forum
STEPS Public Art believes public art has the ability to challenge the systemic inequities that exist in public space. In support of this important work, we facilitate artist capacity building programs that foster inclusive public art practices, build the capacity of underrepresented artists, and demonstrate how public art can help reimagine equitably designed cities.
CreateSpace Public Art Forum is a digital forum that virtually convenes participants who identify as Black, Indigenous (First Nations, Inuit and Métis), racialized, rural and/or youth with disabilities and between the ages of 18-25. This forum fosters connections, builds understanding across geographies and cultures, as well as provide emerging equity-seeking artists with the skills, relationships and support needed to develop public art practices. Visit the online gallery to view all artistic responses by the 2022 forum participants.
CreateSpace Public Art Forum is supported by Canadian Heritage, Canada Council for the Arts and CIBC.

Ready to get your project started with STEPS?