A STEPS PROJECT
Life Badges
Life Badges is a 2021 CreateSpace public art activation by artist-in-residence, Amanda Lederle. Inspired by the artist's series, Emotional Maps, this colourful project invites individuals to consider moments in their lives as they walk along the path of Amanda's first ever ground mural.
---
PROJECT AT A GLANCE
Location: Stackt Market, 28 Bathurst St, Toronto, Ontario
Artists: Amanda Lederle
Year: 2021
Services: Artist Capacity Building
PROJECT DETAILS
With a long-time goal of creating a mural project for many years, emerging artist Amanda Lederle made their vision come to life with the support of the CreateSpace BIPOC Public Art Residency. This virtual residency allowed emerging or mid-career public artists, like Amanda, to create socially-engaged public artworks with the support of STEPS, multidisciplinary artist mentors and guest speakers. Amanda was connected with artist mentor Yen Linh Thai (an illustrator and muralist based in Mississauga, Ontario) who is inspired to create murals by the communities they exist in, as well as Stackt Market, the site of Amanda's project and home to many public artworks by other local artists.
"The impact that I hope to see in the participation of this project is for people to think about what they've done in their lives, what they want to do, and what they haven't done and consider how they can do that for themselves. Think about how that affects others and what they can do for their communities."
– Amanda Lederle, Artist-in-Residence

"It's really awesome that emerging artists get to work on their own projects with assistance from STEPS to facilitate the logistics, and mentors who have been through the process to guide them along."
– Yen Linh Thai, CreateSpace Mentor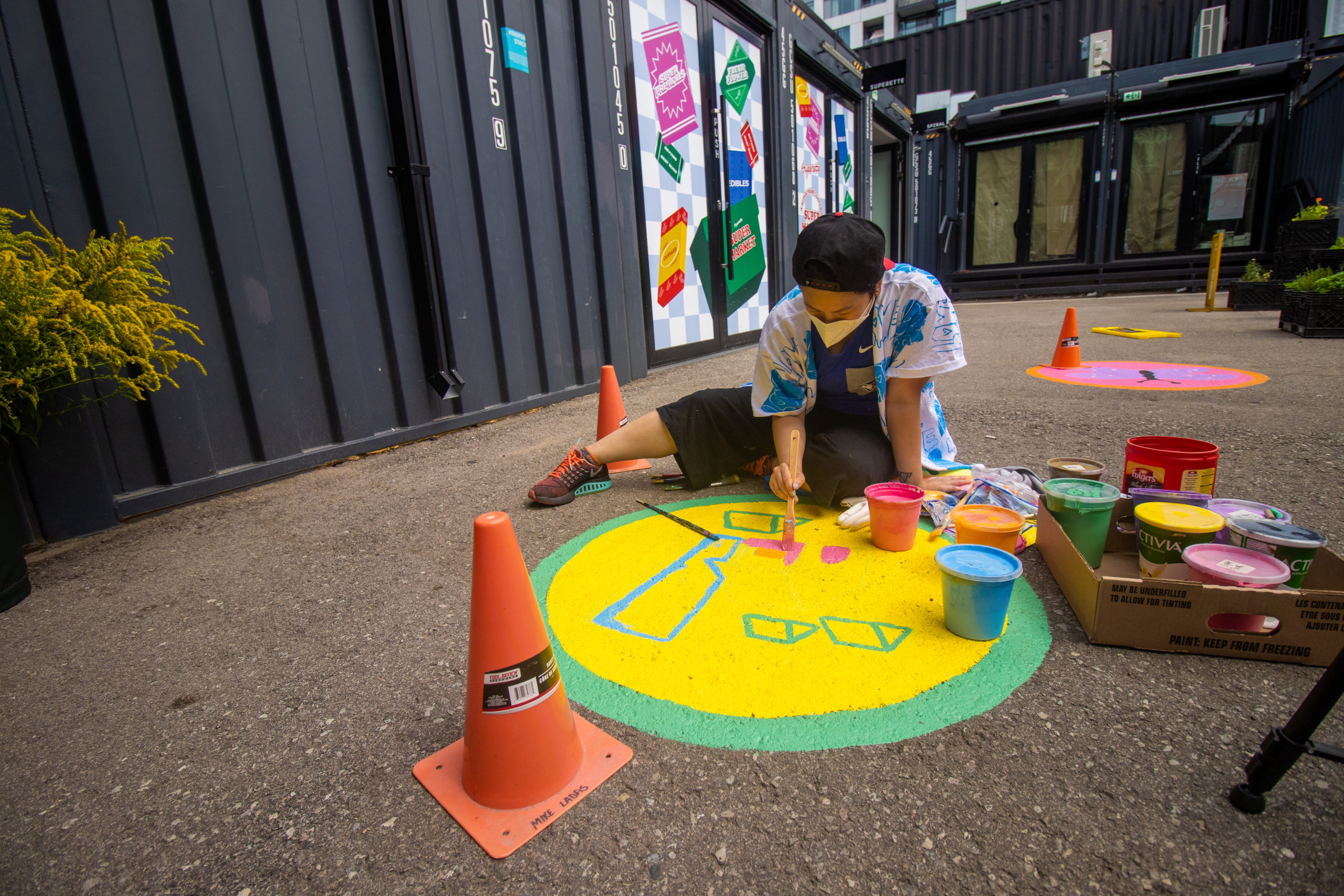 Life Badges is a vibrant expression and celebration of one's life journey. Each badge is an acknowledgement of the barriers one has had to face, celebrations in life, and the moments of acceptance and renewal. The project asks viewers to acknowledge the ways in which they have moved through circumstances that arise in their journey of life, by moving through each badge in the mural. Inspired by the artist's series Emotional Maps, this public artwork explores intangible feelings by using maps as a visual representation and illustrating the emotional struggles and triumphs that we go through as we each walk our own paths.
"My experience with STEPS, CreateSpace and Stackt Market has been amazing. They've been so accommodating and supportive, and very encouraging. I wouldn't have been able to do all of this pre-production and production work without all of their support. I didn't even know certain technical terminology before coming into this residency and they really nurtured the artist in me to be able to do this."
– Amanda Lederle, Artist-in-Residence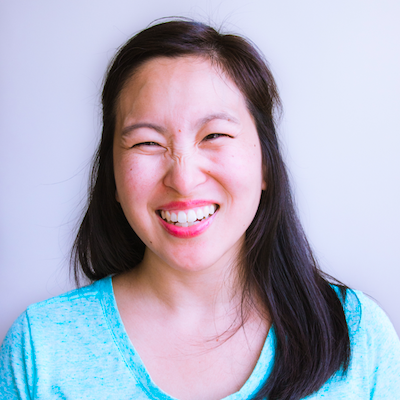 Amanda Lederle (they/them) is a neurodiverse, queer Chinese-Canadian born, recovering perfectionist and empathic human. Their work aims to connect with others in one's search for self-identity and understanding. Amanda's work has been shown at group exhibitions, publications and has been invited to lead workshops and artist talks. They are currently working on their public art installation "Life Badges" with STEPS Public Art, as part of their CreateSpace BIPOC Public Art Residency. You can also see Amanda at festivals and workshops as an Active Listener. They are also on the Lived Experience Research Committee at the Centre of Addiction and Mental Health (CAMH) and University of British Columbia's Asian Mental Health Committee as well as the founder of CreateBeingCreateBeing, a company that focuses on creativity and mental health. You can find more on AmandaLederle.com and CreateBeing.com, and on Instagram @AmandaLederle and @CreateBeing.
About CreateSpace Residency
CreateSpace is a national public art residency program designed in consultation with advisors from coast to coast, to provide emerging Black, Indigenous and racialized artists with the skills, relationships and practical experience needed to take their public art practice to the next level.  
The program aims to strengthen solidarity amongst artists working in diverse contexts and build connections between these artists and their communities. This residency also encourages conversations of social equity in city-building, design and placemaking.
This year's virtual residency takes place from March to December 31, 2021 and through this nine (9) month program, ten (10) emerging or mid-career public artists will convene, connect and create socially-engaged public artwork across Canada. For the latest updates, be sure to follow @STEPSpublicart and #CreateSpaceResidency.
The CreateSpace Residency is made possible by support from TD Bank Group through the TD Ready Commitment, the City of Toronto as part of ArtworxTO: Toronto's Year of Public Art 2021 – 2022, Partners in Art, MAWA, and funding provided by the Government of Ontario.