CreateSpace Public Art Forum 2022
An artistic response to the 2022 CreateSpace Public Art Forum, a national forum virtually convening participants who identify as Black, Indigenous (First Nations, Inuit and Métis), racialized, rural and/or youth with disabilities and between the ages of 18-25. Participants were presented with online talks themed around public art practices, studio tours by artist facilitators, a Keynote Event by artist Lori Blondeau, and opportunities to engage with fellow peers to inspire their final creations.
45
CreateSpace participants
My art / illustration is inspired by Latifa Pelletier- Ahmed's artist talk called 'Ecology in Public Art'. I hope my art echos the importance of collaboration to protect our environment.
In response to her talk, I created a drawing of a garden overtaken by weeds. I wanted to show that much like an ecosystem, if we don't take time to care for a garden it will not last very long and soon become filled with weeds. I was really moved by Latifa's statement that "gardens allow a place for the slowness that true care requires." This drawing is my response to her statement demonstrating that we must appreciate the beauty of the plants and land that surround us and invest in true care and time to preserve our beautiful gardens.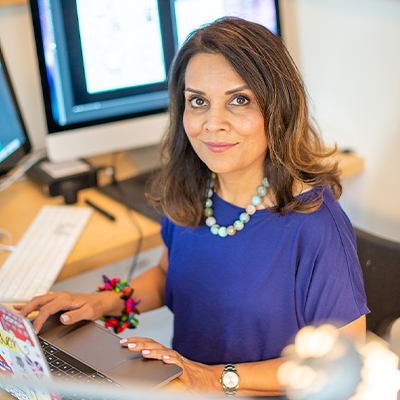 Farida Zaman
Farida Zaman is a Toronto based illustrator, author and educator known for her upbeat, bright, friendly yet sophisticated and whimsical style. She specializes in lifestyle publishing, children's picture books, map art, food art, wall art and art licensing. She brings her love of nature onto her canvas, painting abstract florals and creating a collection of illustrations of the female face adorned with flowers that has been licensed and commissioned by many manufacturers and clients. Farida's love of culture was inspired through her travels and has been a great source of inspiration.  She uses a variety of mediums – watercolours, acrylic paints, gouache and and at times, adding finishing touches on Photoshop. 
Farida has worked with clients like Latin Grammy Awards, The New York Times, The Wall Street Journal, Time Out London, Swatch, WHO, Unicef, Random House, London Underground, Toronto Transit Commission and many more. She is a member of the Society of Illustrators in New York, SCBWI (Society for Children's Book Writers and Illustrators), CANSCAIP (Canadian Society Of Children's Authors, Illustrators and Performers). Farida is currently an instructor at Toronto's Avenue Road Art School and runs art workshops and weekly classes for adults and children in fine art and illustration. Farida has taught workshops at the Ontario College for Art and Design (OCAD University). 
CreateSpace Public Art Forum
STEPS Public Art believes public art has the ability to challenge the systemic inequities that exist in public space. In support of this important work, we facilitate artist capacity building programs that foster inclusive public art practices, build the capacity of underrepresented artists, and demonstrate how public art can help reimagine equitably designed cities.
CreateSpace Public Art Forum is a digital forum that virtually convenes participants who identify as Black, Indigenous (First Nations, Inuit and Métis), racialized, rural and/or youth with disabilities and between the ages of 18-25. This forum fosters connections, builds understanding across geographies and cultures, as well as provide emerging equity-seeking artists with the skills, relationships and support needed to develop public art practices. Visit the online gallery to view all artistic responses by the 2022 forum participants.
CreateSpace Public Art Forum is supported by Canadian Heritage, Canada Council for the Arts and CIBC.

Ready to get your project started with STEPS?