A STEPS PROJECT
St. James Town Community Cultural Plan
This Community Cultural Plan outlines a vision for arts and culture programming in St. James Town by highlighting community values and needs; identifying local stakeholders; and recommending actionable future directions for arts and culture initiatives.
---
PROJECT AT A GLANCE
Location: St. James Town, Toronto
Artist(s): Jordan Aelick, Stephanie Bellefleur, Rosena Fung, Jennifer Fryer, Romana Kassam, Luvsumone, Anya Mielniczek, Shore Land Arts, Alia Youssef
Year: 2018–2019
300+
people experience this mural each day
23
community members engaged in planning process
8
public art installations created
"STEPS has been instrumental in developing a community-led plan that elevates the creativity and innovation taking place in St. James Town, creating new opportunities for creative participation for the entire community."

– Councillor Kristyn Wong-Tam, Toronto Centre
PROJECT DETAILS
Toronto's St. James Town community is a quarter square kilometre home to an estimated 18,000+ residents from all over the world, making it Canada's most dense and diverse neighbourhood!
Building on our World's Tallest Mural collaboration, STEPS was invited by the St. James Town Community Corner to facilitate a community-engaged cultural planning process for the area, which they hoped would outline the community's vision for arts and culture and serve as a resource to groups offering programming locally.
The St. James Town Community Cultural Plan:
provides a coherent vision for arts and culture programming in the community;
identifies gaps in programming;
and serves as a reference document for future partnerships between local service providers, artists, arts organizations, planners, and developers.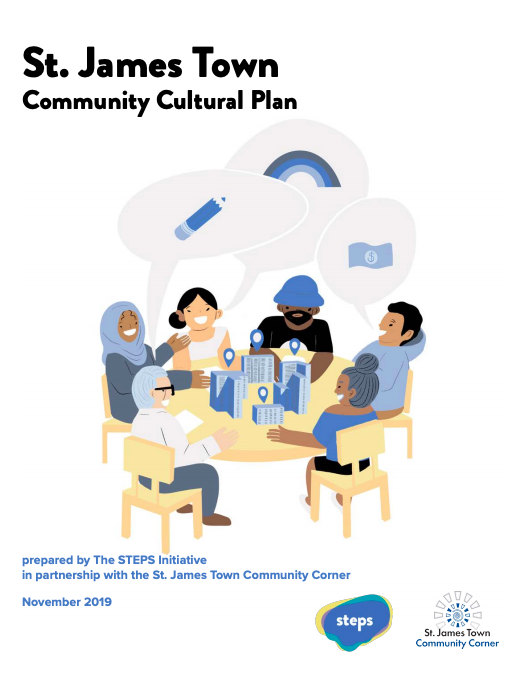 STEPS' facilitation approach reflected our organizational values to:
connect with local arts and culture stakeholders;
engage local residents in sharing their cultural values and vision for the area through both – creative and traditional consultation methods;
facilitate free participatory arts programming like mura-making, illustration, sculpture, photography, and zine-making;
transform public spaces through community-created public artwork;
and exchange community insights through written, in-person, and creative strategies.
"Having knocked on every door on St. James Town, I know local residents are hungry for Toronto to tell a new story about their neighbourhood- one where their diverse experiences are celebrated and their dignity, not their marginalization, is the plot thread. Artistic engagement is a powerful tool to reveal the stories of St. James Town residents. I am excited to see where STEPS, local organizations, service providers, and St. James Town residents take this vision for their neighbourhood." 
– Member of Provincial Parliament, Suze Morrison, Toronto Centre