That which will not be rushed
CreateSpace Public Art Forum 2022
An artistic response to the 2022 CreateSpace Public Art Forum, a national forum virtually convening participants who identify as Black, Indigenous (First Nations, Inuit and Métis), racialized, rural and/or youth with disabilities and between the ages of 18-25. Participants were presented with online talks themed around public art practices, studio tours by artist facilitators, a Keynote Event by artist Lori Blondeau, and opportunities to engage with fellow peers to inspire their final creations.
45
CreateSpace participants
Created in response to forum artist mentor Latifa Pelletier-Ahmed's talk and her question "How does timescale factor into your work as an artist?". This drawing reminds us of the gracious and glorious ways in which nature unfolds in its own due timeline – a needed reminder to slow down and allow our own human and creative processes to unfold in such a way as well. We might even find that we would benefit greatly from "allowing space for the slowness that true care requires", a radical and kind act in a ruthlessly hurried world.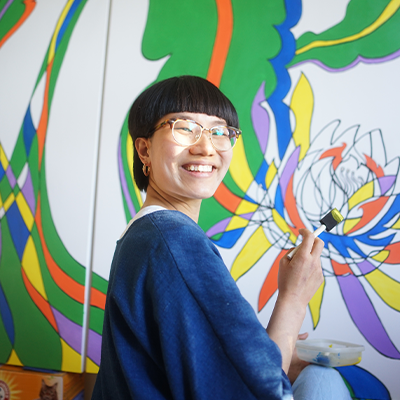 Vicky (Elaine Victoria) Wang
Vicky Wang is a visual artist and musician whose work reflects her zest for life. Her visual art and paintings are expressed in blind contour elegant flowing lines and bold colours that capture the details of things that she finds fascinating, which are her mother's 曇花 'Tan Hua' (Queen of the Night) plant, peoples' faces, and whatever else she will continue to inspire her in the future. Her artwork can currently be found in private collections throughout Canada, and she wishes to expand her practice to creating public art and murals.
As a musician and singer-songwriter, Vicky performs under the name "Earlybird" and writes honest songs about life in her soul-folk style, with her "pastel bell" voice secure and guitar in hand. Her music is brimming with rawness, vulnerability, and ultimately, hope, and she recently released her debut live EP and concert film "Earlybird, Live in Concert", which is available on Youtube and streaming services. During the pandemic, she runs a monthly online concert series where she shares her songs with listeners live from her home studio.
Through both her art and music, Vicky wishes to create beautiful, touching, and joyful moments that move the soul and point people towards the Light.
CreateSpace Public Art Forum
STEPS Public Art believes public art has the ability to challenge the systemic inequities that exist in public space. In support of this important work, we facilitate artist capacity building programs that foster inclusive public art practices, build the capacity of underrepresented artists, and demonstrate how public art can help reimagine equitably designed cities.
CreateSpace Public Art Forum is a digital forum that virtually convenes participants who identify as Black, Indigenous (First Nations, Inuit and Métis), racialized, rural and/or youth with disabilities and between the ages of 18-25. This forum fosters connections, builds understanding across geographies and cultures, as well as provide emerging equity-seeking artists with the skills, relationships and support needed to develop public art practices. Visit the online gallery to view all artistic responses by the 2022 forum participants.
CreateSpace Public Art Forum is supported by Canadian Heritage, Canada Council for the Arts and CIBC.

Ready to get your project started with STEPS?