CreateSpace Public Art Forum 2022
An artistic response to the 2022 CreateSpace Public Art Forum, a national forum virtually convening participants who identify as Black, Indigenous (First Nations, Inuit and Métis), racialized, rural and/or youth with disabilities and between the ages of 18-25. Participants were presented with online talks themed around public art practices, studio tours by artist facilitators, a Keynote Event by artist Lori Blondeau, and opportunities to engage with fellow peers to inspire their final creations.
45
CreateSpace participants
Untitled (Box) represents themes of memory and preservation in relation to materiality. Through plaster casting, Untitled (Box) explores conceptual notions of photography through physical objects.
Two rectangular plaster casts of a shallow cardboard box rest on top of one another, sandwiching four pieces of gum. The plaster casts evoke the process of photography through the production of a positive from a negative. Preserving and replicating the boxes' physical attributes, the casts are an echo of past remnants. The plaster retains an imprint of the past, transforming the cardboard boxes into a new, physical object. The chewing gum serves as a similar photographic motif through its materiality. Fresh chewing gum maintains marks on its physical surface. Over time the gum dries, conserving its final physical form and surface blemishes.
Untitled (Box) responds to Dee Barsy's workshop by demonstrating the physical labour of mold-making. At the end of the lecture, Dee facilitates a reflection exercise. She prompts the participants to close their eyes and imagine the physical sensations felt while making an artwork. While participating in the exercise, I reflected on the physical sensations felt while mold making. Arms bear the weight of mixing plaster, while touch gauges consistency for pouring. Hands shape and shave the plaster and a jaw chews each piece of gum. The resulting piece represents multiple physical actions into one final object.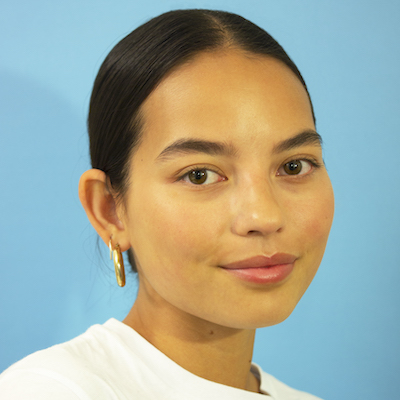 Tayler Buss
Tayler Buss is a lens based artist currently working on Treaty 1 Territory in Winnipeg, Manitoba. Through photography, video, and sculpture, her practice explores themes of digital and physical materiality. She has shown locally in galleries such as PLATFORM Centre for Photographic and Digital Arts, aceart, and The Edge Gallery, and was a muralist for the WalltoWall Mural Festival in July 2020. Her first solo show, Red, was held at Flux Gallery in May 2019. Most recently, she was the Manitoba winner for the BMO 1st Art Annual Art Competition.
CreateSpace Public Art Forum
STEPS Public Art believes public art has the ability to challenge the systemic inequities that exist in public space. In support of this important work, we facilitate artist capacity building programs that foster inclusive public art practices, build the capacity of underrepresented artists, and demonstrate how public art can help reimagine equitably designed cities.
CreateSpace Public Art Forum is a digital forum that virtually convenes participants who identify as Black, Indigenous (First Nations, Inuit and Métis), racialized, rural and/or youth with disabilities and between the ages of 18-25. This forum fosters connections, builds understanding across geographies and cultures, as well as provide emerging equity-seeking artists with the skills, relationships and support needed to develop public art practices. Visit the online gallery to view all artistic responses by the 2022 forum participants.
CreateSpace Public Art Forum is supported by Canadian Heritage, Canada Council for the Arts and CIBC.

Ready to get your project started with STEPS?