As part of the Wall-to-Wall Mural and Culture Festival in Winnipeg, 2022 CreateSpace artist-in-residence Kyla Yin James displayed their work "Year of the Tiger" on the exterior wall of the iconic Sherbrook Inn.
1
month-long mural festival
As part of the 2022 CreateSpace Public Art Residency, artist-in-residence Kyla Yin James exhibited Year of the Tiger which explores the place that anger holds in society, especially when displayed by those of marginalized genders. There is an oxymoron present in Western societies where marginalized people often only have their emotions taken seriously if expressed in an "acceptable" way.
"My goal when engaging with the public is to always leave people with a sense of wonder."
– 

Kyla Yin James, Artist-in-Residence
Kyla Yin James explains, "I wanted to explore the "tiger mom" stereotype because it stands in stark contrast to other stereotypes of East Asians as submissive and obedient. When considered all together, they reveal a certain hypocrisy of how East Asians are seen both as docile and a threat depending on what serves present power structures the best. The symbolism in this piece pokes fun at these labels and asks the viewer how they are reading the maid and the tiger in the picture."
"
It's important for me, when working with public space, to be mindful of the space you're in and also who lives there.

"
– 

Kyla Yin James, Artist-in-Residence
Explore Kyla's public art activation virtually through the STEPS Public Art App, a free mobile and web application with an interactive map of STEPS projects, self-guided walking tours and artist profiles. This app is updated regularly with new photos, videos and projects to help you explore your city and virtually visit public art projects in other cities!

The STEPS Public Art App is best experienced on your mobile device via the
App Store
or
Google Play
(also accessible via the
Web App
on your browser). Please rate and review to help spread the word and enhance your experience with the digital platform.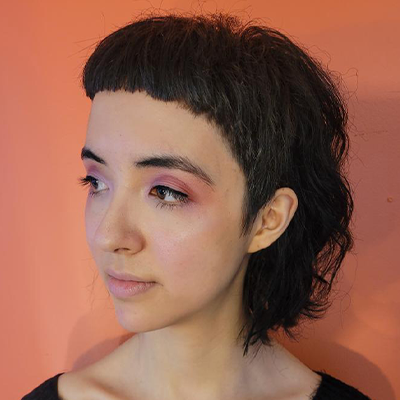 Kyla Yin James
Artist-in-Residence
Kyla Yin James (they/them) is an illustrator and designer whose work is inspired by mythology, the unconscious, subcultures, speculative fiction, and sociopolitical systems. Their work is filled with symbolism that creates surreal and speculative scenes questioning the status quo. They have a mural on display as a part of Vancouver Mural Fest and are currently working on their debut graphic novel. Kyla's work has been featured in publications including Creative Boom, ROOM Magazine, Ricepaper Magazine, and Loose Lips. They have also worked with The Writer's Union of Canada, InwithForward, Vancouver Foundation, Good Night Out Vancouver, and the James Black Gallery. Through their work, Kyla dissects and reassembles how they approach the different thought worlds they grew up in. Kyla describes their practice as thinking and feeling out loud, sorting through the symbols and ideas they've encountered.
Project Partners and Funders

The CreateSpace Residency is supported by the City of Toronto as part of ArtworxTO: Toronto's Year of Public Art 2021 – 2022, TD Bank Group through the TD Ready Commitment, Canada Council for the Arts, and Ontario Arts Council. We also acknowledge the support of the Canadian Race Relations Foundation with funding provided by the Government of Canada.

STEPS believes that public art should reflect the diverse identities and perspectives of the communities that host it. Artists have a critical role to play in shaping cities, and our Artist Capacity Building Programs are designed to amplify the work of Black, Indigenous, Persons of Colour, female, LGBTTQQIAAP and newcomer artists in public spaces.
Ready to get your project started with STEPS?