A STEPS PROJECT
From Weeds We Grow
Exploring the intersections of nature, art and wellness, From Weeds We Grow strives to unearth Rexdale and Humber Summit's relationship to the environment and accessible public space through virtual walking tours, workshops, storytelling and performances rooted in Rowntree Mills Park.
---
PROJECT AT A GLANCE
Location: Rexdale, Toronto 
Artist(s)/Facilitator(s): Lindsey Lickers, Mushkiiki Nibi Kwe, Caity Ferrar, James Carpenter, Tracey Kayy, Zara Rahman, Melting Pot Collective, Kanate'hson, Elder Renee Thomas-Hill, Prempz, Faduma Mohamed, Marina Fathalla, Marjan Verstappen, Fouronesixlove Inc., Adassa B., Melting Pot Collective and Debbie Woo, the local community and more!
Year: 2020-2021
Services: Artist Capacity Building, Creative Placemaking
12+
artists/ facilitators engaged
200+
community participants
19
interactive experiences featured on the web app
40+
unique individual artworks
16
community stories and poems
PROJECT DETAILS
Our relationships to nature and accessible public space within our communities are more important than ever!
Since 2020, From Weeds We Grow is an interdisciplinary public art project that aims to encourage exploration, and conversation around public space, while connecting community members to each other, to the arts, and to Rowntree Mills Park. This project cultivated through conversations during the production of Under/Current, another STEPS interdisciplinary program in 2019 that transformed the Rexdale community through co-created public art and storytelling.
Part of Arts in the Park, this project is supported by the Toronto Arts Council through the Animating Toronto Parks program that has led to the development of an interactive web app, free activity booklets, participatory art-making and storytelling workshops, and community events led by local community members, artists and facilitators.
From Weeds We Grow is a project that:
Uses new technologies to create virtual and immersive walking tours;

Presents stories and spoken word performances by both community members and local artists that reflect, explore and celebrate Rowntree Mills Park through Indigenous, environmental, and historic lens;

Showcases visual content created by workshop participants in the Rexdale and Humber Summit neighbourhood;

Brings together the community through interdisciplinary and interactive activities and knowledge/cultural sharing
Community Gathering in Rowntree Mills Park (September 2021) with activities and performances led by artists and community members to foster relationships between neighbours through collaborative arts and cultural sharing.
Video Credit: May Shi and Mila Bright
From Weeds We Grow Web App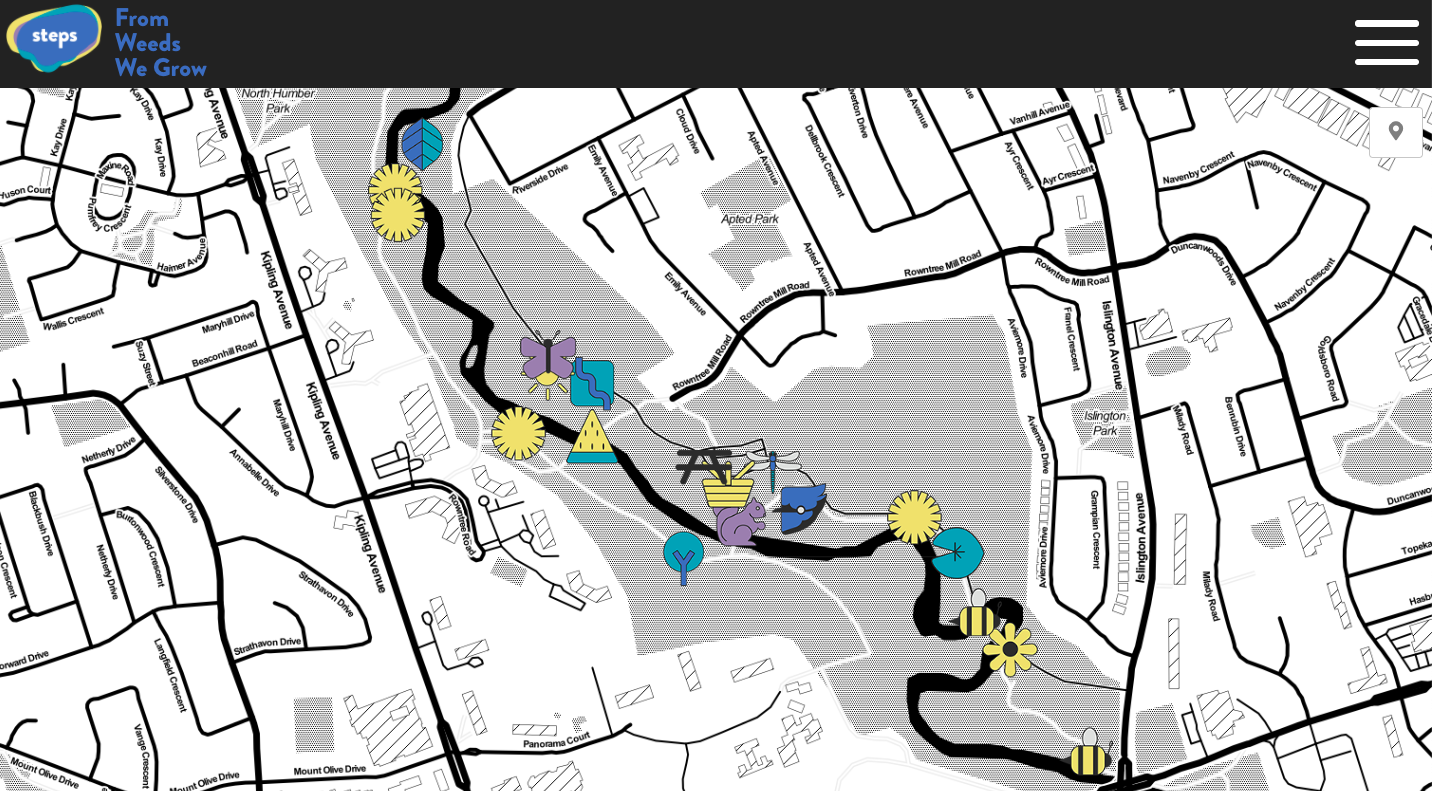 From Weeds We Grow was in production through the summer of 2020, culminating in a web app in partnership with Toasterlab. Through Indigenous, artistic and community-based approaches, the app is an exploration of public space connecting community members to each other, to the arts, and to Rowntree Mills Park.
Through interactive 360° panorama features, video content, community stories and more, the web app celebrates the local residents of Rowntree Mills Park and the park's impact on community well-being. Look out for signs in the park to engage with the app and share your stories by using #GrowWithSTEPS. 
"The park means a lot to me and my family. Its open space is a great way to get some exercise of the mind and body. I appreciate nature so much more enjoying a stroll through Rowntree Mills Park."
– Ms. Ellie, Project Collaborator at FOURONESIXLOVE INC.
Rowntree Mills Park Activity Booklet
In collaboration with the Melting Pot Collective and contributing artists (including Debbie Woo, Marina Fathalla and Marjan Verstappen), digital and printed activity booklets were made available to the members of the community to further the storytelling of From Weeds We Grow. The activity booklets are filled with beautiful illustrations and fun activities that explore new ways to connect to Rowntree Mills Park.
Since the start of From Weeds We Grow, new programming and collaborations have brought more virtual and in-person workshops and community engagements for the public to deepen their connections to Rowntree Mills Park. From nature walks and poetry workshops, to water teachings and hands-on art-making workshops culminating in online exhibits, From Weeds We Grow continues to explore the community's relationship to the environment and each other in meaningful and interdisciplinary ways. 
"I gained awareness of Rowntree Mills Park and renewed interest in exploring the parks of Toronto, and marveling at how much nature is available in Toronto."
– Online Workshop Particpant