How STEPS Reimagines Public Art Activations to Promote Equity, Relationship-Building, and Joy in City Spaces
Public art is a rapidly evolving field and innovative new projects are targetting functionality, business improvement, wellness, and liveability through art. A community-oriented approach to public art and creative placemaking can start on a neighbourhood scale, with incremental changes that can trigger long-lasting impacts. As Canadian cities grow and develop, facing the obstacles of shifting public health guidelines, public art is moving into alternative spaces that can be unconventional, temporary, transitionary, or even digital. 
With community participation and impact at the forefront of our projects, STEPS (which stands for Sustainable Thinking and Expression on Public Space) has explored creative placemaking and public art practices engaged with all kinds of surfaces, infrastructures, and mediums. 
How to Revitalize Public Spaces
1. Transforming Temporary Sites: Construction Site Hoarding Exhibits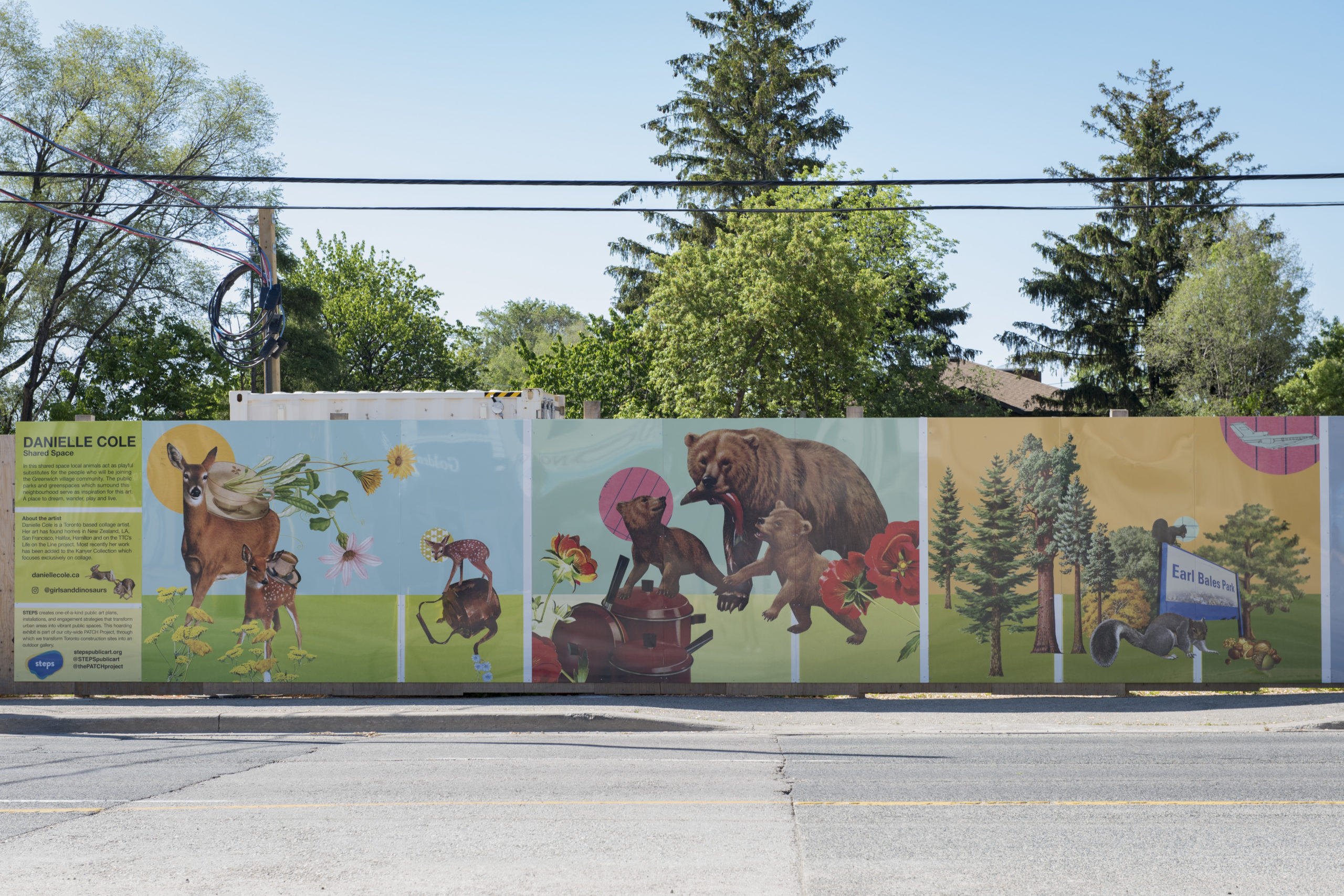 This hoarding exhibit by Danielle Cole inserts illustrations of animals and parks into an urban construction zone. Photo: Sharon Mendonca
Most people don't think of construction sites as a place for an art installation, but brightening these transitory spaces can be a great way to beautify the space while it is being developed. Public art is even a legislated requirement on some sites; in 2014, Toronto City Council authorized that "whenever hoarding is provided on the public right of way, 50 percent of the surface area of the hoarding be used for community art, subject to consultation with the Ward Councillor."
STEPS has facilitated Public Art Through Construction Hoarding (PATCH) exhibits (such as Shared Space with artist Danielle Cole) all over the city since then, aiming to highlight Canadian artists, prevent graffiti on hoarding sites, and positively transform the space alongside the construction of the site. 
Temporary public art projects like PATCH exhibits can be an access point for emerging artists; short-term installations can be more feasible, low-budget, and approachable, allowing for a wider range of artistic expressions in public space. Seasonal or transient installations can also work as a testing ground for artists to try out ideas that leave a lasting impression. The shorter duration of these installations reflects the changing cityscape and the transformational nature of public spaces, defining public art as something that's as adaptable, progressive, and vibrant as the cities it inhabits.
2. Inserting Public Art in the Everyday: Traffic and Utility Boxes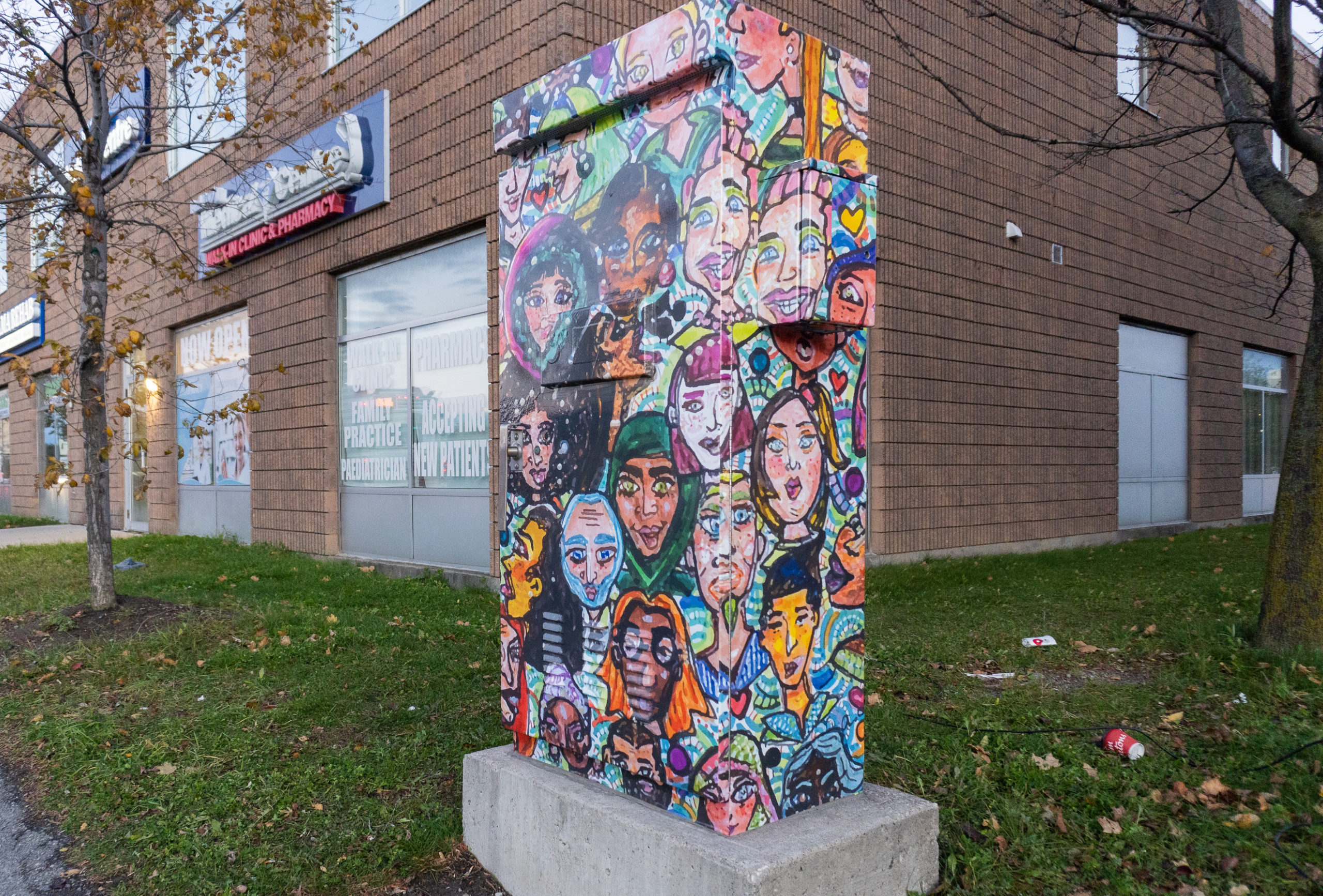 A traffic box in Brampton features the artwork of Annmarie Claudette. Photo: May Shi
Another place you may not expect to see public art is on the utility boxes scattered through the urban landscape, but emerging programs like the Traffic Box Art Pilot Project in Brampton envision these common objects as canvases.  Led by the City of Brampton's Cultural Services department with support from Public Works and Engineering, the traffic box project allows artists to illustrate their personal connection to the city space, collecting stories and motifs that reflect the communities of Brampton. The project explored the theme of 'postcards', and displayed works from Brampton artists Aditi Kashyap, Amye St John, Annmarie Claudette, Malachi Watson-Narcisse and Michel Nwoye-Vincent.
Decorating traffic and utility boxes has become more popular in recent years, and municipalities across Canada have supported these pioneering projects. Calgary's Utility Box Public Art Program used municipal maintenance funding to support artist activations on city utility boxes that would reduce graffiti, engage in community creative placemaking, and beautify the cityscape. In Hamilton, the Traffic Box Wraps Public Art Project commissioned temporary public art for traffic signal cabinets in the city's downtown core, exploring themes of site-specific history, memory, family, and community.
These types of imaginative urban interventions prioritize action, with a low-risk, Do-It-Yourself approach to public art. Starting in smaller-scale common spaces allows for a larger capacity of perspectives and expressions, and functionally, more can be done. Projects like Brampton's postcard-themed traffic box activation allow local artists to take charge of placemaking on their own terms, with their own meanings and memories of their neighbourhood at the forefront.
3. Starting on Street Level: Local Business Window Activations
Public art that starts on the block, street, and building level can also work in partnership with local businesses to refresh their storefronts. As walking and window-shopping became popular pastimes during pandemic lockdowns, window displays can be prime locations for art exhibits. By partnering with Business Improvement Areas (BIAs) that aim to make neighbourhoods more dynamic and promote the local economy, STEPS has supported artists with paid opportunities to animate public spaces in storefronts and business main streets.
The Winter Main Streets installations decorated 17 windows in the Eglinton BIA by collaborating with six artists; Sara Sarhangpour, Monica Wickeler, Asli Alin, Yen Linh Thai, Farida Zaman, and Vesna Asanovic. The project showcased artists' work with Holiday themes and helped build community connections with local businesses. As communities city-wide face the economic and social ramifications of the pandemic, these projects can spark joy for pedestrians and uplift businesses.
Since the start of the pandemic, the I HeART Main Street program has creatively animated a range of surfaces across the city in different ways: with storefront wraps, storefront window activations, street furniture revitalization, CafeTO exhibits, park/ette activations, dynamic murals, sidewalk decals, street pole banners and planter box ornamentation.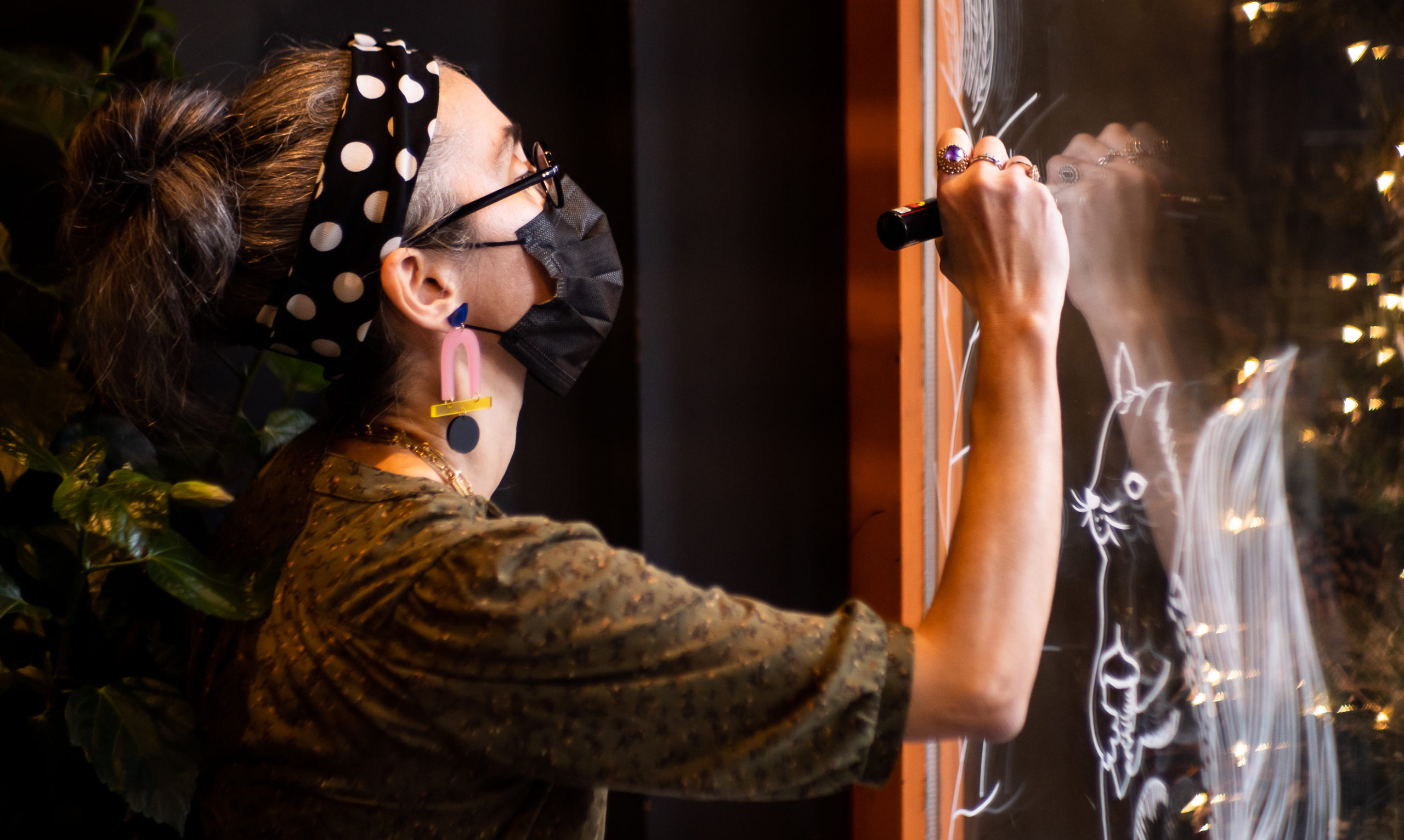 These placemaking tactics emerge as valuable pandemic recovery strategies, as localities have experienced reduced traffic and circulation, loss of community events and social programming, and increased vandalism and vacancies in storefronts. These projects work to uplift businesses, connect artists with paid work opportunities, and improve the atmosphere of a cityscape. By inserting energy, positivity, and beauty into the buildings and infrastructure of city spaces, public art can reduce the sense of isolation and loneliness felt by the community.
4. Promoting Sustainability: Educational Programming in Public Art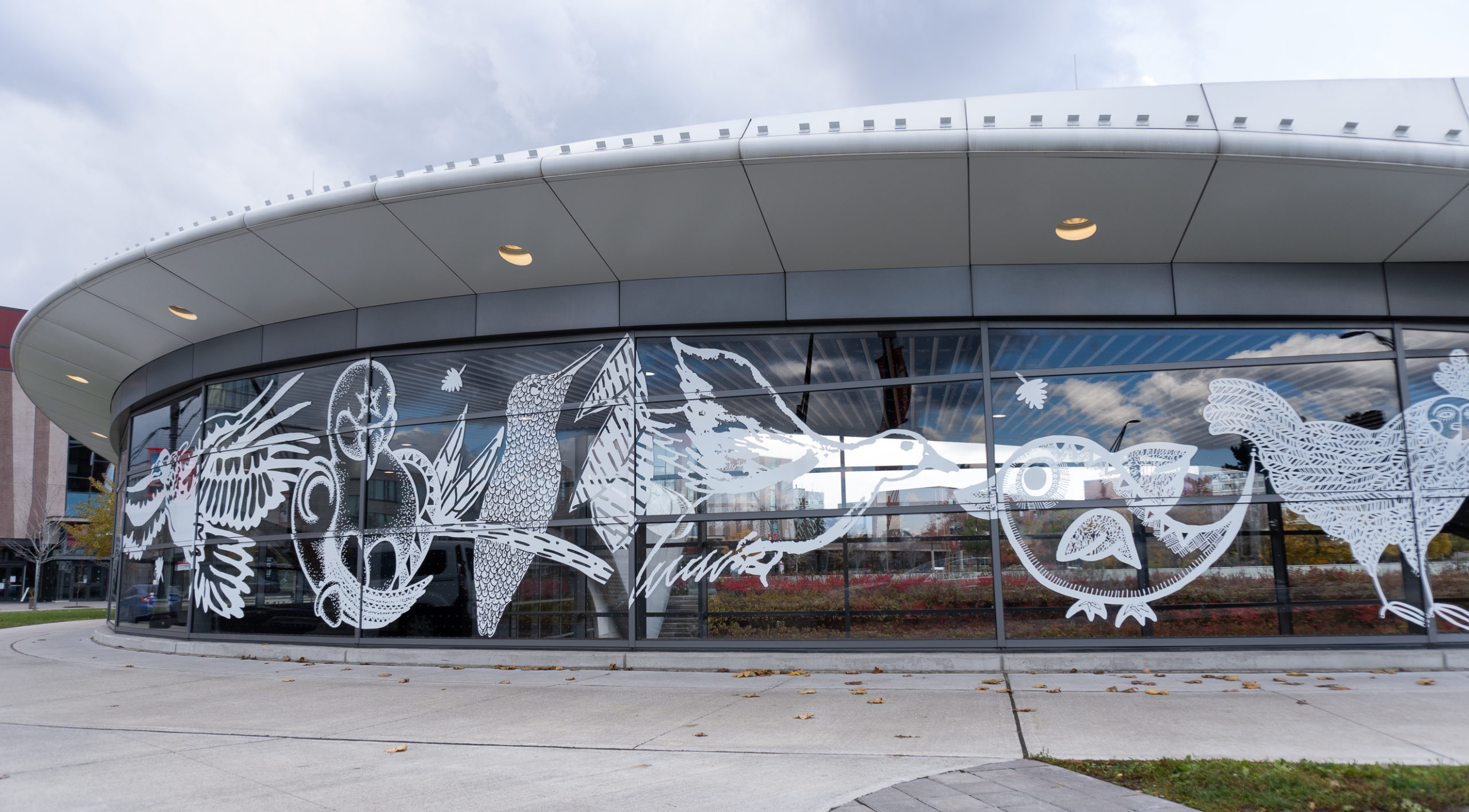 The Safe Flight Home bird-safe decals were installed at several Toronto Transit Stations for 12 months. Photo: May Shi
Public art can make a space more pleasant, serve a function in the area, and bring an educational component at the same time. The Safe Flight Home project used visual art decals to raise awareness about conservation efforts, prevent bird collisions, and beautified transit stations for commuters.
The initiative was led by artist Fatspatrol, who facilitated online community workshops with over 50 North York community members to inspire the decals. STEPS also partnered with FLAP Canada, an organization that aims to protect birds in urban environments against hazards like window collisions. 
This project merged arts, education, and community engagement to protect the ecology of the site. Public art is a powerful tool to encourage reflection and learning in society, and building on the pedagogical aspect can promote new and expanded understandings of a location.
5. Expanding to Digital Space: Developing Apps for Community Connection
Education and community engagement isn't limited to physical spaces or installations; as our connections shifted to online settings throughout the pandemic, STEPS public programming moved into the digital realm as well.
From Weeds We Grow started as a community-oriented ecology program in Rowntree Mills park with participatory workshops and events that explored the relationship between nature, art, and wellness in the city. To expand the project's reach during the early days of the pandemic, the program developed a web app that encourages safe exploration of the park through interactive features like participation booklets, videos, and tours.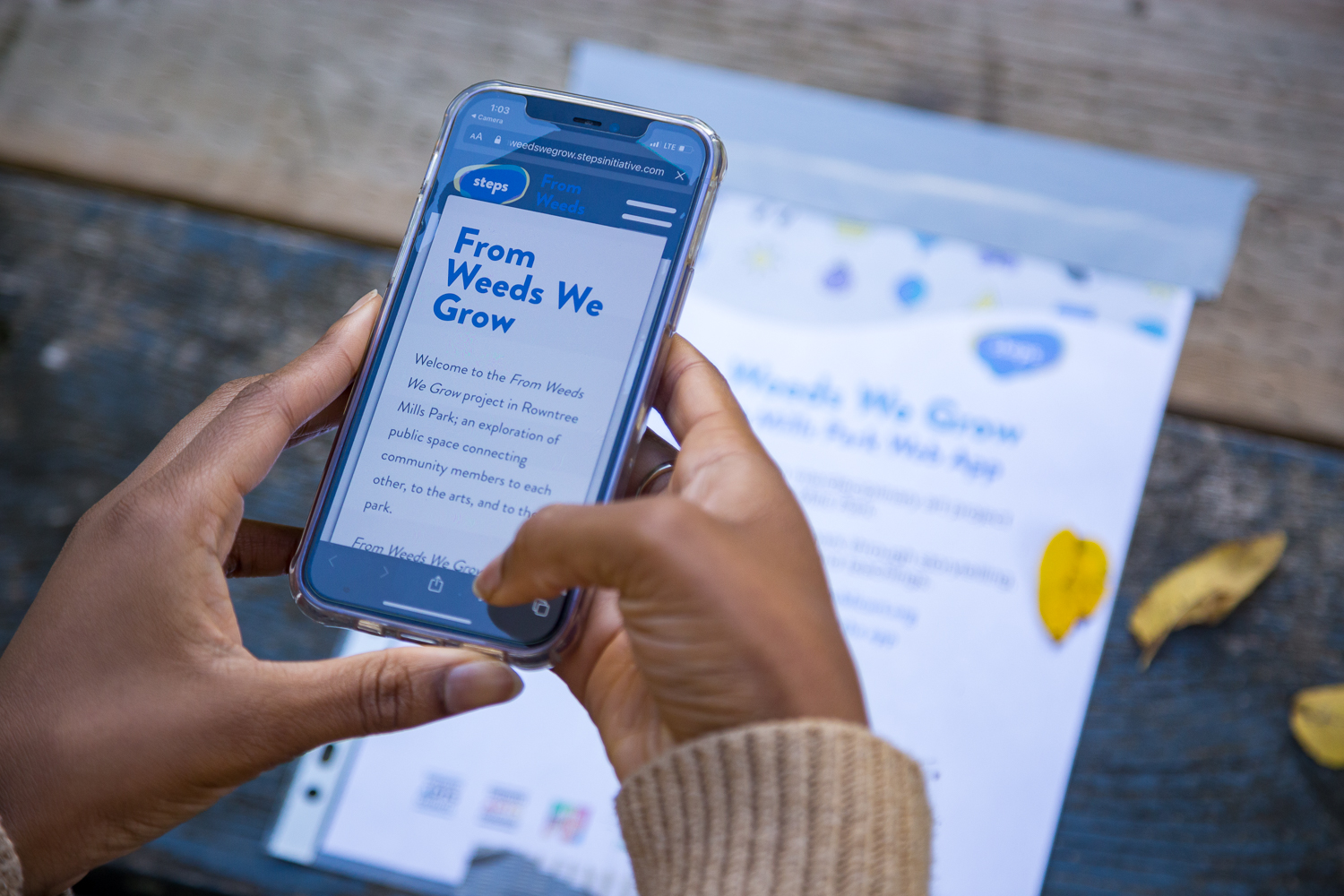 A participant at an in-person workshop in Rowntree Mills park connects to the From Weeds We Grow online materials. Photo: Mila Bright
The STEPS Public Art App was also launched last year to connect digital users to public art exhibitions around them. The app encourages users to learn more about the community and explore different areas of the city with an activation map that displays public art nearby and self-guided walking tours that can be viewed on your phone. Presenting projects that are based in physical space in the digital realm can foster real-life connections and gain a wider audience. From Weeds We Grow programming returned this summer with hybrid online and in-person components, linking the online app with on-site workshops and events.
Improving and restoring public spaces through art activations involves a site-specific approach, informed by the distinctive area and its inhabitants. With unique strategies and techniques that embrace the flux of city spaces, STEPS programming occupies temporary, unconventional, and digital spaces.
To learn more about how STEPS revitalizes public spaces through our interdisciplinary projects, artist capacity building initiatives, and creative placemaking responses, follow our programming updates @STEPSPublicArt and subscribe to our newsletter.
HOW CAN I DEVELOP A PUBLIC ART INSTALLATION?
Developing a public art installation for your specific site or community can be a great way to build a sense of identity and connection in that space. STEPS provides support for a variety of public art programming, from small-scale main street recovery strategies to municipal-wide cultural plans. Whether you are interested in developing public art for your business, construction hoarding site, or city space, we can work with you on installations that reflect your community while helping you to navigate the complex processes of hiring artists and producing large-scale projects.
If you're an artist interested in developing a public art installation but don't know where to start, you can refer to our monthly list of public art resources and opportunities, which features national calls for artists, grants, and workshop programming.
HOW DOES AN ORGANIZATION LIKE STEPS SUPPORT THAT PROCESS?
STEPS Public Art is an award-winning Canadian-based national public art and cultural organization that fosters inclusive communities through one-of-a-kind art initiatives. We can develop a cultural plan, commission a new public artwork, install a hoarding exhibit or animate a local park. Our team can connect you with artists, facilitate calls-for-artists, design inclusive cultural projects and generate solutions to public space challenges.
Interested in engaging with STEPS to jump-start your public art management and art installation goals? Have an idea for a large-scale commercial mural or complex multimedia installation? Take a look at our Public Art Management, Main Street Recovery, Cultural Planning, and Creative Placemaking services to learn more about how STEPS can help realize your public art vision for your community.
Eva Morrison
Cultural Content Writer
This article was written by Eva Morrison (she/her), a writer, curator, and painter based in Montreal. Her work has recently been published by Culture Days, Winnipeg Arts, and FARR Montreal. She received a BFA from Concordia University in 2019, specializing in Art History and Studio Arts.