Is your BIA struggling with vacant spaces and reduced foot traffic?
Are you looking for ways to safely animate and build community along your main street?
Don't miss your chance to access artist fee subsidies, placemaking and promotional supports!
Deadline for submissions was Wednesday, March 31, 2021, 4PM EDT
Stay tuned for our next BIA intake deadline!
Building on the success of our 2020 Main Street Art Challenge, STEPS has launched I HeART Main Street, presented in partnership with RBC Royal Bank.
STEPS will continue to provide Business Improvement Areas (BIAs) with the supports they need to activate their main streets, like: hiring artists to create new public artwork, (safely) engaging their communities, showcasing local business success stories and building their staff capacity to realize placemaking initiatives as part of their main street recovery strategy.
Participating BIAs will be eligible for 2021 Main Street Art Challenge prizes, valued at $30,000!
PARTICIPATING BIAs WILL RECEIVE:
Pro-Bono Creative Placemaking & Public Art Services
STEPS will provide free tailored coaching (up to 5 hours) to help BIAs generate ideas, support logistics planning, connect with artists and other resources to realize their creative visions. The focus of this coaching will be on quick DIY oriented creative placemaking methods that will help foster trust and a sense of community among local businesses, residents and artists as part of main street recovery.
This is your chance to experiment! Some of the things we can support you in doing include:
We can also help provide the extra support you need to ensure planned 2021 cultural projects, like community murals, street banners and mixed media installations move forward in this challenging time.
Not sure what you have in mind? Watch the video below to view some of last year's activations!
Connections to Multidisciplinary Artists and Creatives
Participating BIAs are expected to engage a minimum of two (2) artists in paid opportunities as part of the Challenge, but are encouraged to engage more in activating their main streets. To help realize your creative visions, STEPS is able to connect participating BIAs with our diverse and talented Toronto area artist network.
Artist Fee Subsidies
BIAs who engage artists from STEPS artist roster or a BIPOC (Black, Indigenous and People of Colour) identified artist of their choosing may be eligible for artist fee subsidies of up to $1000!
Audio-Visual Assets
STEPS will arrange for a photographer to help visually capture BIA activations.
Promotional Tools and Public Programming
STEPS will provide promotional tools to help raise awareness about BIA activations and local businesses, this will include I HeART Main Street social media templates, public programming, and digital platforms that allow communities to safely explore the best of what your BIA has to offer.
Recognition and Resources for Main Street Recovery
Through the presenting partnership of RBC Royal Bank, STEPS will be providing prizes to recognize participating BIAs who demonstrate ingenuity, creativity and a commitment to community engagement. Prizes will be awarded by a committee composed of local cultural and business leaders and will include a combination of monetary and in-kind support to realize future main street placemaking initiatives.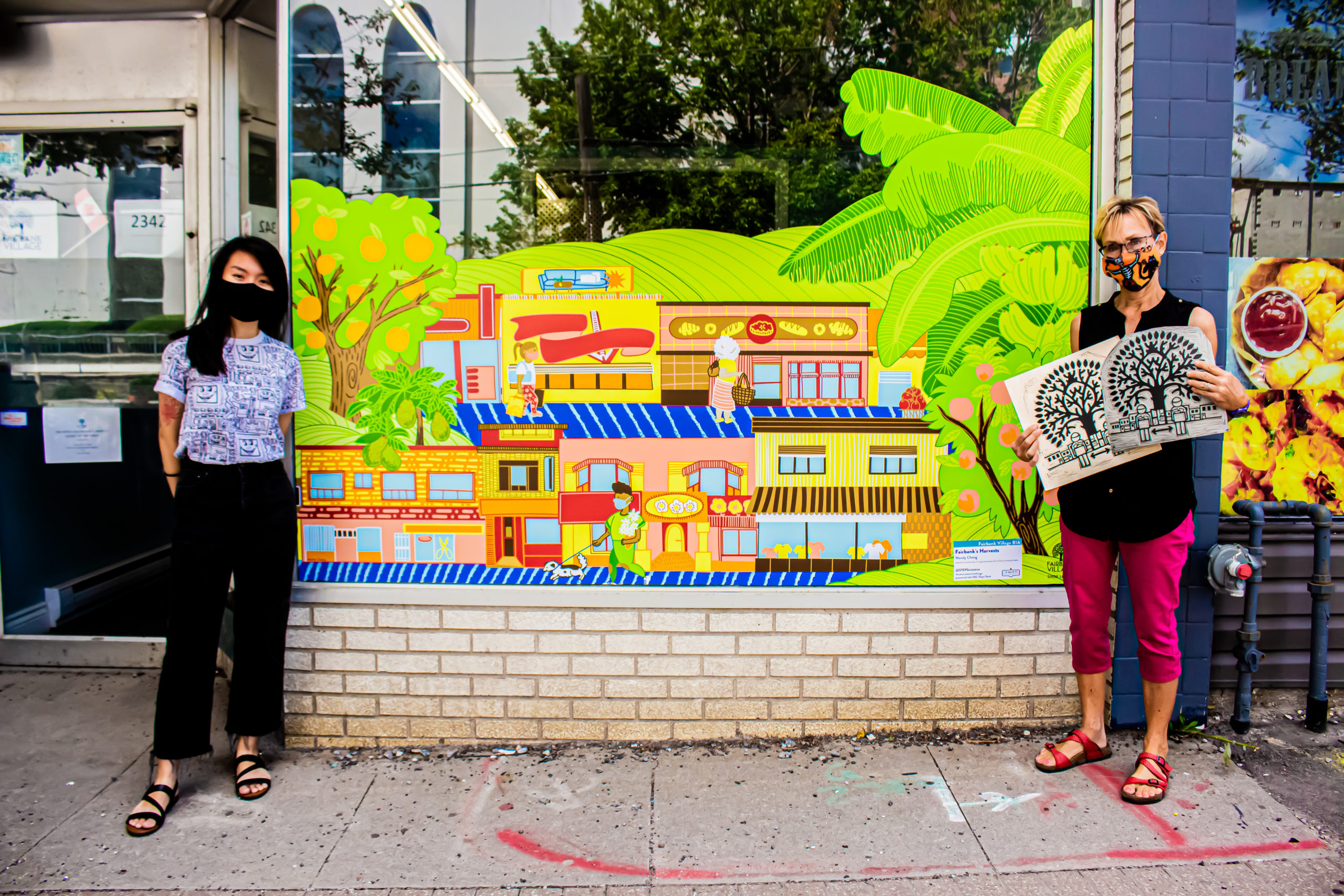 Artists Wandy Cheng and Sue Todd photographed with main street activations in Fairbank Village BIA.
Photo Credit: Selina McCallum
STEPS is able to support up to twenty-five (25) interested BIAs who meet the following criteria!
Participating BIAs must
Be located in Ontario
Participate in two (2) planning workshops in April 2021.
Have a staff person dedicated to the success of their main street activations, assigned to liaise with STEPS and collaborating artists
Engage a minimum of two (2) artists in main street activations.
Have a minimum of $2000 budgeted for main street activation costs. Keep in mind that the budget you will need for your particular activation will vary depending on its scope and the materials required. STEPS can help you identify ways to minimize project costs, but we have found that this is the minimum amount required to pay artists equitably and procure materials, in combination with the support that STEPS will provide.
Participate in cross-promotion efforts to draw attention to main street activations, including sharing content through the BIA's communication platforms, such as social media.
Provide audio-visual and other content to STEPS so that we can best promote local main street activations, including but not limited to: BIA photos, quotes and information on area public art.
Participate in program evaluation activities.
We know that BIAs are stretched right now and that creative projects may not be your priority.
I HeART Main Street
has been designed to help BIAs respond to challenges facing local businesses, and a big part of that is making sure that community members know about what's happening along your main street. Participating BIAs and businesses initiatives will be featured on Art Challenge, STEPS and/or our partner platforms.
We also want to make sure that the hard work of BIAs is recognized, celebrated and amplified!
A selection committee of cultural and business leaders will award several prizes to participating BIAs recognizing exemplary programming. Prizes valued at approximately $30,000 will be awarded to BIAs in support of their creative main street recovery efforts in fall 2021.
Check out how Riverside BIA, winner of the 2020 Main Street Art Challenge Community-Engaged Award, leveraged their prize to continue to engage Toronto's East End community
Thursday March 11th, 2021: Program Information Session
March 31st, 2021:

Program

registration deadline

Week of April 12th, 2021:

Selected BIA notified

Week of April 19th, 2021:

Coaching for BIAs Begins / Kick-Off Workshops

May – June 2021:

BIAs & Artists Matched; Activations Developed and Produced

July 2021:

Activations Promoted / Public Programming

August 2021:

Art Challenge Winners Announced / Prizes Awarded!
Is Your BIA Interested In Participating?
Stay tuned for our next BIA intake deadline
In the application form, you will be asked to provide key details such as your BIAs:
Challenges currently being facing your BIA
Main street activation ideas (these can be preliminary!)
Goals your BIA seeks to achieve through our activations
Artists that you are interested in working with (artist fees subsidies can be used towards engaging artists from STEPS roster as well as Black, Indigenous or racialized artists identified by the BIA)
Confirmed resources for your activation (financial and in-kind supports)
STEPS hosted an online information session and series of activities to help BIAs submit a strong application, and learn about other supports from STEPS. You can view the session's recording below.
INTERESTED IN HOSTING PUBLIC ART ALONG YOUR MAIN STREET BUT DON'T HAVE A BUDGET?
CreateSpace BIPOC Artist Residency
STEPS is looking for site partners to host the artworks of Black, Indigenous and racialized artists who are taking part in our national public art residency program during summer / fall 2021! If you have a location in mind, don't hesitate to reach out.
Canada Healthy Communities Initiative (2nd Application Opens: May 14, 2021)
STEPS Did you know that the Canada Healthy Communities Initiative is providing community groups with up to $250,000 to support their public space projects? Don't miss this unique funding opportunity! 
Not sure what project is the right fit for your community? Don't think you have the expertise to pull it off?
Contact STEPS to explore how we can support your BIA to bring your public space idea to life! 
I HeART Main Street is presented with RBC Royal Bank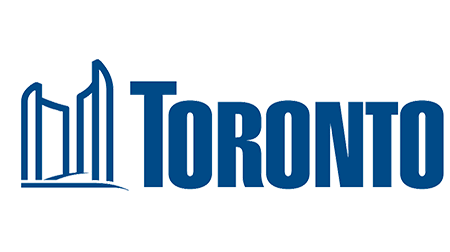 I HEART MAIN STREET FREQUENTLY ASKED QUESTIONS
 Is I HeART Main Street a grant?
No, I HeART Main Street is not a grant. While STEPS is providing artist fee subsidies up to $1000, which we will pay directly to participating artists. The BIA will be responsible for any additional fees required to realize your proposed project.
What if we have engagement ideas that are not on the list of placemaking methods?
That's great! What you see listed in the I HeART Main Street guidelines and registration are just some possibilities. We look forward to hearing your ideas and brainstorming how they can be realized. While not all project ideas will fit the limited budget and scope of the Art Challenge, STEPS provides year-round services for BIAs, municipalities, property owners and community groups to enhance public spaces in their communities. Click here to see our suite of Creative Placemaking services and Main Street Recovery services available.
When do projects need to be completed by? 
All Art Challenge activations must be completed by the end of June 2021.
Our BIA has a particular brand. Can we do something that aligns with our look?
Yes, the activations that each BIA hosts will be unique to the personality of that BIA. The artists in our network are incredibly diverse in their style, and many can produce creative works that respond to your unique needs, aesthetic and themes.
Can we work with artists who we know or who are from our neighbourhood?
BIAs are welcome to engage whomever they wish in Art Challenge activations. STEPS is committed to providing equitably paid opportunities for diverse emerging artists. To make it easy for BIAs to do this, we are offering up to $1000 in artist fee subsidies for BIAs who engage artists from our artist roster or local BIPOC (Black, Indigenous and People of Colour) artists not on the STEPS roster. The Art Challenge has a short turnaround time, and not every artist will be available to respond to BIA requests. If there is a particular artist you are interested in collaborating with, we encourage you to name them when you register for I HeART Main Street .
How much do we need to budget for our placemaking ideas?
I HeART Main Street is not a funding program, but STEPS is providing support that can help reduce the cost of realizing your placemaking ideas! I HeART Main Street is focused mainly on short-term, low-budget solutions. Our team is able to help you develop an appropriate budget for a placemaking idea. Before registering, it's important that you have an idea of how much funds you can invest in streetscaping. This will help us suggest ideas that are within your budget. 
Will the I HeART Main Street artist fee subsidy cover all payments to artists?
Artist fees should reflect the scope of work that an artist has been engaged for. We can help you calculate an appropriate artist fee for your proposed activities. To do this, we refer to CARFAC (Canadian Artists' Representation/Le Front des artistes canadiens) rates as guidelines for minimum fees. Your BIA may be eligible for artist fee subsidies up to $1000, which STEPS will pay directly to participating artists. The BIA will be responsible for any additional fees required to realize your proposed project.
What other costs might there be other than artist fees?
Budgets for each project will look different. Production costs could include printing of vinyl wraps/sidewalk decals, paint for murals and street furniture ornamentation, or the installation of street banners. While STEPS may be able to help participating BIAs access discounts through our supplier network, production costs will be paid by the BIA directly to vendors.
What about physical distancing and other COVID-19 pandemic restrictions?
Main streets have experienced a lot of change – both physically and how people are interacting in them. It is important that we continue to follow public health guidelines designed to reduce the potential spread of COVID-19. I HeART Main Street is focused on supporting COVID-19 safe creativity! Our staff will encourage you to think about ways to engage your community either at a safe distance or online. 

Can our BIA keep the artwork created through the I HeART Main Street?
If you would like to publicly display the artwork beyond the length of the I HeART Main Street or incorporate it into any BIA marketing materials, it's important to share your vision for its use at the start of the I HeART Main Street with both STEPS and collaborating artists, as the usage may impact design considerations or how the artwork is documented. STEPS can help you develop a contract between  participating BIAs and artists that grants permissions or limitations on the artwork's use.
If our BIA registers through the online form, am I guaranteed to be approved to participate?
While STEPS will make best efforts to include all interested BIAs in the I HeART Main Street, due to limited resources, we can only support up to twenty-five (25) BIAs. We want to ensure that the support we are providing will be useful in achieving both the BIAs goals and our charitable mandate. If we receive registrations from more BIAs than we can support, we will support the BIAs for whom we can have the most impact. If a BIA submits ideas that seem outside of the scope of I HeART Main Street but that STEPS can support in other ways, we will follow up to discuss this with you.
I am a local business or property owner based in a BIA, can I register on behalf of the BIA I am part of?
We understand that many BIAs are run by very limited staff or volunteers who may be apprehensive about registering for the I HeART Main Street due to a lack of capacity to fully participate. If you are a local business owner, non-profit or property owner who feels your main street would benefit from participating in I HeART Main Street, and is equipped to participate on behalf of your local BIA, we encourage you to register, but please let your local BIA representative know you are registering. When you are completing the registration form, there is a place to provide "additional information about your BIA" – we ask that you use this space to describe your relationship to the BIA, why you are registering on their behalf and whether BIA staff are supportive of the registration.
I am a local business or property owner located outside of a BIA, can I register solo or with a group of other local businesses?
At this time, only business or property owners within BIAs are able to register for this program. That being said, STEPS frequently collaborates with businesses, property owners and community groups outside of this program. Click here to see our suite of Creative Placemaking services and Main Street Recovery services to see some of the ways we collaborate with others and reach out if you are interested in exploring a partnership.
How many projects / BIAs will win I HeART Main Street prizes?
The number of prizes and their categories will be announced in late summer 2021. Prizes to support future creative placemaking initiatives by winning BIAs will total $7,500 in cash, up to $10,000 in artist fee subsidies and $10,000 of in-kind support. Click here to see last year's prize winners!
Can two BIAs apply together?
If your BIA is located adjacent to another BIA, you may prefer to apply together to collaboratively develop activations. Just make sure to indicate this clearly on the form and outline what you have in mind, as well as which organization is providing what resources, as well as who will be the point of contact for program participation. Artist fee subsidies would be determined by the amount of artists you engage. 
Are you willing and able to help as far as Thunder Bay and Kenora? 
Yes, we are both willing and able to support BIAs across Ontario. 
Does the installation need to be permanent?
No, installations do not need to be permanent. It is up to the BIAs how long they would like them to last. 
Do you have more information on types of support, and also grant opportunities to support this work?
The Canada Healthy Communities Initiative has a second round of applications opening May 14th 2021 available here. You can also sign up for our monthly newsletter to stay in the loop about any other grant opportunities that we come across. 
What does the application involve?
To apply for I HeART Main Street please fill in this application form. While we are not looking for BIAs to have detailed plans for their proposed activations, you should have some ideas that have been developed in consideration for your local community needs and opportunities, as well as identified resources to ensure their success. 
Who owns the artwork once it is taken down or is it stored, given away, or returned?
At the end of the program, what happens to the artwork depends on the agreement the BIA and the artists have and will have to be negotiated during the contracting process. Please see "Can our BIA keep the artwork created through the I HeART Main Street?" for more details.