Is your BIA struggling with vacant spaces and reduced foot traffic?
Are you looking for ways to safely animate and build community along your main street?
Don't miss your chance to access artist fee subsidies, placemaking and promotional supports!
Apply to STEPS' I HeART Main Street program!
Deadline for submissions: Wednesday, March 31, 2021, 4PM EDT
Building on the success of our 2020 Main Street Art Challenge, STEPS has launched I HeART Main Street, presented in partnership with RBC Royal Bank.
STEPS will continue to provide Business Improvement Areas (BIAs) with the supports they need to activate their main streets, like: hiring artists to create new public artwork, (safely) engaging their communities, showcasing local business success stories and building their staff capacity to realize placemaking initiatives as part of their main street recovery strategy.
Participating BIAs will be eligible for 2021 Main Street Art Challenge prizes, valued at $30,000!
PARTICIPATING BIAs WILL RECEIVE:
Pro-Bono Creative Placemaking & Public Art Services
STEPS will provide free tailored coaching (up to 5 hours) to help BIAs generate ideas, support logistics planning, connect with artists and other resources to realize their creative visions. The focus of this coaching will be on quick DIY oriented creative placemaking methods that will help foster trust and a sense of community among local businesses, residents and artists as part of main street recovery.
This is your chance to experiment! Some of the things we can support you in doing include:
We can also help provide the extra support you need to ensure planned 2021 cultural projects, like community murals, street banners and mixed media installations move forward in this challenging time.
Not sure what you have in mind? Watch the video below to view some of last year's activations!
Connections to Multidisciplinary Artists and Creatives
Participating BIAs are expected to engage a minimum of two (2) artists in paid opportunities as part of the Challenge, but are encouraged to engage more in activating their main streets. To help realize your creative visions, STEPS is able to connect participating BIAs with our diverse and talented Toronto area artist network.
Artist Fee Subsidies
BIAs who engage artists from STEPS artist roster or a BIPOC (Black, Indigenous and People of Colour) identified artist of their choosing may be eligible for artist fee subsidies of up to $1000!
Audio-Visual Assets
STEPS will arrange for a photographer to help visually capture BIA activations.
Promotional Tools and Public Programming
STEPS will provide promotional tools to help raise awareness about BIA activations and local businesses, this will include I HeART Main Street social media templates, public programming, and digital platforms that allow communities to safely explore the best of what your BIA has to offer.
Recognition and Resources for Main Street Recovery
Through the presenting partnership of RBC Royal Bank, STEPS will be providing prizes to recognize participating BIAs who demonstrate ingenuity, creativity and a commitment to community engagement. Prizes will be awarded by a committee composed of local cultural and business leaders and will include a combination of monetary and in-kind support to realize future main street placemaking initiatives.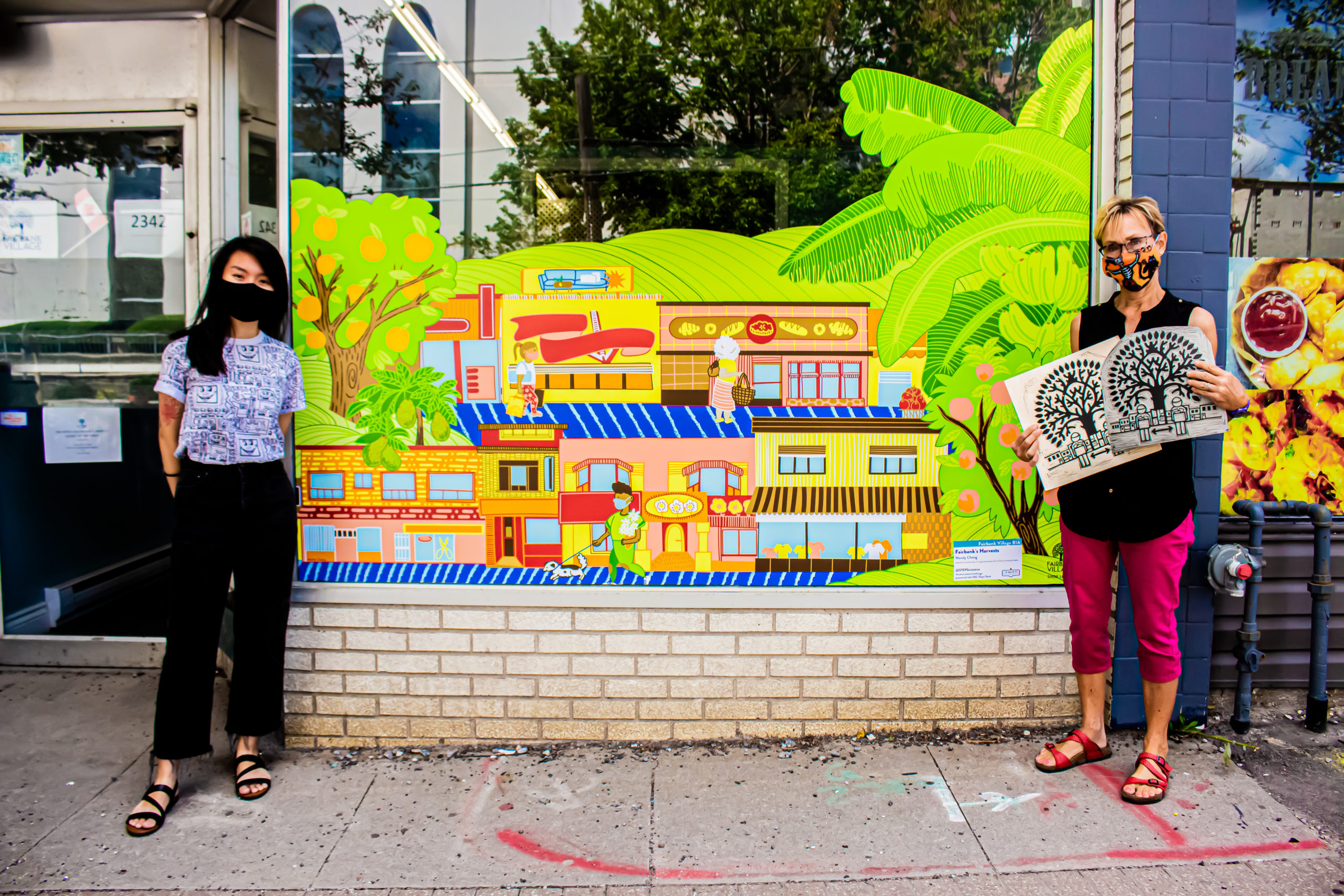 Artists Wandy Cheng and Sue Todd photographed with main street activations in Fairbank Village BIA.
Photo Credit: Selina McCallum
STEPS is able to support up to twenty-five (25) interested BIAs who meet the following criteria!
Participating BIAs must
Be located in Ontario
Participate in two (2) planning workshops in April 2021.
Have a staff person dedicated to the success of their main street activations, assigned to liaise with STEPS and collaborating artists
Engage a minimum of two (2) artists in main street activations.
Have a minimum of $2000 budgeted for main street activation costs. Keep in mind that the budget you will need for your particular activation will vary depending on its scope and the materials required. STEPS can help you identify ways to minimize project costs, but we have found that this is the minimum amount required to pay artists equitably and procure materials, in combination with the support that STEPS will provide.
Participate in cross-promotion efforts to draw attention to main street activations, including sharing content through the BIA's communication platforms, such as social media.
Provide audio-visual and other content to STEPS so that we can best promote local main street activations, including but not limited to: BIA photos, quotes and information on area public art.
Participate in program evaluation activities.
We know that BIAs are stretched right now and that creative projects may not be your priority.
I HeART Main Street
has been designed to help BIAs respond to challenges facing local businesses, and a big part of that is making sure that community members know about what's happening along your main street. Participating BIAs and businesses initiatives will be featured on Art Challenge, STEPS and/or our partner platforms.
We also want to make sure that the hard work of BIAs is recognized, celebrated and amplified!
A selection committee of cultural and business leaders will award several prizes to participating BIAs recognizing exemplary programming. Prizes valued at approximately $30,000 will be awarded to BIAs in support of their creative main street recovery efforts in fall 2021.
Check out how Riverside BIA, winner of the 2020 Main Street Art Challenge Community-Engaged Award, leveraged their prize to continue to engage Toronto's East End community
Thursday March 11th, 2021: Program Information Session
March 31st, 2021:

Program

registration deadline

Week of April 12th, 2021:

Selected BIA notified

Week of April 19th, 2021:

Coaching for BIAs Begins / Kick-Off Workshops

May – June 2021:

BIAs & Artists Matched; Activations Developed and Produced

July 2021:

Activations Promoted / Public Programming

August 2021:

Art Challenge Winners Announced / Prizes Awarded!
Is Your BIA Interested In Participating?
Make sure to complete the online registration form by
Wednesday, March 31st at 4pm EDT
In the application form, you will be asked to provide key details such as your BIAs:
Challenges currently being facing your BIA
Main street activation ideas (these can be preliminary!)
Goals your BIA seeks to achieve through our activations
Artists that you are interested in working with (artist fees subsidies can be used towards engaging artists from STEPS roster as well as Black, Indigenous or racialized artists identified by the BIA)
Confirmed resources for your activation (financial and in-kind supports)
Want More Information?
STEPS will be hosting an online information session to help BIAs submit a strong application, and learn about other supports from STEPS.
INTERESTED IN HOSTING PUBLIC ART ALONG YOUR MAIN STREET BUT DON'T HAVE A BUDGET?
CreateSpace BIPOC Artist Residency
STEPS is looking for site partners to host the artworks of Black, Indigenous and racialized artists who are taking part in our national public art residency program during summer / fall 2021! If you have a location in mind, don't hesitate to reach out.
Canada Healthy Communities Initiative (1st Application Deadline: March 9, 2021)
STEPS Did you know that the Canada Healthy Communities Initiative is providing community groups with up to $250,000 to support their public space projects? Don't miss this unique funding opportunity! 
Not sure what project is the right fit for your community? Don't think you have the expertise to pull it off?
Contact STEPS to explore how we can support your BIA to bring your public space idea to life! 
I HeART Main Street is presented with RBC Royal Bank